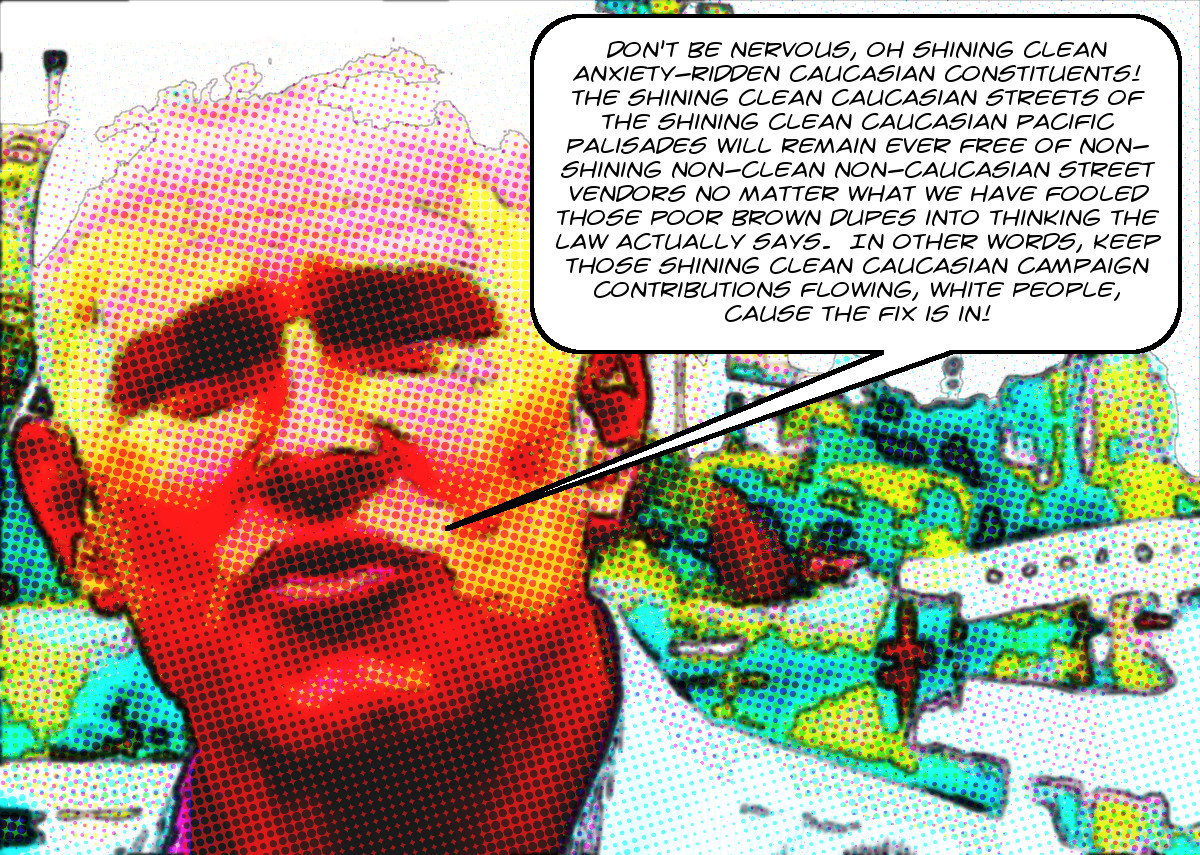 When last we peeked into the Minutes of the Board of Directors of the Pacific Palisades BID, we learned that they were all sitting around up there in Northwest Zillionaireville quaking in their super-pricy boots over the influx of gang members from urban Santa Monica. Today, well, there's the serious matter of street vending to discuss, of course, but first, take a look at the minutes from January 4, 2017, where we learn about this:

Homeless issue – One person is a problem on Via de la Paz lately. He is a 300 lb., male black man with a nasty temper. Officer Moore recommends signing a "Trespass Arrest Authorization" form which was handed out.

Got it? He weights three hundred pounds.1 He's black. And not only that, he is both male and a man. This is a truly frightening situation! I'm wondering if their trespass authorization form has a place to put the weight of trespassers that the cops are authorized to arrest? The standard form does not, but the LAPD is famous for deploying multiple helicopters to fly against the homeless in the Palisades. Are they going to refuse them a custom anti-homeless trespass form? Especially if they're being overrun by a horde of three hundred distinct pounds of angry homeless black male man?
I mean, I know you can never be too rich or too thin, but that the Palisadesians are extra-scared of this man because "he is a 300 lb., male black man…" is somewhat unexpected, even though 300 lb. people can certainly "pose to be dangerous." I would have thought that fear of the homeless would be measured more by the individual than by the pound, but I'm wrong again. Certainly this is why I can't afford to live in the Palisades amongst the jittery little psychopathic self-interested zillionaire theorists of homelessness. My priorities are obviously really confused.
And if they're going to pieces to this extent over one "300 lb., male black man," how are they going to feel about the gracious shimmering snow-white streets of their little village2 being overrun by the herds of dark-skinned heladeros, frutateros, and eloteros that are even now massing at their borders just waiting for the City Council to give them the go-ahead to swarm in and start supplying their victims, the hitherto-uncorrupted-by-Mexican-ice-cream-treats Palisadeseans, with paletas de limón? Not good, I'm telling you that much. But their man on Spring Street, Mike Bonin, is there for them as he always is. Turn the page for details.
Continue reading Anxious Rich White Palisadeseans Are Reassured That Mike Bonin Won't Allow Street Vendors To Besmirch The Lily-White Palisadesean Streets (Except For The Farmers' Market Cause White People Like Farmers' Markets) And Also LAPD Advises How To Get Rid Of Scary Fat Nasty Angry Black Homeless Male Man! →