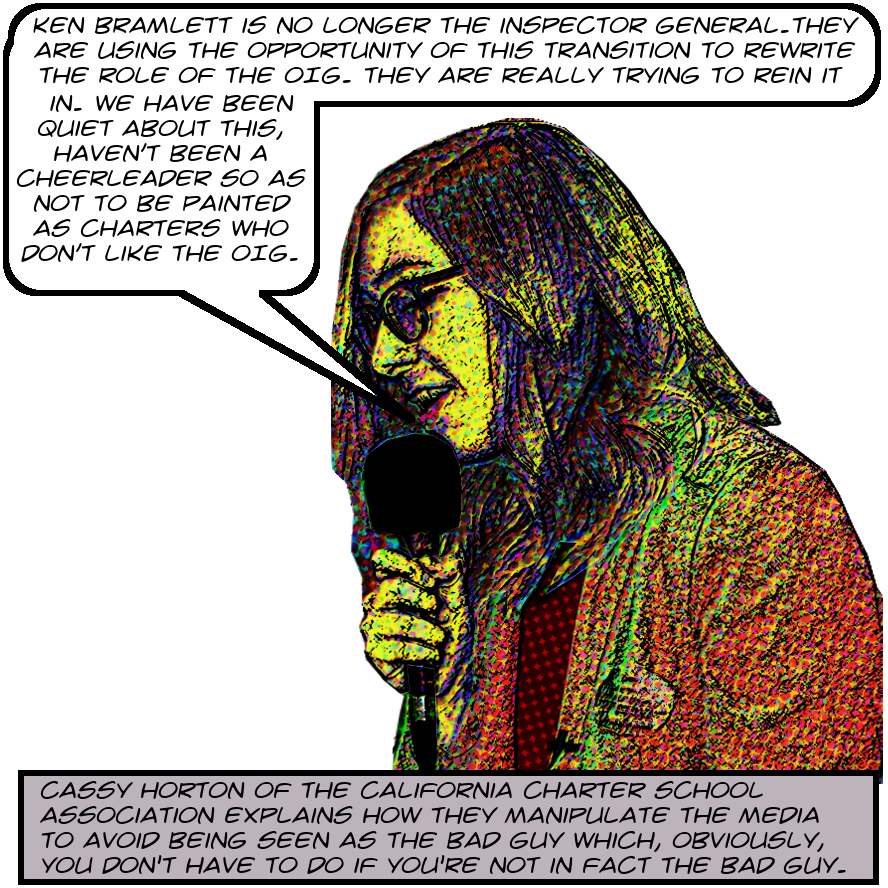 The Los Angeles Unified School District has a particularly powerful oversight office, the Office of the Inspector General, known in the trade jargon as OIG. And in 2018 the School Board failed to renew then-IG Ken Bramlett's contract. According to LA Times education reporter Howard Blume, pro-charter board members Monica Garcia, Kelly Gonez, and Nick Melvoin voted against renewal, which was enough to deadlock the board and prevent Bramlett's return. Blume also noted that Bramlett had aggressively investigated some charter schools, in some cases leading to criminal charges being filed, and that charter schools had been clamoring for limits on OIG's ability to investigate them but he stopped short of saying that Bramlett's fall from grace was due to charter school influence.
And later a bunch of overwhelmingly salacious details of a number of really appalling and quite serious hostile work environment complaints against some of Bramlett's senior subordinates came out along with credible accusations that Bramlett had at best failed to take these complaints seriously. Regardless of the validity of the uproar, and it seems quite valid indeed to me, this had the effect of directing most of the media attention away from charter school involvement in Bramlett's downfall. Not entirely, though. For instance, Kyle Stokes, education reporter with KPCC, did mention that charter schools had been seeking to limit OIG's role in overseeing them, although in that same article noted that "sources who spoke to KPCC said that concern over charter oversight was not a factor in the board's thinking"
But newly published internal documents from the Los Angeles Advocacy Council, a shadowy organization run by the California Charter School Association and about 20 local charter school leaders, paint a very different picture. In fact LAAC and the CCSA give themselves credit for taking advantage of the chaos at OIG in order to effectively remove oversight of charter schools from OIG's purview.
Not only that but they claim to have kept quiet about the issue in order to protect their public image. In the same document they also claim that they were asked to do so by unnamed people in the District who promised CCSA and LAAC that "they would handle it, and they followed through" Given some statements in another document it's not impossible that convicted felon and then Board member Ref Rodriguez was one of these unnamed people. The charterites were thrilled by the outcome of their work against OIG oversight, announcing that it "should be seen as a major win by and for the charter community." Perhaps this media strategy underlay Stokes's sources' comment about charter involvement in Bramlett's non-renewal.
And recently we learned from this same set of records that, for instance, LAUSD superintendent Austin Beutner allowed charter school lobbyists to write at least one of his major policy speeches. And that Board member Nick Melvoin leaked information about confidential legal strategies to them and let them write Board resolutions.
Given the magnitude of these revelations it's pretty plausible that someone in the District was conspiring with CCSA and LAAC to take advantage of chaos in OIG to implement the charters' desire to be free of meaningful oversight. It's plausible, but it is in no way acceptable. It's bad enough to reduce oversight of charter schools, which receive so many millions of dollars in public money. But to reduce it in response to their demands, according to their plan, and to do this in secret while they pretend to the world not to have been involved, is absolutely intolerable. Intolerable but, as I said, given recent events, not surprising. Read on for links to and detailed quotes from relevant documents.
Continue reading Charter Schools Fought For Years To Reduce The Power Of LAUSD's Inspector General To Oversee Them — In 2018 Internal Chaos In The Office Of The Inspector General Led To Restructuring Which Effectively Reduced Oversight Of Charters — According To The California Charter School Association "should be seen as a major win by and for the charter community." →