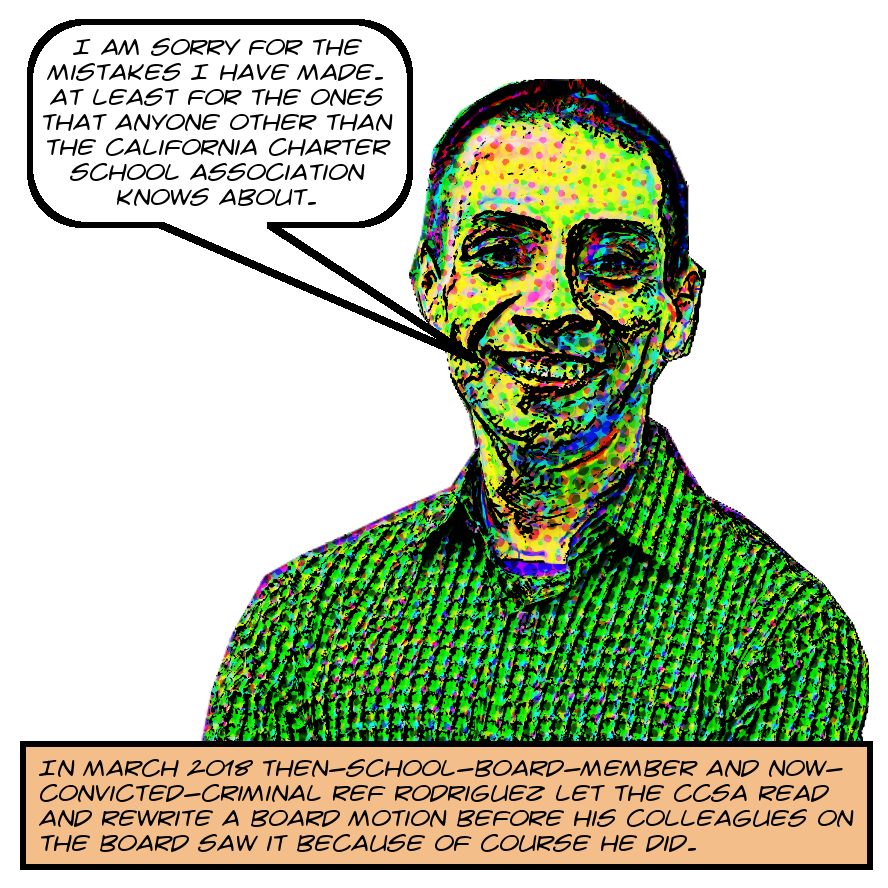 Remember how in September 2018 universally-reviled-by-sane-people LAUSD superintendent Austin Beutner gave an advance copy of a major policy speech to the California Charter School Association for their comments, and even organized a conference call between Jed Wallace, then supreme commander of the CCSA, and Beutner's speechwriter Shira Fine so that Wallace could pass along pro-charter propaganda to Fine for inclusion?
And then, when it got tweeted about, reprehensible CCSA shill Cassy Horton responded with a particularly mendacious claim that this kind of thing was just business as usual and everyone does it?1 Well, today's story, about Horton getting top secret information from Ref Rodriguez in March 2018, may tend to support her claim that it's just business as usual. But I still haven't seen any evidence that anyone other than CCSA flacks is getting advance information out of LAUSD officials.
Before he was investigated by the Los Angeles City Ethics Commission, before he resigned in what passes for disgrace in municipal politics, before he pled guilty to a felony and assorted misdemeanors, before all that nonsense, former school board member Ref Rodriguez was famous for being the handpicked stooge of the CCSA. And, like his asshole buddy Austin Beutner after him, it turns out that Ref Rodriguez also secretly shared major policy documents, including at least one LAUSD board resolution, with CCSA flacks for them to revise to better reflect their interests.
The story begins with this email from Cassy Horton to four of the very creepiest of creepy charter creeps, which is to say Marcia Aaron of KIPP LA, Emilio Pack of STEM Preparatory, Christina De Jesus of Green Dot, and Parker Hudnut of Inner City Education Foundation Charter Schools.
Its subject alone tells quite a story: "<DO NOT SHARE OR FORWARD> Authorizing Resolution for Review and Feedback". But the whole thing is essential reading. What's at stake in the resolution is how charters should be authorized by LAUSD, how their performance should be evaluated, and so on. Not, sane folks might think, something which ought to be written by the very industry it's meant to regulate. Evidently Ref Rodriguez disagreed. Here's a transcription of the email:


Date: Thu, 15 Mar 2018 09:48:33
Subject: <DO NOT SHARE OR FORWARD> Authorizing Resolution for Review and Feedback
From: Cassy Horton <chorton@ccsa.org>
To: Marcia Aaron <maaron@kippla.org>, Emilio Pack <epack@stem-prep.org>, "C DeJesus" <cdejesus@greendot.org>, P Hudnut <phudnut@icefps.org>
Cc: Jennie Shin <jshin@ccsa.org>,<KDellAquila@ccsa.org>
Hi all,
Ref's office jus [sic] shared the attached document with us, which I have done a preliminary review of. We are identifying next steps in terms of LAAC2 involvement and charter leader feedback, but we need to be careful since this has not been shared with other board members besides Dr. Vladovic at this point. It would be for introduction on April 3, but a draft is due to the District next Wednesday.
Please do not forward or otherwise share with anyone outside this email.
Marcia and Parker are joining a meeting with have scheduled with Ref and Aixle to discuss the resolution at 2:15pm.
Please share thoughts or feedback before then if you have time. There will be more time afterwards before the final is due Wednesday, but I wanted to give you time to review now.
Cassy
Cassy Horton
Managing Director, Regional Advocacy, Greater Los Angeles
California Charter Schools Association
Cell: 213-926-7763
Attachments:
CONFIDENTIAL DRAFT- Revisiting the Charter School AuthorizingPolicy and Administrative Procedures – 3.14.18.docx

And check the attachment, really do. The original MS Word Doc is linked to there, and here's a PDF I made of it. There are also JPGs at the end of this post. I'm not transcribing the text, though, because it's essential that you look at the comments put into Ref Rodriguez's resolution by Cassy Horton. In fact, look at the damn metadata, written by Ref, rewritten by Cassy Horton.



And take a look at the comments that Horton inserted. Check the arrogance, the assurance that her completely, unashamedly self-interested edits will find a sympathetic audience when she, Marcia Aaron, and Parker Hudnut meet with Ref Rodriguez and his fairly satanic at-that-time chief of staff Aixle Aman:


And yeah, it's true that Ref Rodriguez is long gone, is a convicted felon, and so on. He's off the table. But none of the other players here are gone. And the system that allowed the CCSA and the baby-sacrificers in the charter industry it serves to insinuate themselves this deeply into what's meant to be a democratically controlled system, that allowed them to insert their wholly-controlled puppets into power and then to pull their strings so that they dance to the tunes called by their zillionaire masters, that system outlived Ref Rodriguez and will, unless these privatizers are specifically defanged, will outlive all of us.

Image of convicted felon Ref Rodriguez is ©2019 MichaelKohlhaas.org and there is always this.

And here is a screenshot in case that tweet goes away.
This is the Los Angeles Advocacy Council, a shadowy group of charter leaders and other galaxy brained zillionaire bootlicker types. They have not been much written about, but I have tons of evidence from various public records requests and am working on a post or posts exposing their agenda to some extent. It's complicated and it's going to be a while before I get it all processed, though. Stay tuned!