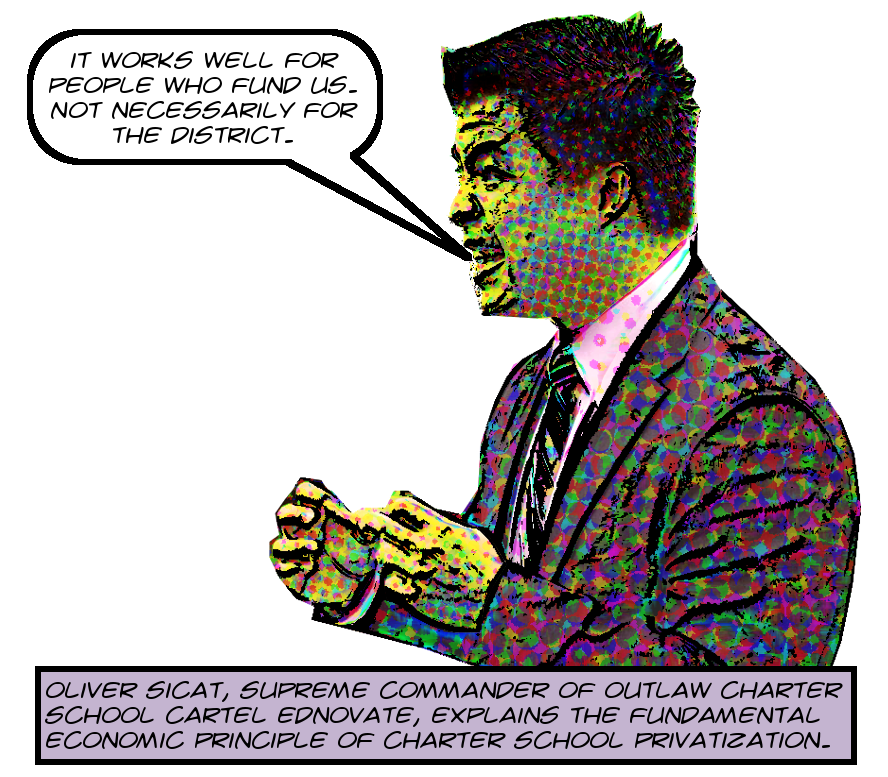 Contained in a massive release of records from Green Dot Charter Schools that I received in June 2019 are hundreds of emails between Green Dot Supreme Commander Cristina de Jesus and her co-conspirators on something called the Los Angeles Advocacy Council.1 The LAAC is one of a number of local lobbying groups sponsored by the California Charter School Association and staffed by various charter school honchos.2
The minutes of their meetings along with the handouts, policy statements, and so on, many of which were included in the record release, provide a fairly shocking picture of the CCSA's appalling activities. I am still trying to organize even the LAAC materials, but have finally managed to separate them out, export them as PDFs, and extract all the attachments. This still-complex set of records is now available here on Archive.Org.3
And just as an example of the incredible revelatory nature of this material, take a look at this packet of reading materials prepared by CCSA for an October 2018 event called the Executive Summit. Even this single document is far too rich, too complex, for me to discuss completely in one4 post. It contains, among many, many other essential pieces of information, various proposed changes to CCSA's mission, goals, and so on. For instance, CCSA's current mission statement reads:

A million students attending charter public schools by 2022, with charter public schools outperforming non-charter public schools on every measure.

And, at least in October 2018, they were proposing to change this to:

Every student in California attending a great charter school, or a great charter-like public school, by 2030.

It's not clear at all what they mean by "charter-like public school[s]". It's especially unclear given the amount of time they spend ranting about how charter schools are in fact public schools,5 so presumably charter schools are the most charter-like public schools of all, but whatever. The point is that this is an acknowledgement by the CCSA that they are in fact trying to destroy public education in California by removing ALL students from it or, if that's not possible, making public schools be so much like their private charters that there might as well be no public education. In any case, please read the whole document. It is a revelation.

And they're not just trying to destroy all public schools in California by taking away their students and, with them, their funding. They're also trying to take away all their land. On a local level they have been working with LAUSD Board Member Nick Melvoin on a proposal to take facilities away from putatively low-performing schools and hand them over to putatively high-performing schools. And before facilities can be confiscated on the basis of performance, a ranking system is necessary. Melvoin's recent school performance ranking proposal is step one in this playbook.
And the CCSA and its member schools don't just want control or ownership of the property to help them educate children. Real estate is a key element of the private charter school investment market. The more real estate charter schools control the more money the private investors can make. This is a huge business.
And in the collection of LAAC records, there's a fairly complete set of minutes of LAAC meetings from between January 2018 and April 2019.6 And the minutes are incredibly detailed, with transcribed comments from the various charter school brain trusters in attendance, and so on. Take a look, just for instance, at these CONFIDENTIAL minutes from March 2018.7
At this meeting the LAAC discussed their "Facilities North Star," which is what they call this whole plan to condition access to LAUSD real estate on meeting certain performance standards. And they're musing on how to push this to the Board and to the public, and Cristina de Jesus of Green Dot Charter Schools remarks:

what is the cost benefit analysis? What is our leverage here? It's not like DRL8 where we can submit without it. I think our leverage is money. Money that our sector can bring through long-term partnerships.

And then, in an uncharacteristically honest moment, or at least an honest moment uncharacteristically exposed to public view, TED-talking tousle-haired charter school boy genius Oliver Sicat, now of outlaw CMO Ednovate,9 replied that actually CCSA's plans for facilities would not in fact help the district. Quite the opposite, says Oliver Sicat, who reveals that the CCSA, which relentlessly pushes what they're incomprehensibly shameless enough to call a "kids first" agenda, is promoting a policy that will enrich private charter school investors at the expense of LAUSD:

We did go deep into that analysis. It works well for people who fund us. Not necessarily for the district. This district was on the brink of bankruptcy, about to close schools, and no one cared.

And finally, the minutes are shot through with internal discussions about messaging, about strategies for pushing their agendas, and so on. With respect to this one, about facilities, they're quite clear on the fact that it's delicate, that being too open about their goals will turn people against them. As they say, "That will give UTLA all the fodder they need." And they're not shy about their plans for the future, either. Let's close with them counting all the damn unhatched chickens to be provided by their schemes:

We have to be careful of advocating too strongly because this is all likely to lead to some school consolidation and we could be seen as an organization that is advocating for this. That will give UTLA all the fodder they need. And we may ultimately take over operations of those schools.


Image of Oliver Sicat is ©2019 MichaelKohlhaas.Org and then there was this.