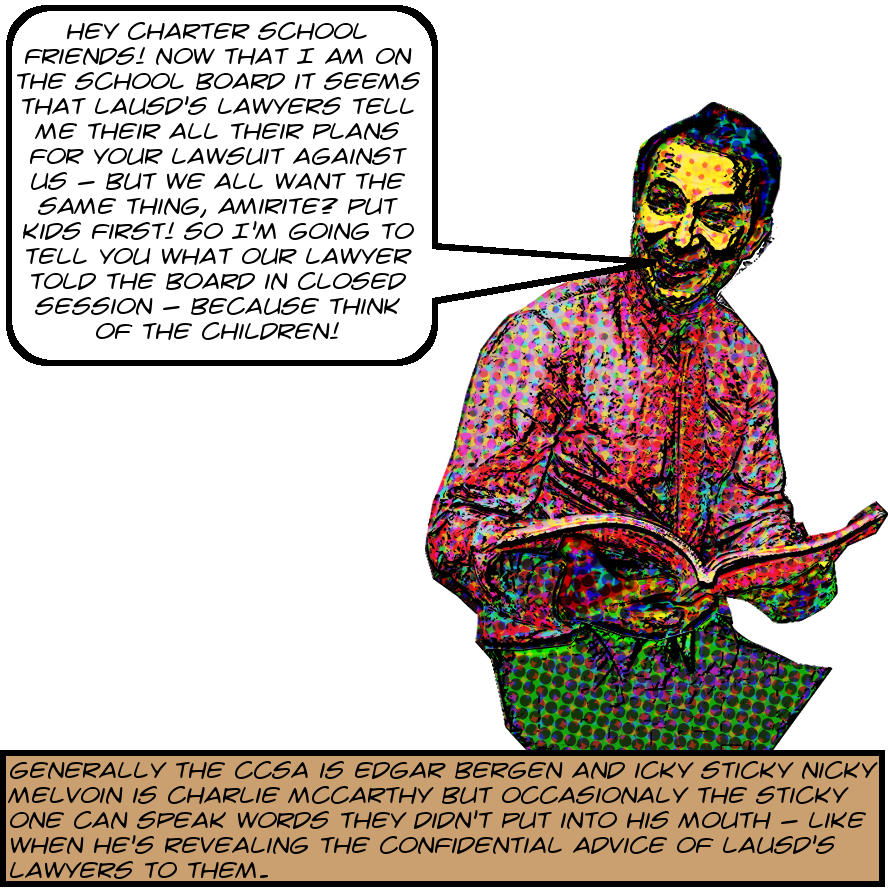 A couple of weeks ago I wrote about an episode in January 2018 when the California Charter School Association actually drafted a resolution for then newly elected, then and now bought and paid for, LAUSD board member Icky Sticky Nicky Melvoin,1 to present to his colleagues on the school board. It was and is a complicated story, and I promised at the time to lay it on you in increments.2 That first post was about the CCSA-drafted resolution and how they passed it on to Nicky in January 2018.
Today we're moving along to February 20, 2018. On that date Nick Melvoin, his senior advisor Allison Holdorff Polhill, and his policy director Danielle Tenner met with Cristina de Jesus of Green Dot Private Schools, Emilio Pack of STEM Preparatory Schools, Caprice Young of the creepiest cultiest charter chain, that is Magnolia Charter Schools, and Cassy Horton, Ebony Wheaton, and Jason Rudolph, all the last three from CCSA, all met to discuss the resolution.3
Also at that time, explained below, CCSA was suing LAUSD. And, amazingly, it seems that in this meeting Melvoin passed on a great deal of privileged information about LAUSD's legal strategy to the charter advocates. He also agreed to intervene with LAUSD's lawyers to further CCSA's interests. This is on its face appalling behavior from an elected official, sworn by oath to faithfully execute the duties of his office, a violation of which oath this behavior pretty clearly is.4 As always, the details are complicated.
We know about this meeting from an email sent the next day, February 21, 2018, by the aforementioned Jason Rudolph to his co-conspirators de Jesus, Pack, Young, Horton, and Wheaton. This email is interesting in itself, and it is reproduced below in full. Much, much, muchmuchmuch more interesting, though, is the attachment to the email, consisting of Rudolph's notes on the previous day's meeting.5 This document is endlessly complex. I expect that the next four or five posts in this series will be on this document.6
And for today's topic we need a little bit of background.7 You'll recall that the infamous Prop 39 requires school districts to share facilities with charter schools according to criteria that I do not fully understand. Charters are perennially paranoid that school districts are cheating them out of their rightful share of the real estate, and in 2016 the CCSA filed another in what had been a series of lawsuits against LAUSD accusing them of doing exactly that. You can get a copy of the complaint here.
And because charter schools are obsessed with real estate,8 rules, procedures, and policies relating to LAUSD Prop 39 compliance constituted a huge part of that CCSA-written resolution of Melvoin's, and consequently of the February meeting. There is much more to be written about this than I can handle in this post, but it's necessary to focus on two of CCSA's proposals. First, CCSA wanted LAUSD to publish a list of all of its facilities. This sounds innocuous enough until you realize that it's a shopping list. Anyway, the proposed resolution stated:

The development of a complete inventory of all LAUSD school facilities, which includes but is not limited to current enrollment, site capacity, site plans, and verifiable classroom utilization information. The inventory should be designed to be made available to the public online, and updated every year by October 1, and should either be created by an independent, professional facilities management organization, or subject to yearly independent audits to verify the accuracy of the information included in the inventory.

Tangentially, take note of the paranoid style of the CCSA's worldview. It's not enough for them that LAUSD publish an inventory of all facilities so that charters can check up on whether they're getting their fair share and also choose new targets for the future. Also, without any particular evidence that it's necessary, they want the inventory to be audited by a third party. They are obsessed with the idea that LAUSD hates them and is scheming to undermine them. Even though it's probably true9 it doesn't make their worldview, or at least the aesthetics of its expression, any less paranoid.
Another part of the proposed resolution has to do more directly with disputes over what's required by Prop 39 with respect to the sharing of facilities. The CCSA was (and remains) absolutely sure that they're being cheated out of rightful access to LAUSD property, so they want, as privatizers always seem to do, some kind of arbitration process. Specifically they were seeking:

The development of an improved Proposition 39 dispute resolution process that enables a neutral, third party or committee to expeditiously resolve disputes about the legal compliance of offers on or before July 15 so that traditional public schools and charter schools have sufficient time to plan and prepare for the beginning of the school year, improve collaboration and focus on student outcomes.

In short, then, a big part of the subject of the CCSA-written resolution had to do with the ability of charters to get control over LAUSD facilities, which was precisely the issue being litigated in the 2016 lawsuit. So in February 2018 all these privatizers, adverse parties in a suit against the district, met in person with Nicky Melvoin, who was elected to protect the interests of LAUSD. They went to ask him to form new policies that would accomplish their goals by means other than litigation.
And here are some selections from what Jason Rudolph's notes on the meeting has to say about the matter of the facilities inventory. Note, by the way, that BD4 is native jargon for "Board District 4," which is Melvoin's district. Also OGC is "office of the general counsel." This is LAUSD's lawyer:

• BD4: contends that Prop 39 litigation is a significant impediment. How do we get litigation settled? The items in the resolve are helpful and doable, but proverbial chicken before the egg scenario with litigation.
• Charter community: Why can't/won't the District publish the data it has? BD4 returns to litigation as impediment. OGC driving that view.

This is astounding. Here is Nicky Melvoin, a sworn-in member of the school board, telling the adverse parties in a lawsuit against the school district that the school district's lawyer is driving the view that LAUSD can't release a facilities inventory due to the litigation. That is, Melvoin told the other side what LAUSD's lawyer's advice was. This is so, so bad. It's also quite bad that he wants to release the information to CCSA given that the board's lawyer advised against it.10
The guy was entrusted with an immense amount of power over the fate of our schools. Part of that is following the advice of the lawyer unless the board as a body decides not to. But instead he's tipping off the other side to the lawyer's strategy. And it gets worse. Also included in Rudolph's notes are summaries of what CCSA plans to do in the future with respect to this resolution. Here's part of what he says about future plans for implementing the facilities inventory:

• BD4 will ask OGC to identify concrete reasons why District has not or will not publish data today.

That is, Melvoin has apparently promised to interrogate the board's lawyer about a strategic decision in a lawsuit. Obviously it's fine and normal for a client to do this. But it's not fine and normal for a client who's been given a public trust to do this at the behest of an adverse litigant in order to learn information that will be useful to that litigant in achieving their adverse goals. It's a total betrayal of the public trust. And it gets worse.
In relation to the Prop 39 resolution matter, all the meeting attendees seem to be concerned that the lawsuit will interfere with achieving this goal. Evidently Melvoin was asked to address this issue. Rudolph's notes say the following without attribution, but it's impossible that anyone other than Melvoin had the information:

• More discussion about litigation. Can we settle? OGC confident in lawsuit position, so no major momentum toward settlement/resolution.

In other words, someone, certainly it was Melvoin, told the adverse parties in the meeting that the board's lawyer was confident in LAUSD's position and would not move to settle or resolve. This is essential information. If one side knows for sure that the other side will litigate, will not settle, then they're much, much more able to evaluate their own position, to decide their future course of action. That's why this kind of information is meant to be confidential.
And it's unlikely that Melvoin's revelation didn't affect something, because less than three months after the meeting CCSA unexpectedly dropped the suit. They didn't negotiate a settlement, they just abandoned it. In some sense, sure, this outcome is a win for LAUSD, but that's not the point. The problem is in the principle.
If Melvoin is willing to leak confidential information to his buddies in the CCSA, why should anyone trust him in his position as a board member? The violation of his duty is much, much more problematic, much more dangerous to the public trust, than can possibly be justified by an (only arguably) favorable outcome. Melvoin ought to be ashamed. Probably, though, he lacks the capacity. But his resignation would be enough, with or without shame.
Finally, here's a transcription of Rudolph's email along with yet another link to his meeting notes. Stay tuned for more installments!
---
---

Subject: Facilities Proposal Meeting Notes
From: Jason Rudolph <jrudolph@ccsa.org>
To: C DeJesus <cdejesus@greendot.org>, Emilio Pack <epack@stem-prep.org>, "C Young" <cyoung@magnoliapublicschools.org>
Cc: Cassy Horton <chorton@ccsa.org>, Ebony Wheaton <ewheaton@ccsa.org>
Date: Wed, 21 Feb 2018 16:42:37 +0000
Hi all,
Thanks for your participation in yesterday evening's meeting with Nick Melvoin. For reference, I attached my notes and next steps from our discussion. Please do not share these notes outside of this group.
As you observed, we eschewed the introductions, context-setting, and jumped right into discussing the proposal elements. Please let me know if I missed any substantive comments or points and I'll be sure to include in the notes. After we've collected thoughts and digested yesterday's conversation, I think it would be helpful to jump on a quick call for a short debrief. I'll connect individually to check schedules for a short call for perhaps tomorrow morning.
Thanks,
Jason J. Rudolph
Director, Regional Advocacy, Greater Los Angeles
California Charter Schools Association
213-248-1398 | jrudolph@ccsa.org
Attachments: BD4 Facilities Proposal Meeting Notes (2-20-18).docx


Image of Icky Sticky Nicky Melvoin doing what he does best is ©2019 MichaelKohlhaas.Org and is rubbed, scrubby, and kalamazubbed which, by the way, actually is a real word, all up from this FBjpg here.