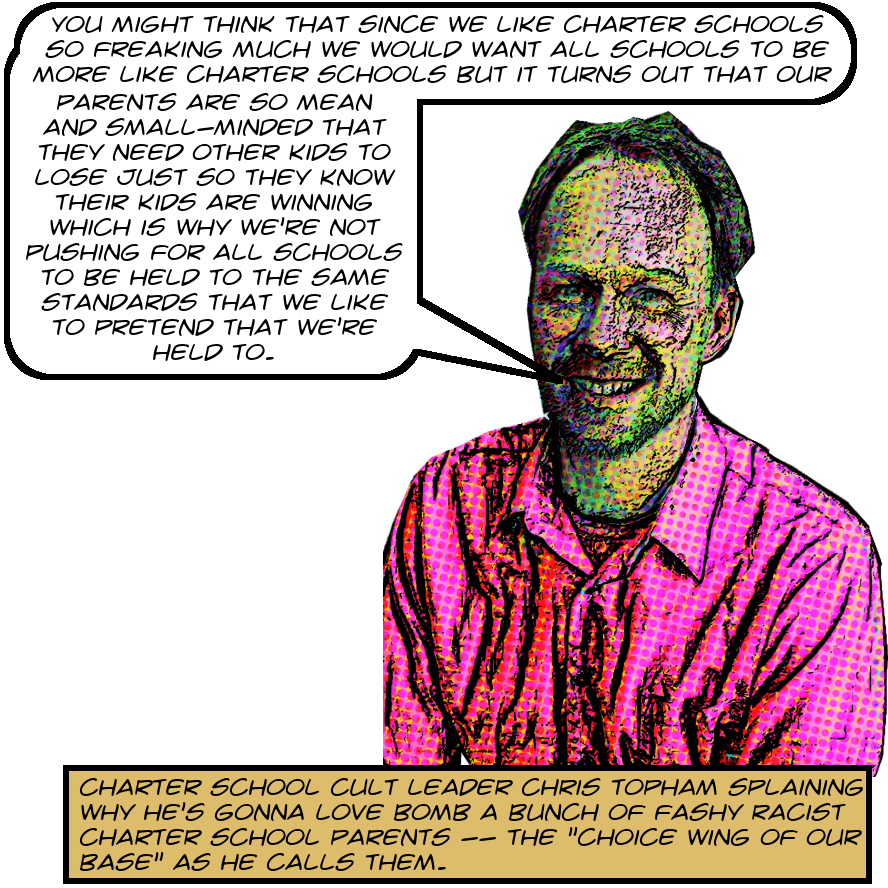 As you must know by now the California Charter School Association is the premiere wingnut loony tunes mouth-frothing privatization advocacy organization in the state. And we've been learning an unprecedentedly awful1 lot about them since June due to a huge set of records2 released by Green Dot Charter Schools in response to a request I made of them under the California Public Records Act.
These records are so rich, so complex, so voluminous, that it's taking me freaking forever to go through them, sort them, write about them, and I'm therefore laying them on you in increments. And the increment at hand is this powerpoint presentation, created by the CCSA in August 2018 to explain the next year's goals and fears to their members. I have also exported this as a PDF for ease of use.3 There are also JPEGs of the slides at the end of the post if that's better.
And my goodness, what a revealing heap of steaming and pernicious arrogance we have here. Under recent wins, for instance, we learn that the CCSA "Conditioned Legislature to defeat a half dozen harmful policy and budget proposals in preparation for less reliable Executive branch." That's the California Charter School Association right there telling how they "conditioned" the Legislature in preparation for Gavin "Less Reliable than Jerry Brown" Newsom's ascension to the throne.
And further down the line we learn the assumptions behind CCSA's policymaking agenda for 2019, probably actually for always, but I don't (yet) have the evidence. And again, what's revealed is appalling but not surprising. For instance they pledge that "CCSA will seek compromise on legislation that minimally constrains flexibility but only in exchange for new entitlements." This item casts the CCSA's support of SB126, which makes it exceedingly clear that charters are subject to both the CPRA and the Brown Act, in an interesting light.
Perhaps in 2018 they thought that this new law only "minimally constrain[ed] flexibility" and that they were going to get a bunch of goodies in return. But I'm willing to bet they're rethinking that concession now given that the fruits of a single CPRA request have subjected them to months of pain-writhing exposure, some scathing articles in the Los Angeles Times, and may ultimately end the career of their manchild knight in shining hair product, Nick Melvoin.
And their listing of what they see as the greatest threats against them for 2019 is very instructive as well. I'm not up on the details enough to comment on all of these but the ones I do understand are as appalling as the rest of it:
Continue reading A Secret Powerpoint From The California Charter Schools Association Reveals 2019 Lobbying Priorities And Strategies — In Particular They Consider Positioning Themselves As Champions Of Equity And Equality But Worry That Their Supporters Might See That As "Mission Creep" — They Consider Supporting Equal Access To High Quality Schools But Worry That Such A Position Might Alienate The "Choice Wing" Of Their Base — They List Among The Greatest Threats The Bare Possibility That Charter Schools Might Be Required To Earthquake Proof Their Buildings To The Same Standard As Public Schools — In Short This Is A Seething Stew Of Privilege — And Arrogance — And Clueless Self-Exposure — In Other Words More Of The Damn Same Stuff! →