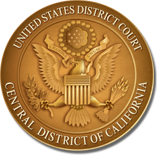 For background, see Luke Money's excellent coverage in the Times, starting with this January 29 article on the Lawsuit and continuing with Monday's article on the February 13 hearing.
UPDATE: The Times (finally) got around to covering this development this afternoon. Here's their story on the temporary restraining order.
I'm not really covering the lawsuit, filed on January 29, by the Orange County Catholic Worker and Carol Sobel's law firm against Orange County for civil rights violations incurred against homeless human beings living on the bed of the Santa Ana River.1 You can read the initial complaint here to get an idea of what's going on.
Yesterday afternoon the plaintiffs asked the County when they were going to start arresting people living on the riverbed and the County replied at 5:31 p.m. that arrests would begin today, February 7. Read the entire email exchange here:

Consequently, beginning tomorrow morning, OCSD personnel will begin advising people remaining on the District Santa Ana Riverbed property that they must vacate or may be cited and/or arrested for trespassing.

This prompted the plaintiffs to file an Emergency Request to Stay Arrests with the court. The metadata of that PDF suggests it was written at 5:59 yesterday, about half an hour after the County's reply. There is a transcription after the break.
This, in turn, prompted the court to issue an Order Granting Temporary Restraining Order forbidding the County from arresting homeless human beings on the riverbed for trespassing, loitering, or camping, until the hearing on February 13. The metadata of that PDF suggests that it was written at 11:11 p.m. yesterday. There is a transcription after the break.
Continue reading In Response To Emergency Motion Filed Yesterday By Plaintiffs, Last Night Federal Judge David Carter Issued Temporary Injunction Forbidding Orange County From Arresting Homeless People On The Santa Ana Riverbed Pending The Scheduled Hearing On February 13 →