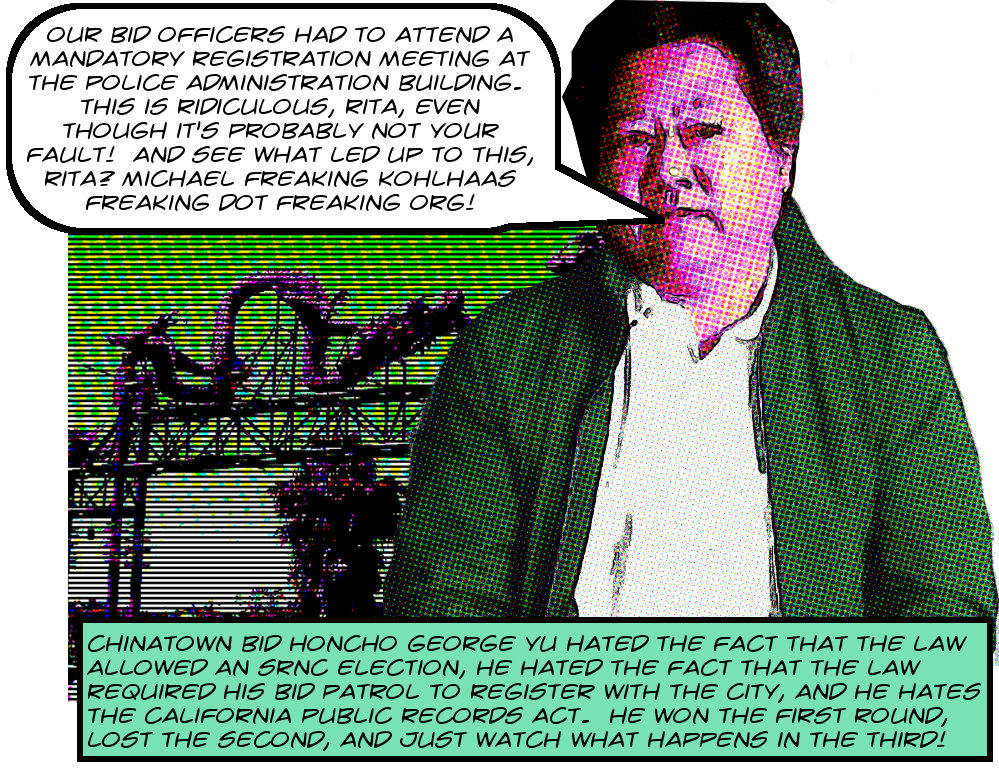 You may recall that in 2016 our work here at MK.Org led to the City of Los Angeles resuming enforcement of a law that had been ignored for more than 15 years which requires security guards, including BID security, who operate on public streets to register with the Police Commission and thus be subject to some public oversight.
In December 2017 I got powerful independent confirmation that the City's renewed enforcement was due to the work of this blog when Greg Foster, security honcho for the downtown criminal conspiracy known as the Central City East Association, stated in an open and public meeting that such was the case.
And yesterday I received a copy of this June 2017 email from Chinatown BID boss George Yu to City BID analyst Rita Moreno bitching and moaning about the requirement and thereby providing even more confirmation. In fact George Yu sent Rita Moreno a link to this very blog!1 And he introduced the link with the following statement: "Please see link below on what lead up to this." How's that for confirmation?!
This was part of a massive dump of material that was obtained from the City Clerk via the California Public Records Act and subsequently shared with me. I'll be writing about the rest of the material from time to time, and of course there's a transcription of the entire exchange after the break along with some inconsequential commentary. Why not take a peek, friend?!
Continue reading Additional Confirmation That This Blog Was Instrumental In The Resumption Of City-Wide Registration Of BID Patrol Officers With The LAPD Comes From A Whiny Little Email From Anti-SRNC Conspirator George Yu Of The Chinatown BID To Rita Moreno Of The City Clerk's Office →