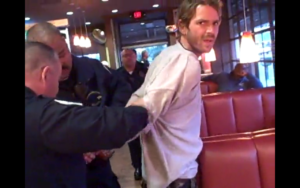 According to
a recent post on Facebook
, Mike Bonin's Venice Field Deputy
Taylor Bazley
is telling concerned constituents that
1
they [the BID Patrol] cannot touch people at all. He said "They can not do anything that you or I could not do. They just alert police. That's all."
The second claim, that BID security cannot do anything that any private person can't do, is true, but it doesn't make the point that Taylor Bazley wants it to make. California has one of the most weirdly expansive citizens' arrest statutes (PC 837 et seq.) in the known universe. A lawyer of my acquaintance once said2 that it essentially authorizes fricking Batman. So actually, you yourself can physically restrain people with handcuffs if they e.g. sit on the sidewalk in your presence.3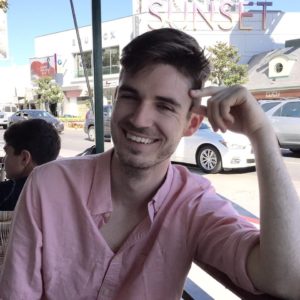 But Taylor Bazley's attributed claim that BID security can't arrest people is just wrong. The Hollywood BID Patrol, run by Andrews International Security, has made physical custodial arrests of far more than 10,000 people since they began their work here in 2007. In 2013 they made more than 1% of the arrests in the entire City of Los Angeles. You can watch videos of their arrests, read arrest reports and daily logs, and even look at photos of the people they've arrested:

Watch this video of six BID Patrol guards arresting a man in Hollywood. Read their arrest report to learn:

ARREST:
THE DEFT BECAME ARGUMENTATIVE WITH THE R/P AND OFFICERS, STATING THAT THE FEMALE DID NOT HAVE TO LEAVE. I ADVISED THE DEFT TO CALM DOWN AND THAT THE FEMALE HAD TO LEAVE BECAUSE SHE HAD NO MONEY TO PAY FOR HER FOOD AND THE MANAGER HAS ASKED HER TO LEAVE. DEFT STATED," FUCK YOU, YOU ARE ASSHOLES." BECAUSE OF THE DEFT'S DISRESPECT AND ARGUMENTATIVE WAY, THE R/P ADVISED THE DEFT THAT HE HAD TO LEAVE. THE DEFT REPLIED, "FUCK YOU I PAID FOR MY FOOD, I AM NOT LEAVING." THE R/P AGAIN ASKED THE DEFT TO LEAVE AND THE DEFT REFUSED. THE R/P ASKED THE DEFT A THIRD TIME TO LEAVE AND THE DEFT STILL REFUSED. I ADVISED THE DEFT THAT IF HE DID NOT LEAVE, HE I WOULD ARREST HIM FOR TRESPASSING. THE DEFT REPLIED," YOU ARE NOT ARRESTING ME FOR SHIT, SO FUCK YOU." I ADVISED THE DEFT," OK I AM GOING TO ASK YOU 1 MORE TIME TO LEAVE AND IF YOU REFUSE, I AM GOING TO ARREST YOU!" THE DEFT SAID," I AM NOT LEAVING, I AM GOING TO CALL LAPD." THE DEFT TOOK OUT HIS CELL PHONE BUT DID NOT DIAL. SGT. McCALL ADVISED THAT HE WAS GOING CODE R (RECORD THE SITUATION). THE DEFT BECAME VERY IRATE AND STARTED TO YELL," FUCK YOU, YOU CANT RECORD ME, GET THAT CAMERA OUT OF MY FACE." THE DEFT SLIDE OUT OF THE BOOTH, STOOD UP AND CONTINUED TO YELL AT SGT. McCALL TO STOP RECORDING. THE DEFT EXTENDED HIS LEFT ARM WHILE POINTING AT SGT. McCALL AND YELLING FOR HIM TO STOP RECORDING. I WAS STANDING BETWEEN SGT. McCALL AND THE DEFT, ALL AT ONCE THE DEFT CHARGED AT SGT. McCALL. THE DEFT'S LEFT ARM STILL EXTENDED WENT OVER MY RIGHT SHOULDER AND HE PLACED HIS RIGHT HAND AGAINST THE LEFT SIDE OF MY CHEST. AS THE DEFT. CONTINUED TO PUT WEIGHT AGAINST MY CHEST, USING BOTH OF MY OPEN PALMS, I PLACED THEM AGAINST THE DEFT.'S CHEST AND PUSHED HIM AWAY FROM ME. THE DEFT. ONCE AGAIN CHARGED AT SGT. McCALL, THRUSTING HIS RIGHT HAND TOWARD MY FACE. SGT. McCALL SAID TO PLACE THE DEFT. UNDER PRIVATE PERSONS ARREST FOR THE VIOLATION OF PC 602 TRESPASS. DEFT WAS PLACED UNDER ARREST WITHOUT FURTHER INCIDENT.
ADDITIONAL:
THE HAND CUFF'S WERE DOUBLE LOCK AND THE DEFT WAS TAKEN OUT OF THE LOCATION. LAPD 6A67 (GRANADOS #25485 AND WONG #41602) ARRIVED AT OUR LOCATION. LAPD TOOK OUR IN CUSTODY AND TRANSPORTED HIM TO LAPD HOLLYWOOD POLICE STATION WHERE HE WAS BOOKED FOR 602 PC (TRESPASS).

This is one case out of hundreds from 2015. Or see here for a particularly egregious example.
These are not isolated incidents. Before I started scrutinizing their behavior in late 2014, the Hollywood BID Patrol was arresting over 1000 people per year, all of them with handcuffs, all of them forcibly placed in private vehicles and transported either to the LAPD Hollywood Station or to BID Patrol headquarters.4 It's sadly true that at least in theory anyone can do this kind of thing in California, but it's absolutely not true that BID security can't touch people. If that's the message that CD11 is putting out they need either to adjust it to conform to reality or else continue to inspire anger and disbelief in those of us who know far, far better.

Image of man getting arrested by BID security in a Hollywood Denny's is a public record, as is casual head shot of Taylor Bazley.