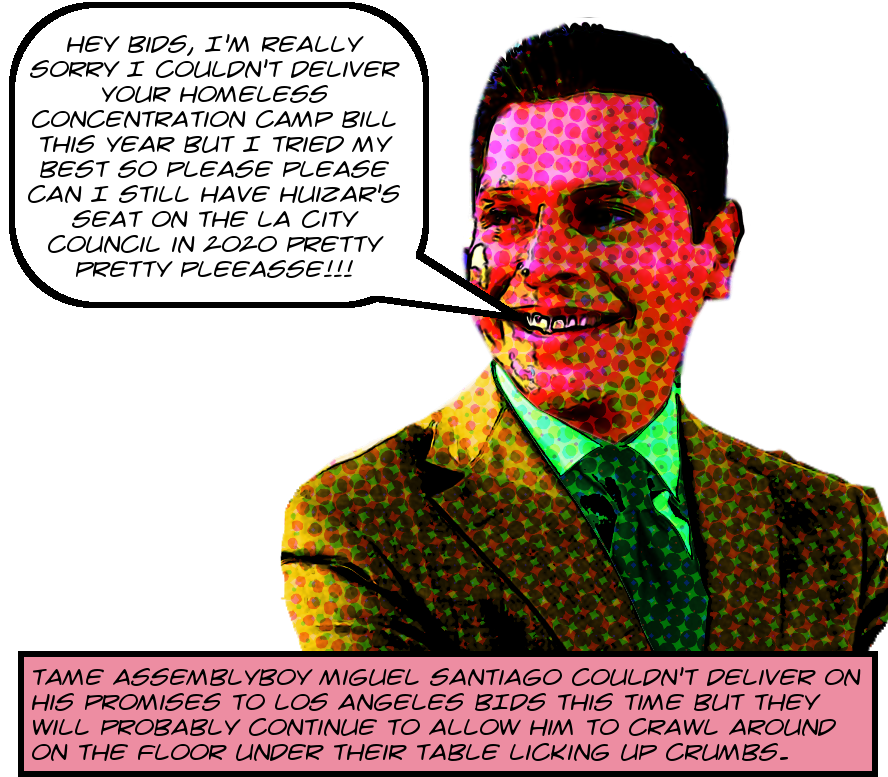 In January of this year Assemblymember Miguel Santiago introduced AB-1971, which was meant to expand the legal definition of a gravely disabled person essentially to allow at-will internment of homeless human beings. This pernicious nonsense was eagerly supported by Los Angeles City Councillors and their BIDdie co-conspirators. The bill met vigorous opposition from homeless people, their advocates, civil rights supporters, people who see how such a law could be weaponized against the elderly, and so on. A coalition of the sane, that is.
Last month, in a particularly cynical move, the bill was amended to only apply in Los Angeles County. However, even that concession to the opposition evidently wasn't enough to save it. Yesterday, on the last day of the 2018 legislative session, the bill was placed on the inactive file. I don't pretend to understand much about the arcane workings of the legislature, but it seems that this means it's not dead, it could come back for further politicking next year, but that it's not going to pass into law in 2018 and therefore will not take effect in 2019.1
Of course the bill's supporters presented it publicly as a compassionate measure to save homeless people who would otherwise die on the street. Regardless of their stated intentions, though, it's clear that, if passed, this bill would have given police and BIDs a powerful tool for clearing homeless people off the streets and into carceral institutions, the better to effectuate their goal of cleansing the streets of Los Angeles of people who they see as no better than trash.
This perspective is supported by the lists of opposers and supporters, consisting of mostly governments, police, and Kerry Morrison's wholly-controlled subsidiaries, which you will find after the break.
Continue reading Miguel Santiago's BID-Inspired Horror-Show Anti-Homeless Bill Is Dead For This Year — It Would Have Made It Far Easier To Intern Homeless People In Los Angeles County — Placed On Inactive File Yesterday As Legislature Adjourns For The Year →