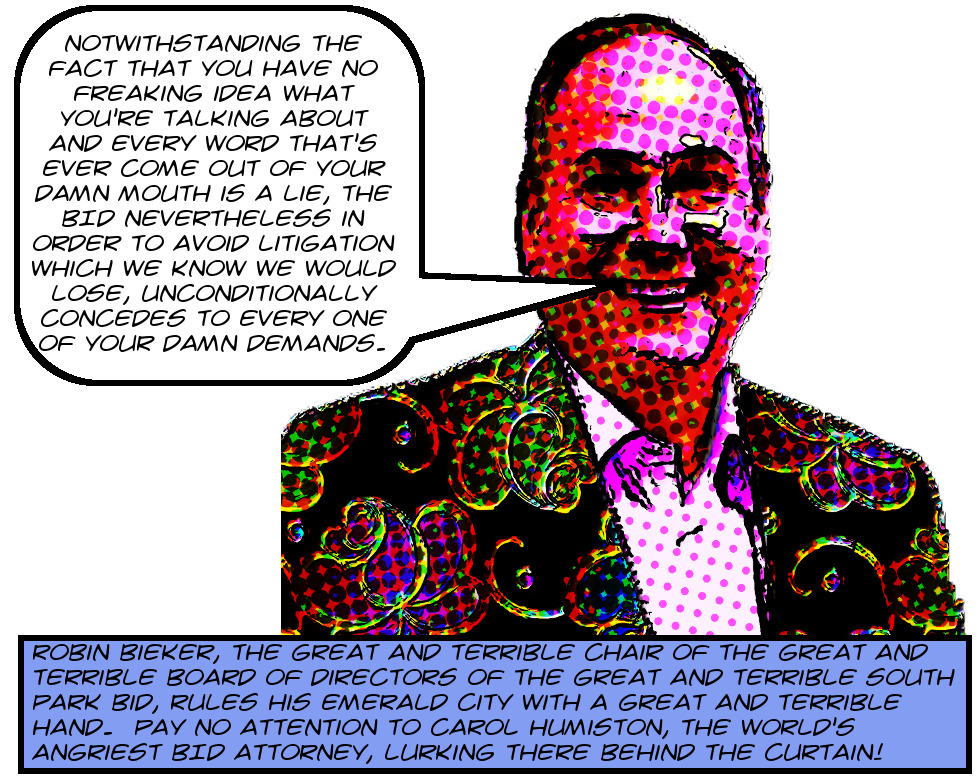 Today's episode in our ongoing Brown Act Enforcement Project, which you can read all about right here on this page entitled Our Work is the abject and total capitulation of the South Park BID to every last one of the demands made in the letter I sent them on December 14, 2018. This is a not-unexpected move, since doing so obviates the chance of an expensive lawsuit which they'd be sure to lose and possibly would have to pay my litigation costs as well as their own.
Like so many of our local BIDdies they were advised in the process by the world's angriest BID attorney, Carol Freaking Humiston of Bradley & Freaking Gmelich. And really, more than advised as she clearly wrote the letter of capitulation that Board Chair Robin Freaking Bieker sent out to me over his own signature yesterday. It's got every known Humistonian trope on parade, e.g. "You don't know what you're talking about and whatever it is you're totally wrong but nevertheless we'll do what you demand but not for any reason."1
And unlike the previous Brown Act transgressions I've spotted and skooshed out with these demand letters, there is a really complex violation here. The SPBID has maintained a secret committee, the Executive Committee, that meets in private and votes by email. The BID has agreed not to do this any more, but my impression from their emails is that it's really essential to the way they function. It'll be interesting to see how they get along with out it.
Although it's as if not more likely that they'll keep breaking that particular bit of the law and try to cover it up by claiming that all relevant emails are exempt from production, quite likely due to the nebulous and mostly made up deliberative process privilege. Well, we'll certainly see what happens. Meanwhile, turn the page for a transcription of the articles of surrender.
Continue reading South Park BID Brown Act Demand Letter Leads To Complete, Total, Abject, Sniveling, Obsequious Concession To Every Last One Of My Demands! — Will They Be Able To Pull It Off? — I Doubt It — But Benefit Of The Doubt Is The Order Of Today — Not Of Every Day, Though →