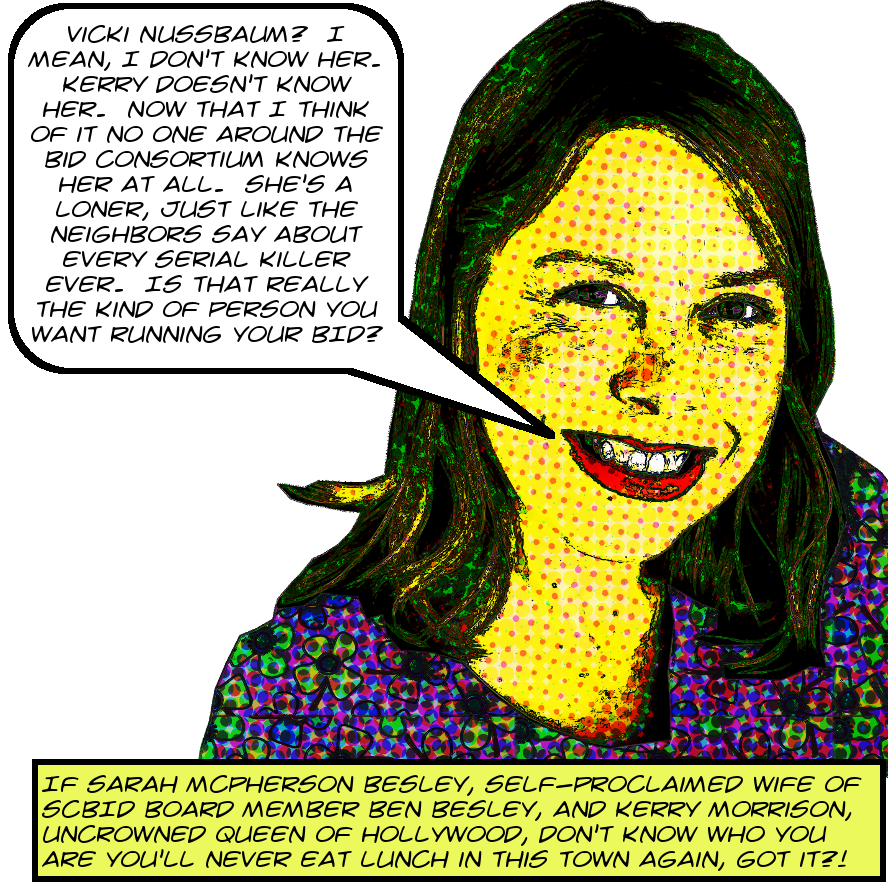 The short version of the backstory is that the Studio City BID is hiring a replacement for its executive director, Dr. John Walker Ph.D. You can read the details and see a copy of the job announcement here in yesterday's post. Yesterday we talked about applicant Taylor Bazley. Today's topic is Ms. Vicki Nussbaum. Here's what I know about Vicki Nussbaum. She was the director of the Village at Sherman Oaks BID at least since January 2016 and likely earlier than that.1 More recently she was appointed executive director of the Century City BID.2 So she's been around BIDlandia for at least three years if not more.
Oh, and I also know that she applied for Dr. John Walker's job and not only that but just a few days after the job announcement was published Dr. Walker Ph.D. offered her an in-person interview!3 The interview was set for July 11, 2018, and I have no reason to suspect that it didn't come off exactly as planned. Of course we know they didn't hire her right then because in early September they interviewed Taylor Bazley.
And BID Board member Ben Besley is on the hiring committee. And he claims to be married to Sarah McPherson Besley, well-known for the fact that she used to work for Kerry Morrison in Hollywood where she was famous for hating Peruvians and hating overpasses. Don't know which she hates worse. Anyway, for reasons that aren't yet clear, Sarah Besley went and asked Kerry Morrison about Vicki Nussbaum and Kerry Morrison didn't know her. And Sarah Besley didn't know her either. And … oh, heck, why not let Ben Besley tell it. In this stunning little email chain he says:

I also got some interesting feedback, or telling lack of feedback, on Vicki from my wife Sarah, who used to Chair the Los Angeles BID Consortium. Sarah doesn't know Vicki and neither does her former manager Kerry Morrison. This is telling of someone who is now managing multiple BIDs. Sarah thought it was concerning that she hasn't been participating in the "BID community" over her the course of her career.

How's that for hard core, friends? If you don't know Kerry Morrison and Sarah Besley you don't get the job! It wasn't listed as a necessary attribute,4 but man, it sure freaking turned out to be. Pretty tragic for Vicki Nussbaum, I think, cause obviously she had no idea this was a job requirement. At least the publication of this vital information makes it clear for all future applicants! You gotta kiss up to Kerry Morrison and Sarah Besley if you wanna be a BID zeck dreck! Anyway, turn the page for transcriptions of all the emails arranging for Vicki Nussbaum's seemingly fruitless visit to the damn Studio City BID!

As I said before, this stuff all comes from this email chain here. Don't forget to notice Vicki Nussbaum's highly professional use of her personal email address rather than one associated with any of her present employers: vicki.carr.nussbaum@gmail.com.
---
---

On Tue, Jun 19, 2018 at 2:36 PM, John Walker <john@thescbd.com> wrote:
Hi Vicki –
I hope all is going well and you are having a good day? Just got back from a walk for lunch and it's beautiful outside.
I was wondering if you would like to drop by the office so that we might have a more formal chat – you can see where we are and we can drill down a bit about the job? I'd also like to know a bit more about what your workday is like with your BID.
I think we are close enough that setting up something should be easy however, because my entire family is coming in for a two week period starting on the 23rd, I will be in and out so perhaps we could look at Monday, July 9 around 2pm or Wednesday, July 11 – I am open nearly all day. You can also shoot me over some other dates that work for you and we can make it happen.
Regards,
John Walker
Executive Director
Studio City Business District

---
---

On Jun 19, 2018, at 5:49 PM, Vicki Nussbaum <vicki.carr.nussbaum@gmail.com> wrote:
Hi John,
Sitting down for next steps sounds good to me. Do you want me to bring anything with me besides myself?
I am free Wednesday, July 11 after 2. Let me know what works for you.
Enjoy the time with your family — sounds fantastic. My three daughters are scattered across the country so I cherish the time we all spend together.
Take care,
Vicki

---
---

On Wed, Jun 20, 2018 at 11:39 AM John Walker <john@thescbd.com> wrote:
Good Morning Vicki:
I have put this is my calendar for Wednesday, July 11 @ 2p.m.
I have copied my assistant, Damian Gatto who will arrange parking and contact you.
Also, you do not need to bring anything else since I already have your resume.
Regards,
John Walker
Executive Director
Studio City Business District

---
---

On Jun 20, 2018, at 6:54 PM, Vicki Nussbaum <vicki.carr.nussbaum@gmail.com> wrote:
Thank you John.
Damian – let me know what you need from me for the parking.
Take care
Vicki

---
---

Hello, Vicky!
I have arranged for parking on the CBS Radford lot on July 11th.
You will most likely park in the Sater structure, but due to the activity on the lot, security may instruct you to park elsewhere.
Let me know if you need directions to our offices from where you park. 818.655.5377
Best,
Damian Gatto
Executive Assistant/ Office manager
Studio City Business District

---
---

Image of Sarah McPherson Besley is ©2018 MichaelKohlhaas.Org.