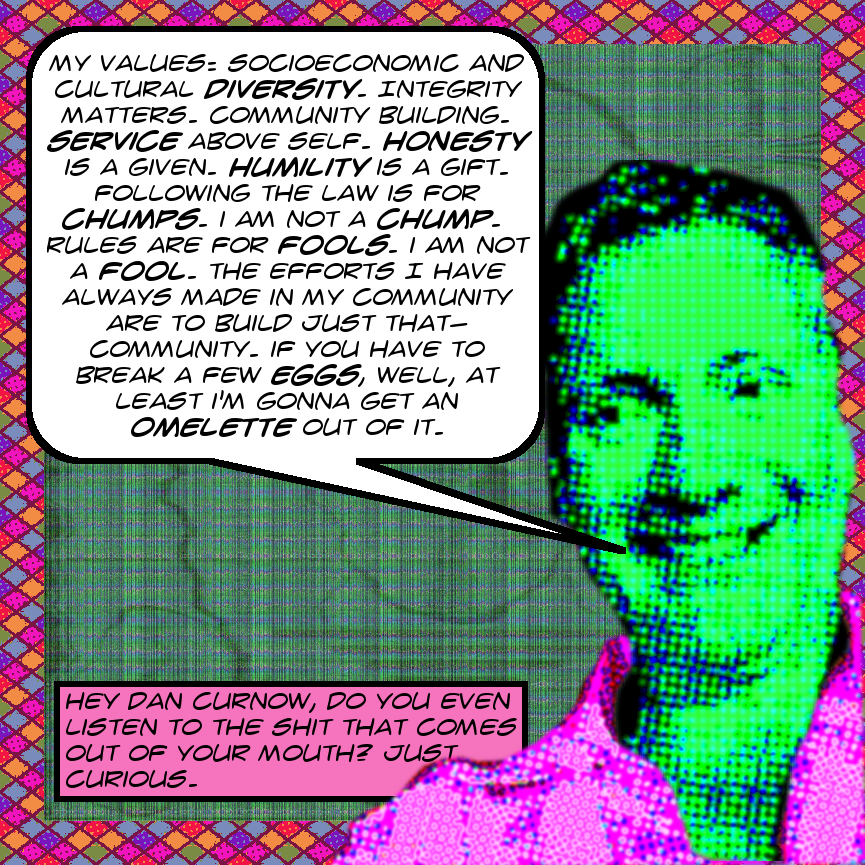 Background: You can read my previous stories on the Skid Row Neighborhood Council formation effort and also see Jason McGahan's article in the Weekly and Gale Holland's article in the Times for more mainstream perspectives.
A few days ago I published a story on how the massive release of emails from the Downtown Center BID revealed massive, egregious Brown Act violations by the Central City East Association Board of Directors. The issue is that the Brown Act explicitly1 forbids a majority of a Board from using "…a series of communications of any kind, directly or through intermediaries, to discuss, deliberate, or take action on any item of business that is within the subject matter jurisdiction of the legislative body."
There were also six members of the DLANC Board in on the conspiracy:
According to an extremely useful guide prepared by then-City-Attorney Rockard Delgadillo, in the context of the Brown Act a majority means a majority of a quorum. That is, the minimum number of members that can actually act on a motion. The DLANC has a 24 member board, and a quorum is 13. Hence these six members using email "…to discuss, deliberate, or take action on any item of business that is within the subject matter jurisdiction of…" DLANC is not a violation; a violation would require seven members to have been in on the discussion.
However, the Brown Act also applies to standing committees of bodies which are subject to its requirements. In particular, consider DLANC's Livability Committee. That this is a standing committee is stated explicitly in DLANC's bylaws2 Also, in March 2017 the members of the Livability Committee were none other than Dan Curnow, Jacob Douglas Van Horn, and Jacki Breger. For instance, take a look at the minutes from March 16, 2017.

And those minutes establish not only that in March 2017 the Livability Committee had only three members, but also that at that particular meeting, Jacki Breger was absent and Jacob Douglas Van Horn and Dan Curnow conducted business, voted on motions, and so on. Thus the two of them were enough to trigger the Brown Act's prohibition on participating in an email discussion about matters within the subject matter jurisdiction of the Livability Committee.
And this very subject matter jurisdiction is defined explicitly in the Committee's definition in the bylaws:

The Livability Committee hears issues related to open space, recreation, transportation, mobility, sustainability and other topics related to giving downtown a rich, livable environment for DLANC stakeholders.

This is essentially broad enough, what with including "other topics related to giving downtown a rich, livable environment," that essentially anything to do with Downtown is probably included in the Livability Committee's subject matter jurisdiction. But, interestingly, it's not necessary to make such a tenuous argument. At least two of the emails have explicitly to do with San Julian Park, which is inarguably part of the jurisdiction of the Committee.
First, Jacob Douglas van Horn asked his fellow conspirators, including Dan Curnow:

Has anyone verified that SRNC formation committee has the necessary permits for their rally with live entertainment in San Julian park tomorrow?

And then fellow conspirator and DLANC board member Robert "Bob" Newman replied:

I just contacted Wendell and a contact at SRO. They both said they have permits from Park and Recreation till 9 PM.

Obviously issues concerning event permits in Downtown parks are within the subject matter jurisdiction of DLANC's Livability Committee, and that is why the participation of Jacob Douglas Van Horn and Dan Curnow in this email conversation violated the Brown Act.
Jacob Douglas Van Horn is, of course, famously a moral dumpster fire. Probably even Jacob Douglas Van Horn's mom has accepted this about him by now. And, as far as I know anyway, he doesn't waddle about the place proclaiming his ethical virtues, his tolerance, and so on. Basically, he wants everyone unsightly, which means everyone whose presence tends to lower property values, out of Downtown and out yesterday. He's an abominable guy, and this is an abominable position to take, but it's not hypocritical.3
Dan Curnow, on the other hand, is on the record as a deeply ethical fellow. He lives, breathes, sleeps, eats, and shits out ethical principles, at least if you believe his auto-aggrandizement over at DanCurnow.com,4 where Dan Curnow informs us that, e.g., "The efforts I have always made in my community are to build just that – community." and where he voluntarily lists his values:5
Socioeconomic and cultural diversity.
Integrity matters.
Community building.
Service above self.
Honesty is a given.
Humility is a gift.

I'm curious as to which of these items, in the view of Dan Curnow, covers illegally participating in a covert conspiracy to undermine the efforts of Skid Row residents to form a neighborhood council to address those of their concerns that have been systematically ignored by Dan Curnow and his DLANC cronies past and present for decades now. Probably never gonna know, though.
Anyway, as I'm sure you're aware by now, it's a core aspect of our mission not only to catch and expose transgressors, but also to file complaints against them with the duly constituted authorities. In the case of Brown Act violations, that means the Public Integrity Division of the LA County DA's office.
It's slightly tricky with this particular case because, as I learned by turning in the Los Feliz Village BID earlier this year, there's a 90 day window for complaints under one enforcement prong of the Brown Act. However, there's also §54960.2, which allows for some enforcement action within nine months. That deadline has not yet passed in the instant case, and I'm currently studying up on its application, both for use here and in the case of the Board of Directors of the Central City East Association. I'll post much more on that once I have it sorted out.
Meanwhile, I'll close by noting that regardless of the specific deadlines in the Brown Act, the DLANC bylaws allow stakeholders to file grievances against Board members for violating Board rules. And Board rules explicitly require compliance with the Brown Act:

DLANC, its representatives, and all Community Stakeholders shall comply with these Bylaws and with any additional Standing Rules or Procedures as may be adopted by the Board as well as all local, county, state and federal laws, including, without limitation, the Plan, the City Code of Conduct, the City Governmental Ethics Ordinance (Los Angeles Municipal Code Section 49.5.1), the Brown Act ( California Government Code Section 54950.5 et seq.), the Public Records Act, the American Disabilities Act, and all laws and governmental policies pertaining to Conflicts of Interest.

It's at least plausible, then, that irrespective of the deadlines in the Brown Act, Dan Curnow and Jacob Douglas Van Horn committed a grievable offense by participating in this email discussion. There's no explicit deadline for filing grievances. Of course, filing a grievance against Jacob Douglas Van Horn would be pointless and probably not possible. He's long gone from the DLANC board, resigned in disgrace and subsequently sunk into a dark sea of infamy and disdain. But Dan Curnow's still on the Board. He's even on the Executive Committee … At least for now!

Image of Dan Curnow is ©2017 MichaelKohlhaas.Org and was smooshed up this morning outta this tasty lil item right here.