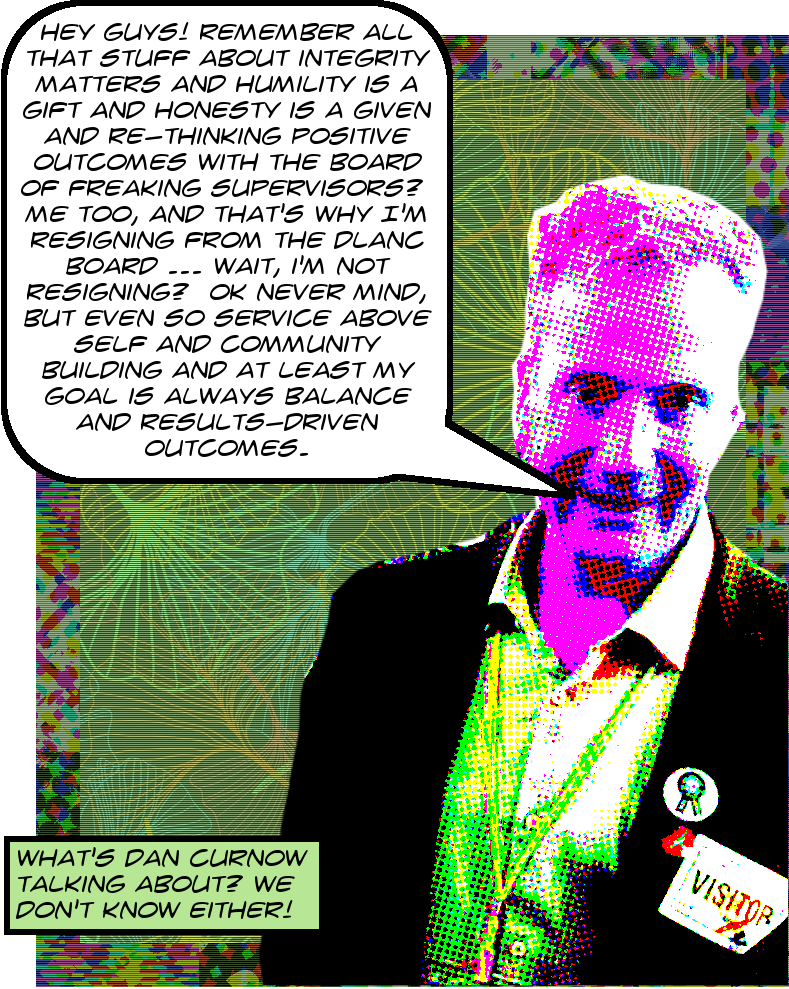 Background: You can read my previous stories on the Skid Row Neighborhood Council formation effort and also see Jason McGahan's article in the Weekly and Gale Holland's article in the Times for more mainstream perspectives.
I reported a few weeks ago on how Downtown Los Angeles Neighborhood Council Board member Dan Curnow violated the Brown Act in April 2017 along with his late, unlamented colleague, moral dumpster fire, and wannabe vigilante, Jacob Douglas Van Horn. Jacob Douglas VH, of course, famously resigned from DLANC under a cloud some time ago and, by doing so, perhaps placed himself beyond the suffering of consequences for his evil ways.1 Dan Curnow, as far as anyone around here knows, though, has not (yet) resigned from DLANC and so is eligible to be complained about in every possible venue.
First of all, then, I sent this complaint about him to the Public Integrity Division of the Los Angeles County District Attorney, which is charged with enforcing Brown Act compliance in L.A. There's not a whole lot of information in there which wasn't in my original story, but maybe you'll find it worth reading. The bigger news, though, is that I also filed a grievance with DLANC against Dan Curnow for violating the Brown Act. This is a new direction for me, and there's a detailed discussion of the issues after the break.

First of all, the procedures for handling grievances are given in the DLANC Bylaws. Specifically in Article XI. The purpose of the grievance process is found in XI(E):

This grievance process is intended to address matters involving procedural disputes, such as the Board's failure to comply with Board Rules or these Bylaws.

This isn't a problem, because the Bylaws also require Board members to comply with the Brown Act. This is found in Article XIV:

DLANC [and] its representatives … as well as as all local, county, state and federal laws, including, without limitation, … the Brown Act …

Which means that if Dan Curnow violated the Brown Act then he violated Article XIV of the Bylaws, which is a grievable offense according to Article XI(E).
Now, the part establishing the Brown Act violation itself is no different from the argument in the previous article, so I'll skip the details. So after receiving a grievance, it turns out that the Board is required, required as in it is not optional, to put it on the agenda for the next meeting, which in this case is on November 14. This is required by Article XI(A):

Any grievance by a Stakeholder must be submitted in writing to the Board who shall cause the matter to be placed on the agenda for the next regular DLANC meeting.

Oh, but there's a detail! See how it says that only stakeholders can submit grievances? What if I'm not a stakeholder?! Well, of course, stakeholders are also defined in the Bylaws. In particular in Article IV, where it says:

Neighborhood Council membership is open to all Stakeholders. "Stakeholders" shall be defined as those who live, work or own real property in the neighborhood and also to those who declare a stake in the neighborhood as a community interest stakeholder, defined as a person who affirms a substantial and ongoing participation within the Neighborhood Council's boundaries and who may be in a community organization such as, but not limited to, educational, non-profit and/or religious organizations.

So to be a stakeholder it's sufficient to affirm a substantial and ongoing participation in the Downtown community. Well, I can certainly do that! I've been blogging about these creeps for more than two years now, going to their infernal meetings, reading about their history, participating in resistance movements, and so on. If that's not "substantial and ongoing participation" in their damnable DTLA I don't know what is. So I wrote them a letter affirming all this nonsense, and here's what it said:

The purpose of this letter is to declare my community interest stakeholderhood in the Downtown Los Angeles Neighborhood Council ("DLANC") as authorized by Article IV of the DLANC bylaws. To that end, I affirm a "substantial and ongoing participation within the Neighborhood Council's boundaries." Although the bylaws do not require more than a simple affirmation to qualify as a community interest stakeholder, perhaps it will be useful for me to list some of my "substantial and ongoing participation."
Since July 2015 I have studied and participated in the Downtown Los Angeles community and its politics, especially in relation to its business improvement districts ("BIDs"). My participation includes attending meetings of BIDs, carrying on extensive conversations with BID staff and board members and their political opponents, writing about BIDs, giving lectures in the community about BIDs, and serving as a resource and advisor to community activists, academics, lawyers, and organizations who are interested in the BIDs of Downtown Los Angeles.
I have also participated in the Skid Row Neighborhood Council formation effort through research, writing, and investigation. In fact, I have been authorized by the SRNC-FC Chair, General Jeff, to assist the SRNC-FC with various research matters on a voluntary basis.

If that doesn't get me stakeholderhood I don't know what will. Also, it would be pointless for them to try to short-circuit the grievance process by arguing that I'm not a stakeholder. First of all, I clearly meet their own definition. Second of all, there are plenty of stakeholders who actually live Downtown who are ready to refile immediately if the grievance is rejected for that ridiculous reason.2
And I also asked a bunch of DLANC Board members to recuse themselves. Mostly because they had participated in the same email discussion that made Dan Curnow and his fellow Livabilityite Jacob Douglas Van Horn guilty of Brown Act transgressions. Obviously this makes them incapable of presenting an appearance of impartiality since they were there contemporaneously and didn't see any problem with Dan Curnow's behavior at the time. These ones were:
Of course, Estela Lopez (beatus821@gmail.com) and everybody's favorite piratical POS Jacob Douglas Van Horn (jacob@newdowntownbrokerage.com) are on this list, but they're already gone baby gone.3
Additionally I also asked DLANC President Patricia Berman to recuse herself. After all, as readers of this blog are well aware, in May 2017 La Presidente called for the immediate ouster of any Board member found to have been involved with United Downtown Los Angeles. This email discussion certainly constitutes involvement. My theory, therefore, is that she's already announced her opinion on the matter, and so cannot be impartial either:

I also request that Patricia Berman recuse herself from any consideration of or action on this matter. On May 3, 2017, at a hearing sponsored by the Department of Neighborhood Empowerment to consider appeals from the Skid Row Neighborhood Council Formation Committee, Berman stated:

If indeed one of our board members was involved with United DTLA I would love to find out about it, because I bet we could get them off the board really fast.

The emails presented here show that Board member Dan Curnow "was involved with United DTLA," so Berman's statement to the effect that she would "love to find out about it" so that she "could get them off the board really fast" creates a strong appearance that she has prejudged aspects of the matter and therefore cannot act impartially.

Finally, as you may recall, one of the evidentiary emails, a little note from DLANC Boardboy Robert Newman to his fellow conspirators about San Julian Park, states:

I just contacted Wendell and a contact at SRO. They both said they have permits from Park and Recreation till 9 PM.

It seems to be impossible to establish at this point whether the "Wendell" that Robert Newman contacted is fellow DLANC Board member Wendell Blassingame, but on the off-chance that it was, I asked that he recuse himself as well:

If the "Wendell" that Robert Newman contacted about permits and San Julian Park as described above in Paragraph 11 is Board member Wendell Blassingame then I request that he too recuse himself from any consideration of or action on this grievance.

So that's the story. As I said, I fired this hot little number off to everyone on the DLANC Board. As an interesting coda, just mere moments ago, as I was about to publish this post, I received an email from La Presidente acknowledging, or something, receipt of the grievance:

From: patti.berman@dlanc.com
To: mike@michaelkohlhaas.org
Subject: RE: DLANC Grievance
Date: Monday, November 06, 2017 6:19 PM
Thank you for the info.

So that happened: a sign from above! Stay tuned for news, friends!

Image of Dan Curnow is a transformative modififractation of this item right here and the words in his mouth are a tossed word salad of greens plucked from these green fields right here, complemented by dressing out of my own imagination.

At least those of his evil ways which relate to DLANC, and those are all we're concerning ourselves with here.
Not only that, but if it's rejected, the rejection is, in itself, a grievable offense. You can see where this is heading!