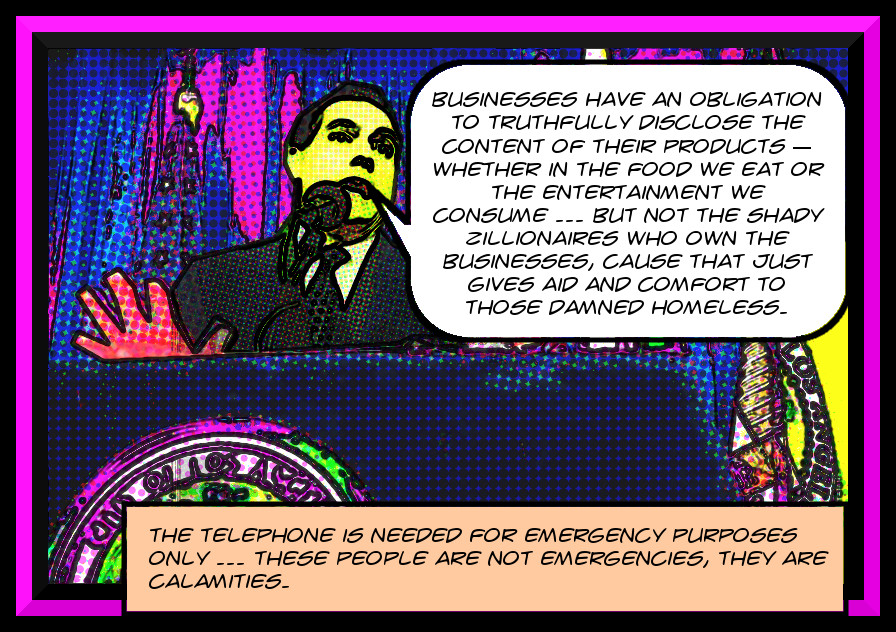 Background
: You can read
my previous stories on the Skid Row Neighborhood Council formation effort
and also see
Jason McGahan's article
in the Weekly and
Gale Holland's article
in the Times for more mainstream perspectives.
You will certainly, if you've been following the issue, recall the fact that the zillionaire-sponsored effort to subvert by any means necessary the Skid Row Neighborhood Council formation effort was in full bloom by early 2017. And the Downtown BIDs were deeply involved in the whole mishegoss. In January, Blair "I don't know nothin' 'bout no Brown Act compliance" Besten of the Historic Core BID, Estela Lopez of the Downtown Industrial District, and furtive hereditary downtown zillionaire Michael Delijani were meeting with their sorry little Councilboy, encouraging him to ignore both law and decency in his effort to stop the SRNC.
By March, as we've seen, the zillionaires had formed an anonymous Delaware LLC known as United DTLA and hired walking morality-free-zone and former Los Angeles City Attorney Rockard Delgadillo to lobby the City against the SRNC. March 20, 2017 was a milestone day in the campaign. On this day, Fashion District BID executive directrix Rena Leddy began sending out emails to the property owners in her district to rally them against the SRNC. She sent this one out at 11:44 a.m.. At 12:24 p.m. she sent this one out, complete with a copy of Rockard Delgadillo's infamous letter to the Department of Neighborhood Empowerment, which is the locus classicus of the arguments which ultimately prevailed over the SRNC.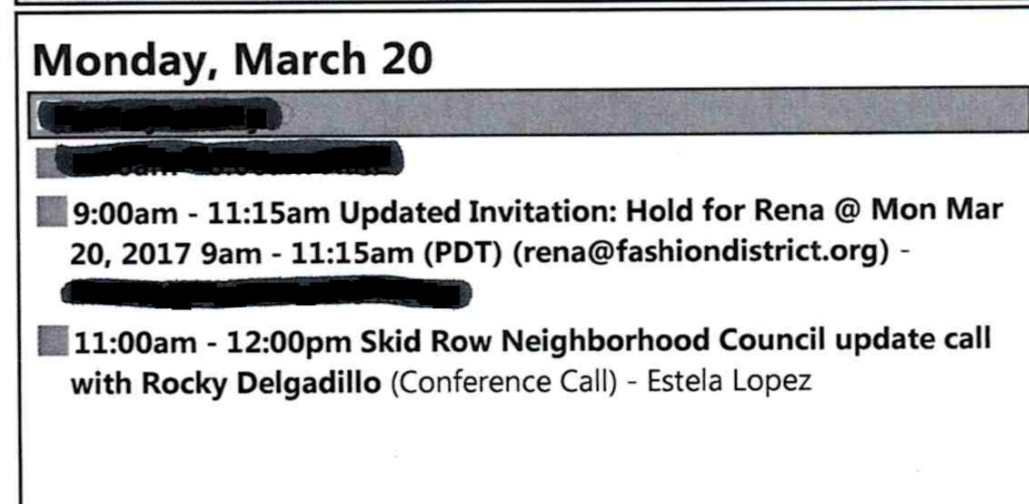 And today, thanks to the fruits of a Public Records Act request for the 2017 appointment calendars of everyone in the Fashion District BID,1 I'm able to extend our knowledge of the events of that fateful day back 45 more minutes to 11 a.m. Take a look at Rena Leddy's appointments for March 20, 2017. See that at 11 a.m. she had a conference call with Rockard Delgadillo and Estela Lopez for a "Skid Row Neighborhood Council update." And, as we've seen, right after this, Rena Leddy commenced to rallying her troops against the SRNC.
Continue reading On March 20, 2017 Fashion District BID Exec Direc Rena Leddy and CCEA Exec Direc Estela Lopez Had A Conference Call With Unregistered-As-A-Lobbyist Liner LLP Partner Rockard Delgadillo To Discuss The Skid Row Neighborhood Council →