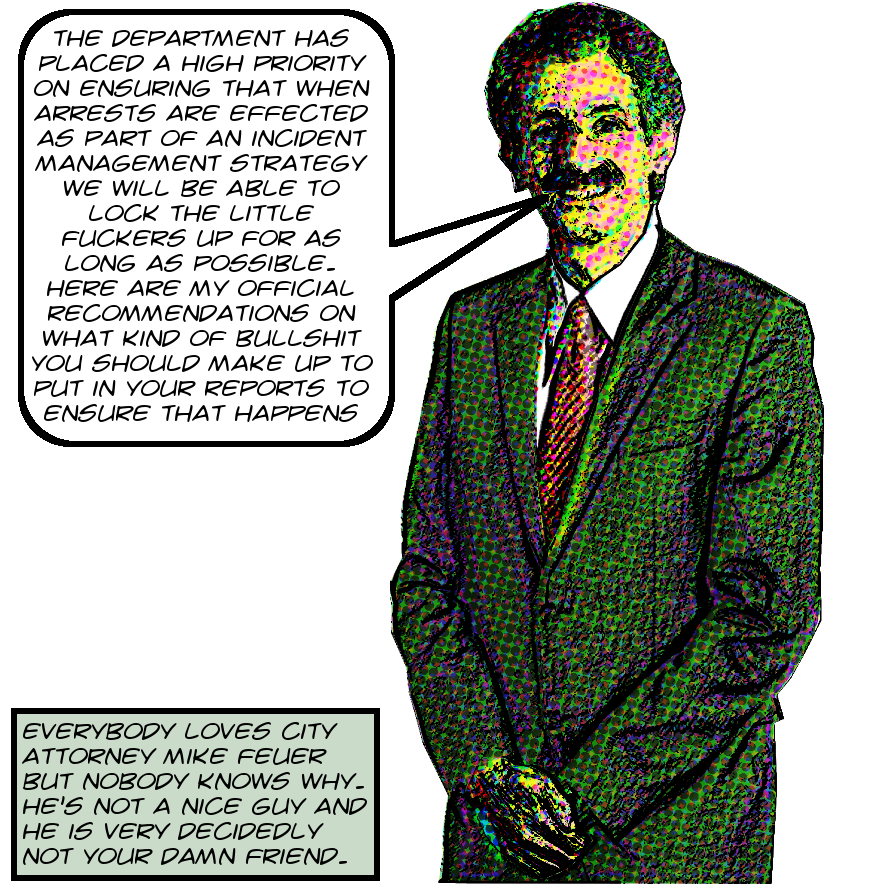 In 2014 a police officer in Ferguson, Missouri murdered Michael Brown. On November 24, 2014 a grand jury announced its decision not to indict the officer and, in response, civil unrest broke out across the United States, including in Los Angeles, where hundreds of protesters were arrested by the LAPD. And it'll be no surprise to anyone paying attention that the police here used illegal tactics, arrested people who weren't breaking the law, and so on.
These allegations were the subject of at least three federal civil rights suits against the City. One by Charmaine Chua, filed in January 2016, was eventually certified as a class action, and seems poised to settle fairly soon. Another, by Patti Beers and others, seems to have settled already. The third, filed by Girmay Amha, has particularly vivid descriptions of LAPD misconduct, and it's really worth your time to read to find out exactly the kind of crap the cops pulled.
So evidently, and this is supported by the fact that none of these cases seem likely to go to trial and the fact that evidently few if any of the arrestees were ever charged, the City realized that they had incurred significant liability due to LAPD misconduct. In defending the City against these multiple suits, and also having been involved in the decisions not to charge most or all of the protesters, the City Attorney's office would have had to had a deep look into LAPD's arrest policies at protests.
The lack of charges certainly suggests that they didn't like what they found. It's possible, therefore, although I don't (yet) have direct proof, that LAPD behavior at the Michael Brown protests was the cause of the fact that in October 2017 Los Angeles City Attorney Mike Feuer released an extensive and detailed set of filing guidelines related to arrests made at protests. I recently obtained a copy of this putatively confidential document, you can get your own copy here, and there's a transcription below.1
This remarkable document lists 16 distinct violations that the City Attorney recommends LAPD arrest protesters for. It includes "evidentiary recommendations" for each crime, which read like nothing more than winking advice to police about what kinds of things they have to make up in order to avoid future debacles. There are also notes to filing deputies city attorneys for some of the violations. In all it's a technical but absolutely fascinating document, and surely the time spent reading it will be repaid manyfold.
And included in the same document release from which I obtained this record, there was also this other notice from the Chief of Detectives, entitled "Enforcement Guidelines for Violations of LAMC §55.07." This law regulates what kinds of items are forbidden to possess at protests, like sign poles that are too thick, or sharpened, and so on. It breaks down the division of responsibilities among different command levels for arresting people for violations, and includes a copy of the mandatory warning, in both English and Spanish, which must be read by officers before they start arresting people for violations. Very, very interesting stuff.
Continue reading In The Wake Of Federal Lawsuits Against The City Of Los Angeles For Its Outrageous Unsupportable Illegal Pretextual Arrests At 2014 Protests Over The Murder Of Michael Brown City Attorney Mike Feuer Issued Detailed Confidential Case Filing Guidelines Explaining Precisely Which Crimes To Arrest Protesters For — And Exactly What Information Had To Be In The Police Reports In Order To Prosecute Successfully — Which Looks To The Even Mildly Cynical Eye As A List Of Suggested Lies For The Cops To Include — And Here — Friends — Is A Copy Of Feuer's Confidential Report — All Eighteen Pages Of It — And Special Bonus! — LAPD Enforcement Guidelines For LAMC 55.07 — Which Regulates How Big Your Signs Can Be At Protests And Forbids Glass Bottles — Among Other Things →