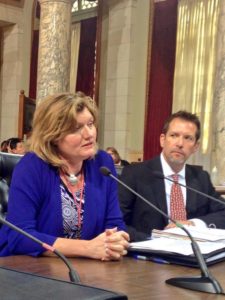 Miranda Paster
is the director of the LA City Clerk's Neighborhood and Business Improvement Division (NABID), which administers the City's BID program.
Her job description
(updated in February 2014) includes among her duties presenting at the conferences of the
International Downtown Association
:
1
…deliver formal presentations, including analyses and recommendations, to the City Council and its Committees and International Downtown Association Conferences…
The story begins in 2011,2 when BIDs gave Miranda Paster $3000 to attend the IDA's 2011 annual conference in Charlotte, North Carolina. Take a look at this collection of emails and records of payments from 2011. These show that less than two weeks before the conference started, Paster was scrambling to get the money together to attend, but that she already had a commitment from the BIDs to pay $3000 (a log of the actual payments is included there). It seems that in 2011, Paster's attendance at this conference was a new thing for her, as the financing was arranged in such a hurry. I'm guessing that at this point presenting at this conference was not yet part of Paster's official duties. It's a rare bureaucracy indeed which will not pay its employees' expenses to carry out their duties. So the BIDs paid, buying at least a sense of obligation.
Unfortunately, IDA records of the 2011 conference don't seem to show what Paster did there, but by the 2012 conference, held in Minneapolis, she was a panelist. This is interesting in itself. The panel, moderated by Rena Leddy, now of the Fashion District BID but then of Progressive Urban Management Associates, or PUMA,3 was entitled How Cities Encourage BIDs: Trends and Challenges.4 Here is a copy of a Power Point summary of the session, which is astonishing in its own right.5
Now, you may not be familiar with the story of the destruction and resurrection of the Arts District BID. It began in 2011 when Yuval Bar-Zemer of Linear City development initiated a campaign against the BID based on the theory that BID assessments used for marketing campaigns didn't benefit assessed property owners in any way allowed under state law.6 A court case ensued, and in May 2013 Superior Court judge Robert O'Brien ordered the BID to dissolve.
Continue reading Miranda Paster, Subverter Of Arts District BID Alternatives: Some Of What $3000 Bought The BIDs of Los Angeles Over The Years And How She Got Temporarily "Bumped" Due To Allegations Of Conflict Of Interest →