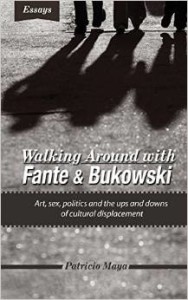 Walking Around with Fante and Bukowski is a new collection of essays by Patricio Maya, published by Grady Miller Books. If you're interested in the literature and culture of Los Angeles you will certainly find something in here that will interest you. Although there's not much in here that aligns explicitly with the subject matter of MK.org, there is plenty of relevant background material for the student of abusive political power in Los Angeles.
In the title essay, Maya recounts a journey he took following Arturo Bandini's epic journey to Long Beach in search of Vera Rifkin. One of Maya's themes here is what he calls "the tenuous dimension between books and reality":
You walk downtown or on Wilshire, half stoned, asking yourself if here was where Nathanael West ate, if there was where William Saroyan brawled, if Bandini slept here, if Bukowski drank there. It is a kind of derangement. But there are worse ways to spend time when you are 19 years old.
Of course, if the BIDs had had their way it would have been where Nathanael West was arrested, where William Saroyan was arrested, and where Bandini was arrested. That's the last I'll say about that, read on.

In another essay Maya talks about minor Hollywood landmark the Ivar Theater. As he says, it's "one of those Hollywood Buildings with a special allure that has little to do with its rather mundane architecture. The mystique comes from what went on inside." Of course, Hollywood is full of haunted, evocative places like this, whose value to flâneurs and the city's other true lovers is not measured by real-estate appreciation or price-to-earnings ratios. Maya's sense of their elusive charm and his ability to articulate it is one of the best parts of his work here.
Finally, the book contains some of Maya's journalism. In particular, a long interview with Univision star reporter Rubén Luengas is a nicely done introduction to this Emmy-winning reporter, universally known among LA's Spanish speakers but barely at all among the Anglophone population. Anyway, you can get the book in all the usual places. We don't like to link to Amazon from this blog, but the book's not yet in Worldcat, so here's an exception, but don't get used to it.1
We don't make any money from your clicks to that link.
Image of book cover by Nick Chung, appearing here under a claim of fair use.