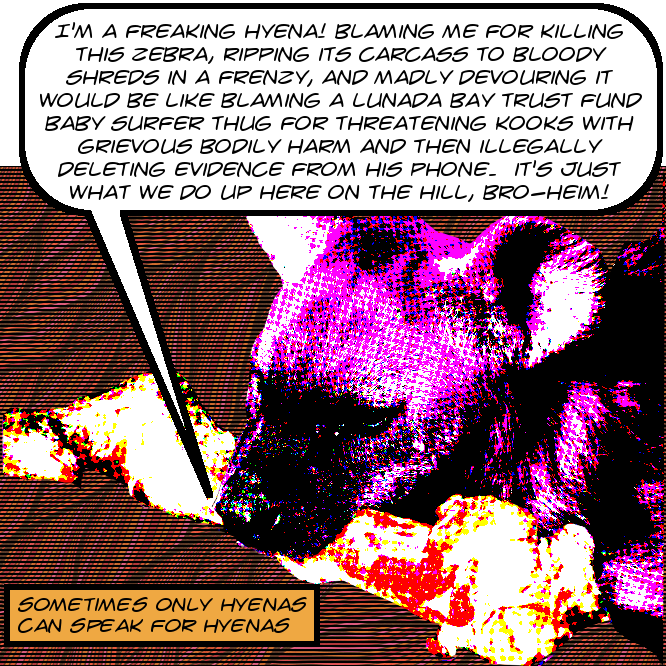 For background take a look at this excellent article from the Times on this lawsuit. Also see here to download all pleadings in this case. You can also read all my posts on the case.
You probably remember that a few weeks ago Magistrate Judge Rozella Oliver set a hearing for tomorrow, Wednesday, December 6, 2017 at 1:30 p.m. in her courtroom on the ninth floor of the Spring Street Federal Courthouse. The subject of the hearing is sanctions for Brant Blakeman and the City defendants for allegedly destroying or failing to preserve relevant evidence. They filed oppositions to the plaintiffs' motions a few days ago, and yesterday the plaintiffs filed responses to these oppositions:
They're both interesting, but there doesn't seem to be a lot of new material there. They're quite plainly spoken as to the failures of defendants to preserve evidence. There's a transcription of the response to Blakeman's reply after the break.
Also recall that in late October, Rozella Oliver filed a report making various recommendations for sanctions against Sang Lee and Charlie and Frank Ferrara for their failure to preserve evidence. Last week she filed an amended version of this report softening some of her recommendations.

Transcription of Plaintiffs' Reply to Blakeman's Opposition to Motion for Sanctions:

I. INTRODUCTION
Defendant Blakeman concedes that – after his preservation obligation incepted – he did not make any effort to preserve evidence and he deleted relevant text messages.
Instead, Blakeman argues he was not required to preserve his cell phone forensically because Plaintiffs never asked him to do so. But the Federal Rules obligated Blakeman to preserve relevant evidence, even without a specific request. Blakeman's related assertion – that he did not have to preserve the texts at issue because they were exchanged before he was served with the Complaint – is similarly misplaced. He was obligated to preserve all potentially relevant evidence within his possession when he first learned of this lawsuit.
Blakeman also seeks to distract with his argument about the method of preservation. How it is accomplished (whether by forensic backup or some other method) is irrelevant so long as the evidence is preserved. In any event, his argument is inapposite given that he undertook no preservation efforts.
Blakeman concedes that he possessed relevant texts at the time he learned of this lawsuit. His subsequent deletion of the texts is sanctionable.
II. ARGUMENT
A. Blakeman Made No Effort To Preserve Relevant Texts Despite His Obligation To Do So.
Defendant Blakeman mistakenly contends that he was not obligated to preserve the texts at issue because they were exchanged before he was served with the Complaint.1 But parties must preserve all relevant evidence that exists at the time they become aware of litigation. Parties must "take the necessary steps to ensure that relevant records–including ESI–were preserved when this litigation was reasonably anticipated or began, and that those records were collected, reviewed, and produced [ ] during the discovery process." Blakeman concedes that his relevant text messages with co-Defendants existed at the time he became aware of this litigation. He does not argue or submit evidence showing that routinely deleted text messages upon receipt. As such, he was obligated to preserve the messages.
But Blakeman made no effort to preserve evidence and he fails to describe, much less submit evidence of, any preservation efforts he undertook. On the contrary, he engaged in a pattern and practice of destroying relevant evidence. He also lied about the existence of relevant texts in response to written discovery and again under oath at his deposition.2 He has never corrected these misleading statements despite his obligation to do so. See Fed. R. Civ. P. 26(e)(1)(A).
Blakeman claims it is unreasonable to expect him "to perform evidence preservation efforts that were never requested by the Plaintiffs." (Blakeman Opp'n at 5:10-12.) Not only is this statement contradicted by the evidence submitted in support of Plaintiffs' motion (including by the parties' Joint Rule 26(f) Statement, Plaintiffs' preservation letter to Blakeman, and Plaintiffs' discovery requests), but a party must preserve evidence regardless of a specific request by an opposing party, even pre-litigation. (litigants are not required to request the preservation of relevant evidence prior to the complaint and "a failure to do so does not vitiate the independent obligation of an adverse party to preserve such information").
Despite the clear relevance of his texts with co-Defendants, Blakeman deleted them after learning of the lawsuit. And he argued for summary judgment, claiming that "the only alleged conduct attempting to link Blakeman to others is a single text message sent by a non-party to various surfers including Blakeman in 2015, to which Blakeman did not respond; a text message to Defendant Papyans [sic] to a 'Bay Boy' about surfer Chris Taloa, to which Blakeman did not receive or respond" and other emails and photographs. (Blakeman MSJ, Dock. No. 284 at 5:20-6:1, emphasis added.) Blakeman has made no effort to correct this misrepresentation, even after documents produced by Papayans directly contradicted him.
B. Evidence Was Lost As A Result Of Blakeman's Intentional Destruction of Evidence.
Although Blakeman's cell phone bills do not contain his text messaging history, Plaintiffs identified at least 15 texts that Blakeman exchanged with coDefendants based upon a review of others' records and productions. (Decl. Wolff, Dock. No. 508-4, Exs. 9, 15 & ¶ 13.) Despite this, Blakeman argues that Plaintiffs do not adequately support their claims of intentional spoliation, even asserting that Plaintiffs' request for sanctions is a violation of Rule 11(b)(3). But Plaintiffs provide ample proof of Blakeman's intent to deprive them of the use of relevant evidence. Blakeman's consistent obstruction of the discovery process, including providing misleading discovery responses, untruthful deposition answers, and mischaracterizing evidence in his summary-judgment motion, and failure to correct these misrepresentations demonstrate his intent to deprive Plaintiffs of this information. ("[t]he undersigned infers that FEG's agents created incriminating text messages, realized the texts messages would be discoverable, and, by deleting the text messages, acted improperly upon their shared intent to keep incriminating facts out of evidence . . . FEG's agents acted with the intent to deprive FFS of the use of the deleted text messages"). Further, whereas in First Financial, the Court rejected as plausible the defendants' assertion that they had a "habit of routinely deleting text messages," here Blakeman has not put forth any evidence suggesting his deletion was accidental or routine. Id. at *3; see also Oppenheimer, 2017 WL 1807596 at *13 (finding intent to deprive where "the City did not provide any reason for why it deleted the e-mails"). And because Blakeman concealed the texts during discovery, Plaintiffs were unable to question him about his intent. Thus, Plaintiffs have satisfied the showing of intent under Rule 37(e)(2).3
C. Plaintiffs Have Been And Will Continue To Be Prejudiced.
Blakeman erroneously argues he should not be sanctioned because some of the texts he deleted were later produced by another party, and thus Plaintiffs have not been prejudiced. Although Defendant Papayans produced some of the missing texts after discovery closed, still other texts remain missing. Plaintiffs were prejudiced by not having any of this information during the course of discovery. (finding prejudice despite the recovery of some previously deleted emails because the defendant failed to produce them during discovery and the later incomplete production was still likely to cause prejudice to plaintiffs in preparation for trial). Additionally, Plaintiffs will continue to be prejudiced at trial, where Blakeman apparently intends to question the authenticity of the Papayans production. (Blakeman Opp. to Plaintiffs' Ex Parte App., Dock. No. 513, 4:18-20.)
III. CONCLUSION
"Civil litigation and discovery demand a level of integrity from the parties in order to properly function. When parties disregard that responsibility and/or ignore the court's mandates, there must be strong consequences." Blakeman's destruction of relevant evidence after his preservation obligation arose prejudiced Plaintiffs. While some evidence was recovered from other parties after discovery closed, still more remains missing. Accordingly, Plaintiffs ask that Blakeman's motion for summary judgment be denied, that the jury be instructed that the spoliated evidence that remains missing was likely unfavorable to Blakeman, and that Plaintiffs be reimbursed for their reasonable attorneys' fees incurred in bringing this motion. These sanctions fall within the Court's authority, which includes a range of curative measures that are "quite broad" and are "entrusted to the court's decision."
DATED: December 4, 2017 HANSON BRIDGETT LLP
By: /s/ Samantha Wolff
SAMANTHA D. WOLFF
Attorneys for Plaintiffs


Image of idealized Lunada Bay Boy is ©2017 MichaelKohlhaas.Org. It's a heavily modified remogrification of this very freely licensed little item right here.

The parties agree that Blakeman's obligation to preserve evidence arose no later than April 14, 2016, when he was served with the Complaint. More likely, Blakeman knew of lawsuit immediately after it was filed given the significant press attention it garnered in his local community, and his communications with other co-Defendants, including a five minute phone call with Frank Ferrara on April 1, 2016.
Blakeman claims his discovery responses, in which stated he did not possess any communications with other surfers, were not untruthful because he did not say they never existed. Blakeman goes so far as to say that, in any event, his untruthful responses "are not germane to any issue before this court" and that Rule 37(e) does not support sanctions for untruthful responses. Blakeman Opp'n at 10:23-11:6. The law does not support this type of gamesmanship. See Fed. R. Civ. P. 26(g)(1).
Blakeman also suggests the expert opinions of William Kellermann should be discounted because he is employed by Plaintiffs' counsel. But Mr. Kellermann does not have a financial stake in the outcome of this litigation. Moreover, Hanson Bridgett undertook Plaintiffs' representation as part of its pro bono program. Blakeman also ignores Mr. Kellerman's extensive experience and argues he is not qualified as an expert. This Court already considered Mr. Kellermann's expert opinion in a related context. (Dock. No. 526, at 3.) Notably, Blakeman does not put forth any expert testimony that contradicts Mr. Kellermann.