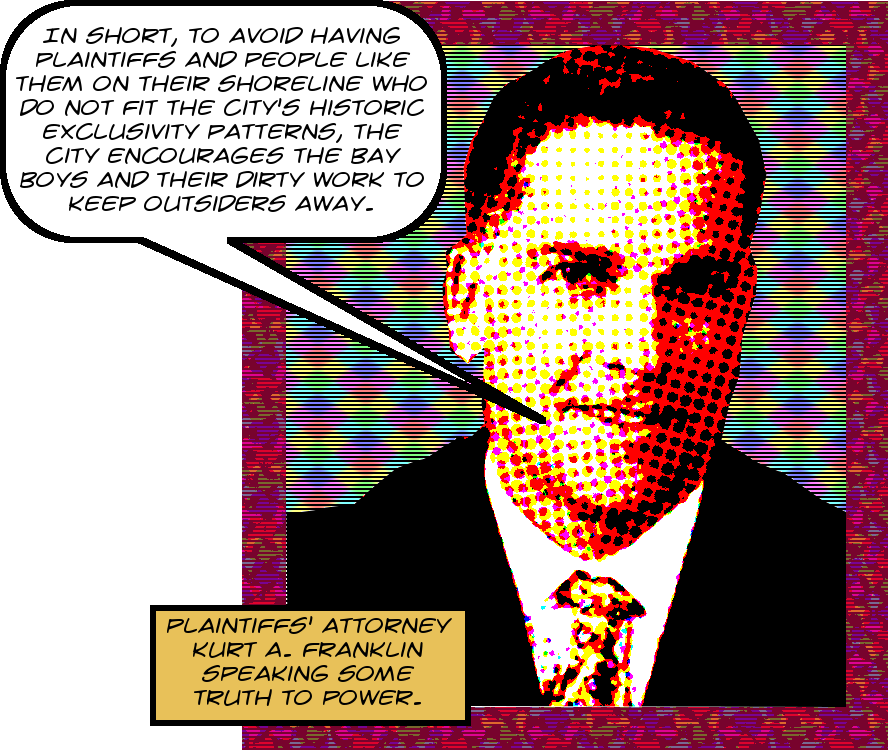 For background take a look at this excellent article from the Times on this lawsuit. Also see here to download all pleadings in this case. You can also read all my posts on the case.
There's so much going on right now that I barely have time to list the recent paper filed in the Lunada Bay Boys case, but there's a lot of interesting stuff here.
• First of all, recall that during last week's hearing on sanctions against defendants Charlie Ferrara, Frank Ferrara, and Sang Lee, magistrate judge the honorable Rozella Oliver strongly hinted to the Ferraras' attorney, Alison K. Hurley, that she really ought to consider withdrawing her clients' motion for summary judgment. Well, I suppose that when judges hint, smart people listen, and, additionally, it seems that Alison K. Hurley does as well. Thus on Monday the Ferraras filed this notice of withdrawal of their previous motion.
• Next we have the Plaintiffs' supplemental brief in opposition to City defendants' motion for summary judgment. The overarching issue is that the City of PVE has been so remiss in its duties to release documents that they've made it impossible for the plaintiffs to respond effectively to this motion for summary judgment. This is worth reading, and there's a partial transcription at the end of this post.
• Also, this item comes with a statement of supplemental facts and a bunch of exhibits. These contain tons of super-interesting, formerly confidential, documentary evidence. The point is to enumerate all the ways in which the City defendants failure to provide this new evidence, some of it obtained as recently as yesterday, hindered the plaintiffs' response. The new evidence is fascinating. There's a list of links and descriptions after the break.
• Finally, there's a supplemental brief in opposition to the individual defendants' motions for summary judgment, which plays a role parallel to the analogous document for the City defendants. This too is well worth your attention, and there's a partial transcription after the break. This also comes with a statement of supplemental facts, also worth reading, with lots of new creepy Bay Boy texts and so on.

Various exhibits to the Plaintiffs' supplemental brief in opposition to City defendants' motion for summary judgment:
Selections from Plaintiffs' supplemental brief in opposition:

Plaintiffs assert that the City directly discriminates against Spencer, Reed, and others like them based on: (1) outsider status (rational basis – all Plaintiffs); (2) gender (intermediate scrutiny – Plaintiffs Reed and Coastal Protection Rangers ("CPR")); and (3) race (strict scrutiny – CPR only). In short, to avoid having Plaintiffs and people like them on their shoreline who do not fit the City's historic exclusivity patterns, the City encourages the Bay Boys and their dirty work to keep outsiders away. The City hides behind a surfing problem that it never intends to cure.
Defendants' late-produced information provides further evidence supporting Plaintiffs' claim that the City unlawfully discriminates against outsiders. Indeed, each piece of late-produced evidence reveals more of the wall that the City has erected to keep the so-called undesirables away from their shoreline. The further late-provided evidence includes:
• Former Defendant Chief Jeff Kepley, who had joined the City mid-2014, and who initially attempted to address the Bay Boy problem, was forced out of his job because of his public tough-on-shoreline-crime enforcement position. Having actively served less than three years, he resigned on August 28, 2017.
• Chief Kepley's September 24, 2015 email to City Manager Dahlerbruch, Captain Best, Captain Velez, and Sgt. Barber, which stated that the Los Angeles County Deputy District Attorney in the hardcore gang division believed that future crimes related to surfing localism can and should be prosecuted with gang enhancements, and saying that if the City prosecuted a case in this fashion it would be the first time ever and put an end to the problem.
• Chief Kepley's December 31, 2015 email to the City Manager and the Police Department that the City's prior chiefs had attempted to take on the Bay Boys without success; thus it was time for a new day. (Produced by the City.)
• Defendant Papayans' texts regarding the Bay Boy's coordinated effort to put pressure on the City Manager to remove Jeff Kepley as Chief of Police. (Produced by Papayans.)
• A City memo indicating that it prepared for the January 20, 2014 Martin Luther King Day Jr. event by assuming it would be the outsiders who would instigate trouble by agitating the locals. (Produced by City.)
• Video evidence of the January 20, 2014 Martin Luther King Day Jr. event demonstrating that the City's assumptions about the outsiders instigating trouble were wrong. (Produced by City.)
• Sgt. Steve Barber's memorandum to all City police personnel who attended CPR's January 16, 2017 Martin Luther King Day Jr. event, calling the event a success but also calling out an officer for "ogling" women on the bluff. (Produced by City.)
Beyond the belated production of evidence, the City also has destroyed and suppressed evidence, including by failing to maintain N.F.'s 3 cell phone in a state that information could be extracted from it, failing to preserve information on the City-owned cell phone that Defendant Blakeman used to plan and carry out the Bay Boys' assault against Spencer and Reed, and failing to preserve relevant information off of targeted police officer's personal devices, who were known by the City to maintain close relationships with the Bay Boys.
Partial transcription of supplemental brief in opposition:

While the Individual Defendants plead with the Court to take this case away from the jury, their reasons become all the clearer as the case progresses and with the additional evidence that Defendants have now been forced to produce. The additional evidence shows:
• At the time Defendants filed their motions for summary judgment in late July—and their supporting reply briefs on August 17—they knew there was other evidence in the case that had not yet been produced.
• There were numerous text messages between Defendants that further confirm their unity of purpose and common design (as part of the Bay Boys) to exclude the general public—"kooks," "outsiders," "non-locals"—from visiting or surfing at Lunada Bay.
• There were numerous text messages between Defendants that further confirm that they (as part of the Bay Boys) coordinated their exclusionary efforts—with specific calls to action when "kooks" came to Lunada Bay and specific mentions of preventing "kooks" from catching any waves so that "they never come back."
• There were text messages between Defendants in which they specifically refer to each of the Plaintiffs on a day that person tried to visit Lunada Bay.
• Even to this date, there are numerous gaps in what Defendants produced. Most telling, there are huge gaps in Defendants' production of their text messages, with some producing records with several months of text messages missing—or omitting messages that they obviously sent or received, as shown by records from other Defendants.
Defendants undoubtedly will try to ascribe different meanings to this evidence. But disagreements as to meaning only confirm that there are genuine issues of material fact here, precluding summary judgment or adjudication. It is the province of the jury to judge Defendants' credibility, weigh evidence, and consider the inferences that can be drawn from evidence.
The jury should be allowed to decide for itself whether Defendants are lying, whether to infer from the evidence that Defendants had a unity of purpose and common design to exclude "kooks" from Lunada Bay, and whether to infer from the evidence that Defendants participated in excluding "kooks" from Lunada Bay. Plaintiffs accordingly ask the Court to deny Defendants' motions for summary judgment.
To refresh, the Individual Defendants are members of the Bay Boys. As part of the Bay Boys, Defendants have a unity of purpose and common design to exclude the general public, particularly "outsiders" or "non-locals" (whom they call "kooks"—and much worse names), from visiting or surfing at Lunada Bay. This purpose is well-known. A police dispatcher stated: "We know all of them. They're infamous around here…They don't like anyone that's not one of the Bay Boys surfing down there."
The ways in which the Bay Boys pursue this purpose are also well-known. These are their "rules"—their "terms of engagement." The Bay Boys harass and intimidate "outsiders" who visit or try to surf at Lunada Bay, from the moment they arrive, including by ensuring large numbers of Bay Boys are present when visitors come, surrounding and blocking paths to the shoreline, approaching visitors aggressively, calling visitors derogatory names like "kook," "gook," and "fucking faggot," telling visitors they cannot or should not be coming to Lunada Bay, heckling, starting or trying to start fights, throwing rocks at visitors, vandalizing cars, circling surfers in the water so that they cannot catch waves, and dangerously "dropping in" on or "burning" surfers.
The evidence discussed in Plaintiffs' Opposition papers includes: a recording in which a Bay Boy discusses that there is hazing and pressure to do things that are "uncalled for" to prove that they belong (PAMF 36); text messages demanding participation, e.g., "If you really want to be a Bay Boy, you'll show up" and e-mails stating, "I WILL DIE BY THESE RULES," and urging others who see outsiders, "DON'T THINK TWICE N LETS TAKE BACK WHAT THEY R TAKING FROM US," and "DO NOT FEEL GUILTY WHEN TAKING BACK WHAT WAS OURS IN THE FIRST PLACE."
Moreover, the Bay Boys are organized, using e-mail, mobile phone calls, and text messages to coordinate. Bay Boys patrol Paseo Del Mar in their cars or trucks while on their cell phones. Moments after they see a visitor along the bluffs, additional gang members arrive as reinforcements. Messages are also relayed from Bay Boys at the top of the bluffs to those down below on the shore regarding approaching visitors.


Image of Kurt Franklin is ©2017 MichaelKohlhaas.Org and is based on this little number right here.