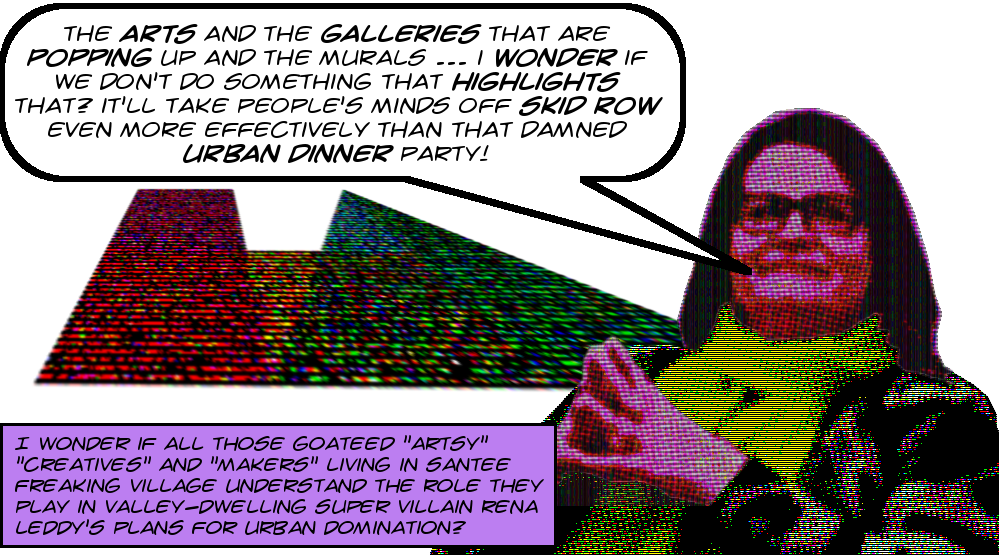 The other day we wrote about Thursday's fun-filled1 meeting of the Fashion District BID's most funnest committee ever, which is to say, the Marketing Committee.2 Today I have a couple more interesting episodes to present to you!
First, Chardonnay-swilling scarf monster3 Rena Leddy began a little discussion with her gang of half-witted henchwomen, notably Laurie Sale, Laurie Rosen, Linda Becker,4 Mark Levy,5 and Ariana Gomez, about how to market the arty-shartsy side of the Fashion District. You can watch it here if you have the stomach for it. There's no transcription after the break, cause really, it's too inconsequential to bear.
The main thing about it, though, is its absolutely puerile triviality. They're all like "EEK, there are galleries, let's promote them! There are murals, OMG!!" BIDs do an awful lot of this kind of jive, where they take the products and activities of actual human beings, bleach them into a kind of blindingly inoffensive white soup, and then natter on about how unique it all is and how they can use it for their branding efforts or whatever.
And that would all be fine, maybe a little irritating or cookie-toss-inducing, as that kind of tin-eared jargonistic verbal outsplorching will be. It would be, that is, if it were all these BIDs were up to. But it's not all they're up to. Not even close.
Continue reading Chardonnay-Swilling Scarf Monster Rena Leddy And Her Gang Of Halfwit Henchwomen Discuss How To Market Fashion District Artsy-Shartsitude, Showing How They Subvert The Rule Of Law, Undermine Civil Society, And Betray The Social Compact For Far Less Than 30 Pieces Of Silver — Not To Mention Long-Awaited Proof That Creak-Voiced Marketing Queen Ariana Gomez Is Really Truly Smarter Than Kylie Freaking Jenner! →