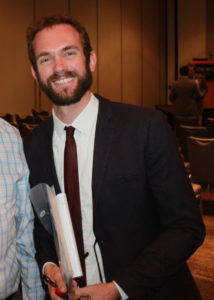 (Hitherto we have sought to understand O'Farrell's anti-nightclub campaign; the point, however,
is to change it)
The other day we wrote about the Rusty Mullet conditional use permit revocation hearing, but didn't get around to covering CD13 Hollywood Field Deputy Dan Halden's testimony, which you can listen to here, and as always there's a transcript after the break, and we'll just take it line by line, also as always.
My name is Daniel Halden. H-A-L-D-E-N. Good afternoon, I guess. I was going to say good morning, but good afternoon. I serve Councilmember Mitch O'Farrell of the Thirteenth District. I'm his Hollywood Field Deputy, which is a position I've had since May 2014.
It is editorial policy here at MK.org to showcase anything true that our guests say. Unfortunately all too often that's no more than their name, rank, and serial number.
It's the top priority of the Councilman [unintelligible] to ensure public safety and a high quality of life, whether it's in Hollywood or anywhere in the Thirteenth District.
Not really. In fact it is the top priority of the Councilman to hire private security forces who are not subject to democratic control so that they can physically attack homeless people who have not yet been targeted by one of his on-demand forcible encampment cleanups or attempts to deny them food and in the spare time left to him after these efforts, to destroy nightclubs in Hollywood solely because Kerry Morrison and Peter Zarcone are unable to tell the difference between groups of nonwhite people having fun and freaking civil insurrections or something. Anyway, that's what the evidence shows is the top priority of the Councilman. We guess you could call that a high quality of life, but really, whose life?
Continue reading Daniel Halden, Speaking On Behalf Of Mitch O'Farrell, Explains Why The Rusty Mullet Must Die →