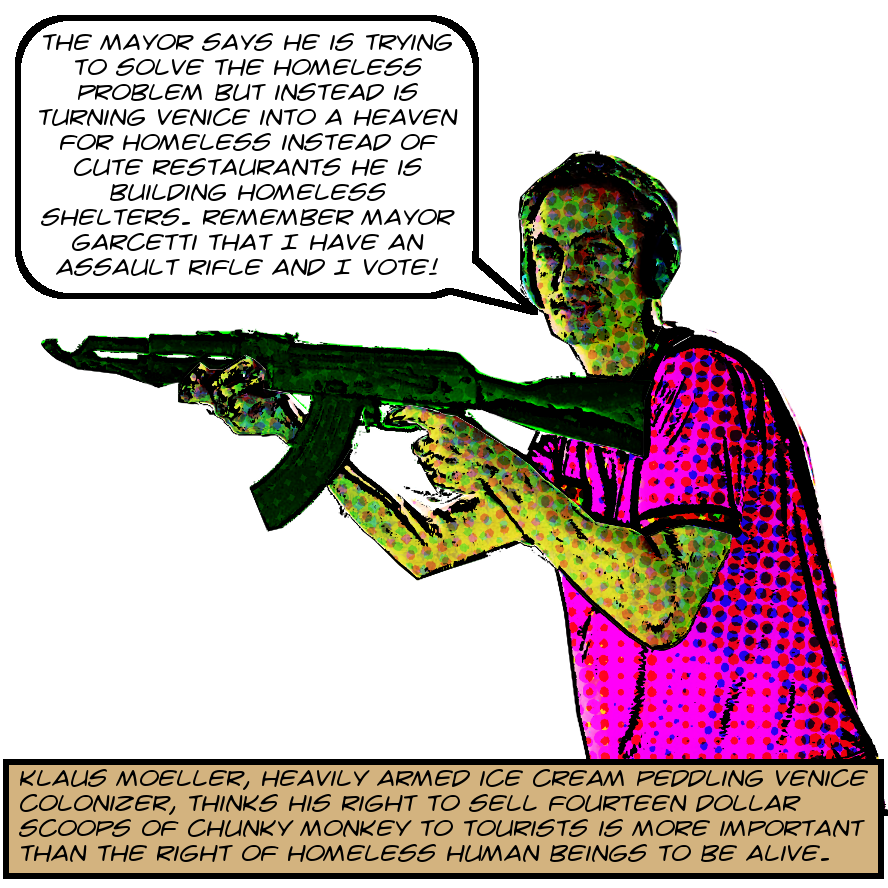 On March 1, 2019 Klaus Moeller, the extraordinarily whiny, privileged, and entitled owner of the extraordinarily anti-human Ben and Jerry's franchise on the Boardwalk, posted some not-so-extraordinarily whiny, privileged, and entitled nonsense on the extraordinarily anti-human white supremacist bulletin board Nextdoor.Com.
And there among the assorted delusional rants about how the entire government of the City of Los Angeles is conspiring against the poor beleaguered zillionaires of Venice to prevent them from opening even more cute restaurants so that there will be more space for homeless people1 was an actual important piece of information. According to El Moeller, his "daughter just came back from a small round table meeting with 20 people at the Erwin Hotel. The meeting was called for by the Mayor's office and the Venice Chamber of Commerce."
So this is news, right? The Mayor's office is holding top secret invite-only meetings with Venice zillionaires in the white supremacist paradise known as the Hotel Erwin! And other people were interested in the story besides me! And someone fired off a CPRA request to David Harrison, who seems to be one of the Mayor's lawyers.2 And wow! Just yesterday the Office of the Mayor sent over 8 pages of emails explaining what happened, and containing a really unexpected gift!
What it was was a "business summit" organized by the Venice Chamber of Commerce in the person of Chamber CEO Donna Lasman. And what was it meant to be about? Well, here's what Lasman said to Garcetti staffers Robert Park and Ami Fields-Meyer about it:

I am pleased to inform you that we have secured a location for our business summit on Friday, 3/01. The event will be at Hotel Erwin – 1697 Pacific Avenue = and will be organized into 2 sessions. The first session will be located in Larry's Loft from 9:00 am – 1030 am and will consist of your presentation.
We have sent invitations to approximately 50 business leaders in the community from diverse business sectors and representing the various areas in Venice – Abbot Kinney, Lincoln Blvd., Ocean Front Walk, Rose Avenue and Washington Square. We expect approximately 30 people to attend.
As we discussed during our meeting, we are interested in hearing an assessment on the current business climate and trends for the Westside community, issues and initiatives that the Mayor's office is working on, and how business leaders in Venice can partner with the Mayor's office to work on issues that support a thriving economy in Venice.
Carol/George – please chime if there is more that you want to add.3
The second session from 10:30 am to 12:00 pm will be a focus group/planning session with about 15 stakeholders. Our goal for this segment is to identify priorities for our business community and create actionable items for mobilizing our business community. Though there is no need for you to stay, you are of course welcome to join

And another interesting fact revealed in these emails is the list of speakers. Here they are:

• Robert Park, Community Business Manager for Mayor Eric Garcetti
• Ami Fields-Meyer, West Area Representative for Mayor Eric Garcetti
• Bhavna Sivanand, Executive Director of lmpact@Anderson, UCLA Anderson School of Management
• Dion Wiltshire, Business Services Supervisor, West LA WorkSource
• Patti MacJennett, Senior Vice President for Business Affairs, Los Angeles Tourism and Convention Board

But the real gem was this spreadsheet, which contains the RSVP list for the event, along with email addresses! The people listed here may not be the ones that ruined Venice in the first place, but they're the ones who are keeping it ruined and ruining it even more! This is extraordinarily useful information! And there's an auto-generated HTML version of the spreadsheet after the break. And also there's the pretty interesting and enlightening full story of how I got the spreadsheet via the CPRA request, which you should definitely read if you're interested in CPRA pragmatics!
Continue reading Some Eric Garcetti Staffers And The Venice Chamber Of Commerce Held A Private Meeting At The Hotel Erwin On March 1, 2019 — Which We Learned About From A Characteristically Whiny Privileged And Entitled Nextdoor Post By Gun-Toting Homeless Hating Ben And Jerry's Franchise Owning Angry White Dude Klaus Moeller — We Now Have The List Of Attendees! — With Email Addresses! — And The List Of Speakers! →