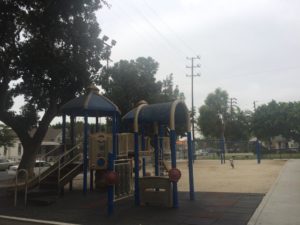 You may recall that
this L.A. Times editorial
kicked off a
somewhat misguided firestorm of opposition
to Mitch O'Farrell's recent
Council motion 16-1456
seeking to develop a legal tool for banning adults without children from playgrounds in parks in the City of Los Angeles. The Eagle Rock Neighborhood Council weighed in a couple weeks ago
with a unanimous statement of opposition
, and that trend continued last night as
the Lincoln Heights Neighborhood Council
filed
its own unanimous statement of opposition
.
Lincoln Heights has a unique take on the issues involved in banning people without kids from a playground:

Limiting teenager and young adult access to swings and limited park space in areas where there is already limited access to green open space is unfair to our young adult population. If a 17 year old wants to swing on a swing or study in the grass under a tree, they should not be prevented from doing so. In Lincoln Heights, there is already limited activities for teenagers and denying them the use of park space is discriminatory There is no differentiation between playgrounds and the grass that surrounds it.

This is a completely reasonable point, and one that as far as I can see has not yet been made on the public record. And the fear that such bans will be enforced against teenagers is not imaginary.

We've seen already that O'Farrell's misbegotten motion grew out of a decade-long campaign by the Hollywood Property Owners Alliance, spearheaded by their Executive Director Ms. Kerry Morrison, to ban everyone without kids from Selma Park in Hollywood. Between 2008 and 2015 the Andrews International BID Patrol enforced that ban via false arrests and other civil rights violations, and they actually did chase children out of the park, although they called them "juveniles" in their reports, which I suppose they think justifies their actions.
The point is that if someone hangs a sign in a playground banning everyone but children, someone else is going to use that sign to chase teenagers out of the park. This kind of thing, as the LHNC suggests in their eloquent statement, would only seem OK to someone who doesn't understand the value of open public space in urban neighborhoods. Someone who hails from a place where the local zillionaires think it's OK to use violence and threats to keep the public away from a beach as if it were private space. Someone who moved her family to Los Angeles specifically to impose zillionaire norms on our living City in the name of "urban renewal." Someone like Ms. Kerry Morrison.

Image of Lincoln Heights Recreation Center playground is a public record and I got it from here.