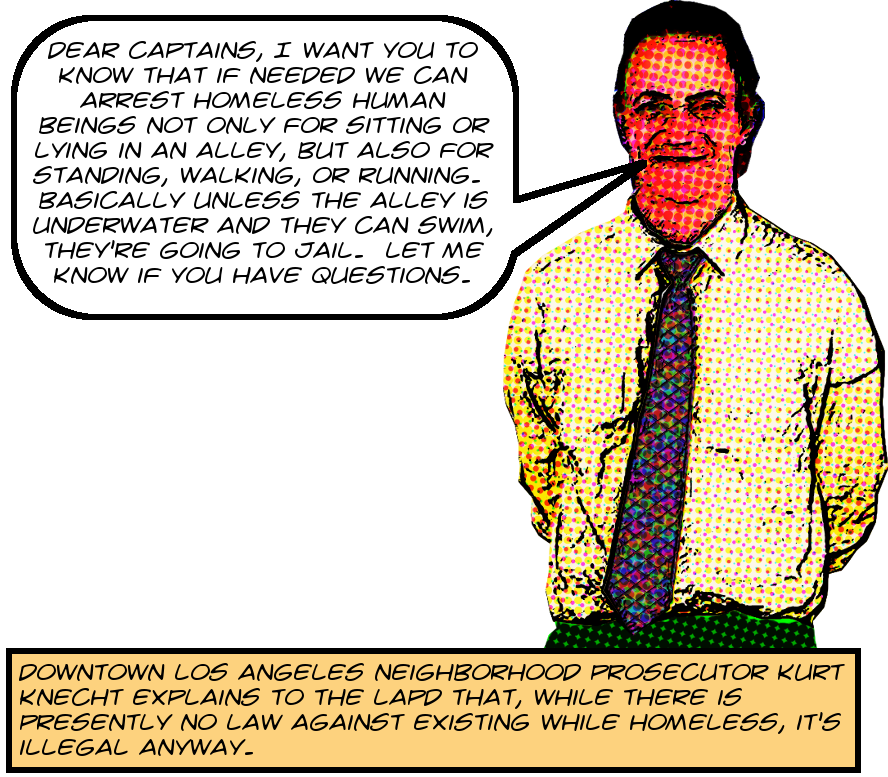 One of the most shameful sections in the entire Los Angeles Municipal Code is the reprehensible LAMC 41.18(d), which says in its sinister understated way that "No person shall sit, lie or sleep in or upon any street, sidewalk or other public way." The Ninth Circuit Court of Appeals in its monumental Jones decision, has called this "one of the most restrictive municipal laws regulating public spaces in the United States" because, unlike laws passed by sane people, it doesn't even require blocking anything for a violation. Just sitting, lying, or sleeping.1
As you can imagine if you don't already know, this law is certainly never enforced against anyone who's not homeless. We've seen, e.g., how Hurricane Kerry Morrison, killer queen of the Hollywood Property Owners Alliance, can confess publicly to violating it with no consequences. There are many, many such instances. But maybe you've noticed the loophole? You can be sure that, as many homeless people as the LAPD's able to arrest for violating LAMC 41.18(d), there are surely far, far too many who get away unarrested because they're standing or walking. As long, that is, as they're not sleepwalking or sleepstanding. Then they can still be arrested.
This is an important unsolved problem in the criminalization of homelessness, at least from the point of view of the criminalizers. That is to say, how can they illegalize not just most, but actually all positions that a homeless body can be in? They have evidently had their finest legal minds working on it, and it turns out that Downtown neighborhood prosecutor Kurt Knecht, has come up with a legal theory on which homeless people can be arrested for standing or walking as well as sitting or lying as long as they're doing it in an alley that's open to cars. It's only a partial solution, to be sure, but it seems to be a new addition to the criminalization toolkit.
The context is found in this September 2017 email from Knecht to LAPD captains Marc Reina and Timothy Harrelson about a homeless encampment in an alley in the 700 block of South Hill Street:2 Continue reading Everyone Knows That LAMC 41.18(d) Outlaws Sitting Or Lying On A Sidewalk Or Street — At Least If You're Homeless — But Did You Know That It's Also Illegal Even To Stand Or Walk In An Alley? — At Least If You're Homeless — Downtown Neighborhood Prosecutor Kurt Knecht Explains The Whole Thing To The LAPD — Who Aren't Just Abstractly Interested In Legal Principles That Can't Be Weaponized — And Clearly This One Can →