The
Los Angeles Homeless Services Authority
(LAHSA), whose chair is none other than HPOA Executive Directrix
Kerry Morrison
, sponsors a biennial
count of the homeless population of Los Angeles
. And what is the purpose of this massive volunteer effort? Well,
according to LAHSA
, it's to "
[m]ake a difference in the lives of homeless men, women, and children throughout Los Angeles County.
" That turns out to be quite accurate. The homeless count will eventually make a huge difference in the lives of the homeless of Los Angeles.
According to LAHSA executive director Peter Lynn, quoted in a January 2015 press release:

The 2015 Greater Los Angeles Homeless Count is a critical opportunity to gain information about the size and scope of the challenge we face to house community residents experiencing homelessness. We use this information to better target our homeless service resources. Volunteers will make a difference in their community, and the lives of their homeless neighbors, by committing four hours of their time.
Now, doesn't that just sound warm and fuzzy, but what the heck does it really mean? Well, thanks to an unexpected visit to the March 19, 2015, HPOA Board meeting by Charlie Beck, LAPD capo di tutti capi, we have an explanation for you (hint: when Peter says "better target our homeless" that's exactly what he means).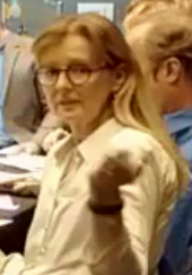 Watch and listen
as Kerry Morrison finishes up a lengthy question to Charlie Beck and then hear his response:
Kerry Morrison: And I shared this with the board last month, and I know this'll be no surprise to you, but I just want you to know that we are allies in something that we don't know exactly what's happening right now, but homelessness is on the increase, and we're documenting it, we have a count every month, uh, here in both BIDs at the end of the month, and, uh, our homeless count, you know, [unintelligible] we're noticing a more violent, um, interaction, more mental illness, um, uh, so we are tracking that and we are, you know, I'm on the LAHSA Commission, I'm the Chair of the LAHSA Commission, we have coalitions here in Hollywood, we've housed hundreds of people, uh, there is a whole new influx of folks, and, uh, I feel like the LAPD ends up as the first responder, and I have incredible empathy with what you guys are going through, dealing with people who are severely mentally ill and violent, and, so, I'm articulating this to let you know that we're aware that this is an issue, uh, we're going to be talking today about this new bill, the uh, it's another Homeless Bill of Rights Act, by Senator Liu, now it's called the Right to Rest Act, which is [inarticulate expression of disgust] … So, uh, sidewalk behavior is a big issue, we just had a restaurant owner in here sharing with this board how his business is down because of people camped out on the street. So again, we're your allies in trying to problem-solve on this.
Charlie Beck: Uh, yeah, and Hollywood's not the only community that's seen an increase in homelessness and an increase in violence that's associated with it, so, uh, um, Central Division, of course, is ground zero, and they've had a significant increase and an increase in violence [unintelligible] and that is true because we, we're unable to address those conditions, those conditions wouldn't exist [unintelligible] and so, uh, this is a hard place, uh, we need to get to the uh, the affordable housing numbers so we can start enforcing some of the sidewalk regulations, you know. Umm, we're trying to get, um, [unintelligible] the rest of the providers to help us with the count so we can meet the mandate of our agreement with the Jones settlement. And until, you know, until we do that and/or get an enforceable ordinance, um, it's very difficult.
Here's a little background: The "Jones" case that Beck's talking about is Jones v. City of Los Angeles. The issue was the LAPD's enforcement of LAMC 41.18(d), which forbids sitting, lying, and sleeping on public sidewalks. In 2006, the Ninth Circuit Court of Appeals found that until there were sufficient shelter beds in LA, enforcement of this law between 9 p.m. and 6 a.m. was a violation of the Eighth Amendment. This decision was auto-vacated by the Ninth Circuit when the parties settled. The original opinion, written by the incomparable Kim Wardlaw, held that:

…so long as there is a greater number of homeless individuals in Los Angeles than the number of available beds, the City may not enforce section 41.18(d) at all times and places throughout the City against homeless individuals for involuntarily sitting, lying, and sleeping in public.

The settlement seems to be both broader and narrower. It prevents the city from enforcing 41.18(d) until 1250 new supportive housing units are built, but doesn't seem to rely on any relationship between the number of homeless people and the number of shelter beds. We're not lawyers, and we can't sort this all out, but Charlie Beck has lawyers, and what they seem to be telling him, based on his comments as transcribed above, is that an accurate count of the homeless in Los Angeles is a necessary condition for the LAPD to begin enforcing LAMC 41.18(d) against the homeless once again. The homeless count, if it pays off, will eventually facilitate a return to the good old days when anyone could be arrested at any time for sitting on the sidewalk. This, according to Charlie Beck, is why the homeless count is so important.
Now, it's bad enough that Kerry Morrison, Chair of the Board of Directors of LAHSA, is complicit in this scheme to incarcerate even more of the homeless, but what's really out of line is that Charlie Beck is coordinating efforts to enable his officers to arrest homeless people at the behest of the business community. We have nothing against Charlie Beck in general. In fact, he seems to be approximately the third-least-psychopathic LAPD Chief in the department's history, even considering that the competition includes such candidates for sainthood as Parker, Davis, and, last but never ever least, Gates.
So how is it that the Chief of a police force whose motto is famously "To protect and serve," is conspiring with a bunch of zillionaires to be able to arrest more homeless people?
The police are part of the executive branch. Ideally they arrest people that the judicial and the legislative branches empower them to arrest, not people that make rich white elitists nervous. And how is arresting homeless people protecting anyone? The homeless are as much citizens of this city as are the real estate developers. They have a right to the same treatment by the police. Perhaps Beck also goes to LA CAN meetings and assures them that he's yearning to start arresting BID Board members for violating the law repeatedly and yet again but, somehow, we don't think so.
And how is it that the homeless count, promoted by one and all to be a genuine charitable tool to help the homeless, turns out to be yet another artifact of power to be wielded by the BIDs, by the LAPD, and even, it seems, by its facilitator, LAHSA, against the helpless, hopeless, Angelenos who are forced through an unfortunate combination of circumstances to live on our streets?

Images of Charlie Beck and Kerry Morrison are ©2015 MK.org, image of Peter Lynn is displayed through a deep-link so the rights are not our problemo, compadres.