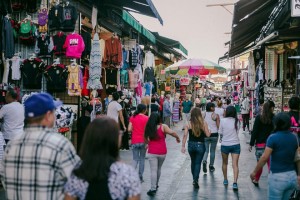 Today I have a minor piece of documention, which is the initial complaint and a bunch of miscellaneous paperwork,
available here
, in a lawsuit known as
Horlings v. City of Los Angeles
. I won't summarize the alleged facts of the case, because I find it impossible to do so without seeming to mock the plaintiffs or to condemn some of the defendants, which I really don't want to do. The suit is based on a horrific experience, and no one deserves to be mocked for their roles in it. In very general terms the Horlings family was the victim of a crime in Santee Alley and they sued, among other parties, the Fashion District BID based on the BID's representation that their role and mission was to keep their district safe and clean. They also sued the City of LA,
Universal Protection Service
, and the LAPD.
Continue reading

Some Documents from Horlings Lawsuit against Fashion District BID Available, Illuminating Contradictions of Existence of BID Security