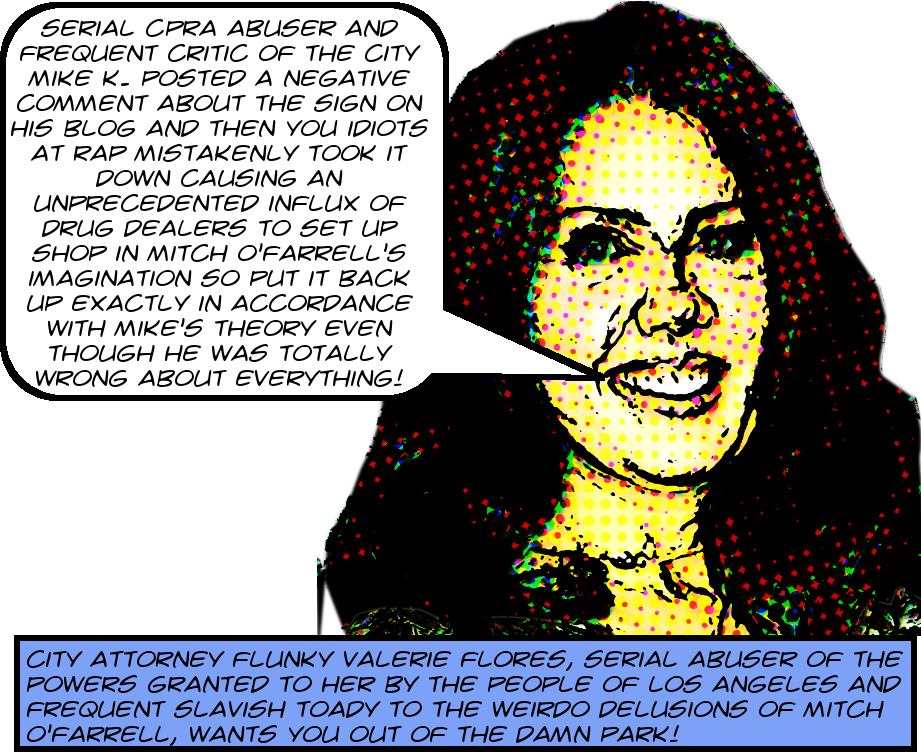 OK, brief recap1 on the situation with Selma Park in Hollywood! In September 2015 I discovered that the Hollywood Entertainment District BID had illegally placed signs on the outer fence of the Park stating that adults without children were banned and in October 2015 Rec and Parks removed the illegal signs. Morrison engineered this years-long illegal exclusion of the people of Los Angeles from their public park because, despite her stridently self-proclaimed Christianity, she was angry that people were using the park to share food with one another.
Subsequent investigations showed that dozens of people had been arrested in the park for violating these illegal restrictions, although none were prosecuted and that current school board candidate and former Public Works Commissioner Heather Repenning, at that time a staffer for Eric Garcetti back when he was repping CD13, was deeply involved with Kerry Morrison, the BID's very own Ilse Koch, in the illegal park closure process.
Documents proved that Morrison's gestapo wannabes, the Andrews International BID Patrol, had been deeply involved in the ongoing series of civil rights violations engendered by the illegal park closure, not only by chasing people out of the park who had every right to be there, but by making actual custodial arrests as well, contrary to Morrison's vehement but mendacious denial that this had ever occurred.
Subsequently, in December 2016, Mitch O'Farrell introduced a motion in Council seeking to amend the Los Angeles Municipal Code to allow the City to ban adults without children from playgrounds in LA Parks. He linked this explicitly to the reopening of Selma Park. This crapola motion was supported by Kerry Morrison, whose idea it must have been, but universally mocked and opposed by all sane people in Los Angeles and some not so sane ones as well. Even people who live east of San Bernardino took some notice of O'Farrell's incipient crackpot fascism. And thus did the proposal die in committee in December 2018.
And just recently I received a massive set of emails between people at RAP and Mitch O'Farrell's Hollywood field deputy Daniel Halden.2 And buried amonst them was this lengthy email conversation from November 2016 between various folks at RAP, Daniel Halden of CD13, and Valerie Flores and David Michaelson of the City Attorney's office discussing Selma Park, those illegal signs, this blog, and, interestingly enough, me, who, like the bloody-handed henchman she is, Flores calls "a serial CPRA abuser."3
And interestingly enough, more than a year after the signs came down, Valerie Flores tells RAP to put the signs back up, but only on the playground, not on the park itself. Which is pretty ridiculous, since they never took the signs down from the playground and no one, to my knowledge, ever complained about the signs on the playground. The discussion even escalated to Chief Assistant City Attorney David Michaelson, who also stated definitively that the City could not ban adults from the entire park, but only the playground.
Given that they're falling over themselves here to admit that I was right all along about the damn signs, you'd think that instead of calling me names these people might have been grateful to me for merely calling attention, rather than leaving them to get sued, to the fact that in the City's nauseating eagerness to do whatever random crapola Kerry Morrison demanded of them, they'd been violating people's civil rights for a freaking decade4 by arresting them for being in a park they had every right to be in.
Also interesting is the fact that Flores quoted Mitch O'Farrell on the reason for the signs going back up:5 "According to the Council Member, after the sign was removed, the Selma Park became overrun with drug dealers and other criminal elements." If you know the area, you'll know this is a lie. You'll also suspect that Mitch O'Farrell has never been near that park in his life and that the lie was almost certainly put into his mouth by Kerry Morrison.
And, shedding some light on the genesis of the universally mocked CF 16-1456, Flores announces that "Next week we will work with RAP to discuss options for the area of Selma Park that does not include the children's play area." Of course, by now it's clear that there are no such options or they would have banned everyone but the damn cops from that poor beleaguered little park by now. The whole conversation is very, very much worth your time, and if you turn the page you'll find a transcription, reordered chronologically for ease of reading.
Continue reading Newly Obtained 2016 Emails Show That Senior Assistant City Attorney Valerie Flores And Chief Assistant City Attorney David Michaelson Agreed With This Blog That Banning Adults Without Children From Selma Park Was Illegal — Even As Flores Caustically Blamed Rec And Parks For Removing Signs She Had Tacitly Admitted Should Have Been Removed — No Matter What Kerry Morrison, Eric Garcetti, And Mitch O'Farrell Said About It — Further Evidence Linking O'Farrell's Universally Mocked 2016 Proposal To Ban Adults From City Parks With Reopening Of Selma Park — Also New Info On The Content Of Mitch O'Farrell's Feverish Delusions About Drug Dealers Overrunning The Largely Vacant Real Estate In His Head →