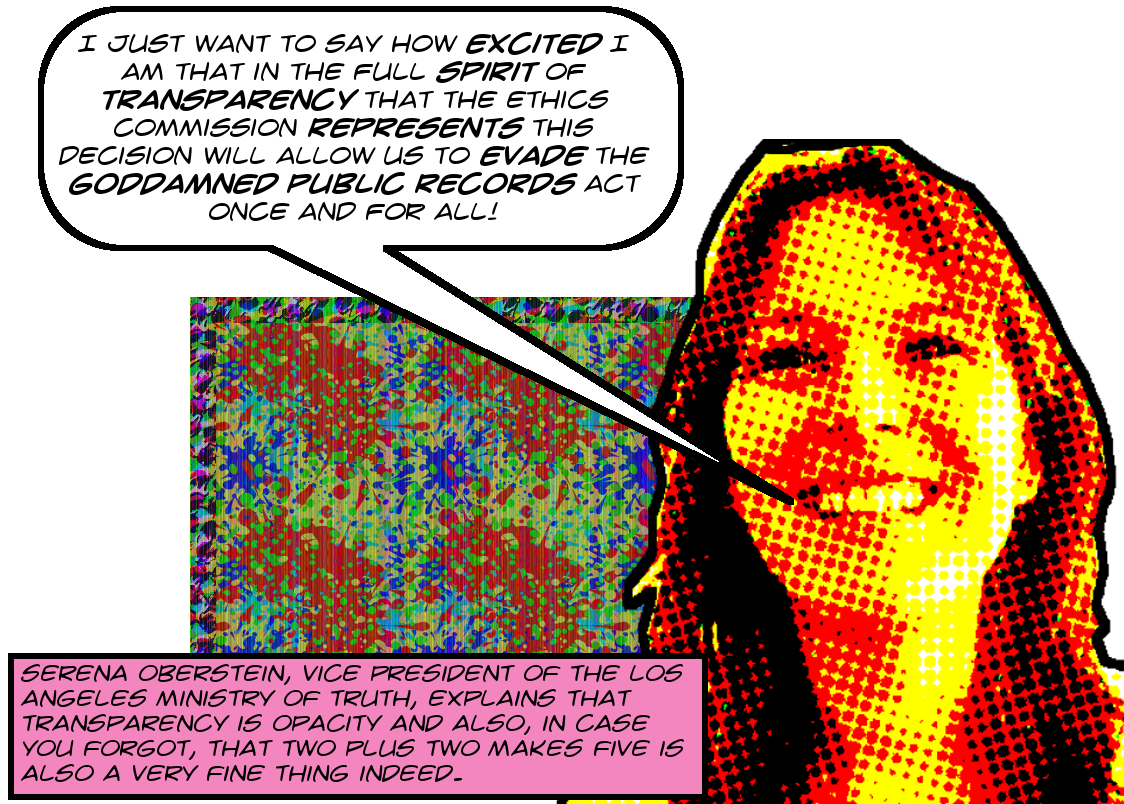 The Los Angeles Ethics Commission held its December meeting this morning, and I recorded the whole thing1 and you can watch it either on YouTube or else on Archive.Org. Of course the main event was the last two items to be discussed regarding proposed updates to the Municipal Lobbying Ordinance, and I'll have something to say about that whole mishegaas later in the week I hope. And there was also an instance of silence speaking louder than words, as the Commission completely ignored my recent request that they consider adopting a disclosure rule for ex parte contacts between Commissioners and those who would influence them.
Such contacts, of course, are a serious problem with our Ethics Commissioners, not least Serena Oberstein, the lobbyists' best friend, who was involved in a minor yet horrifying interlude at this morning's meeting which is the subject of tonight's rant. The issue was whether and how the Ethics Commission's investigators should disclose to the targets of their investigations that the investigations have become inactive.
This came up at the October meeting, and you can watch the whole episode here if you're interested. The short version is that the investigators presently do not inform investigative targets when they've stopped investigating due to confidentiality mandated by the City Charter. Commissioner Serena Oberstein is deeply concerned that all these targets are going to be unsettled and anxious by not knowing that they're not being actively investigated and she wanted staff to issue closure letters.
Such letters turned out not to be legally or politically possible, but at today's meeting Sergio Perez, Director of Investigations, presented this proposal, adopted unanimously by the Commission, which recommended that policy be changed to allow oral notice to those being investigated that their investigations had become inactive. This recommendation putatively avoids the confidentiality requirement by invoking LAAC §24.29(c)(2), which states that:
Continue reading Ethics Commission Veep Serena Oberstein Announces That She Is Very Excited To Have Found A Way To Evade The Public Records Act While Claiming That She's Evading It "In The Spirit Of Transparency Which The Ethics Commission Represents." →