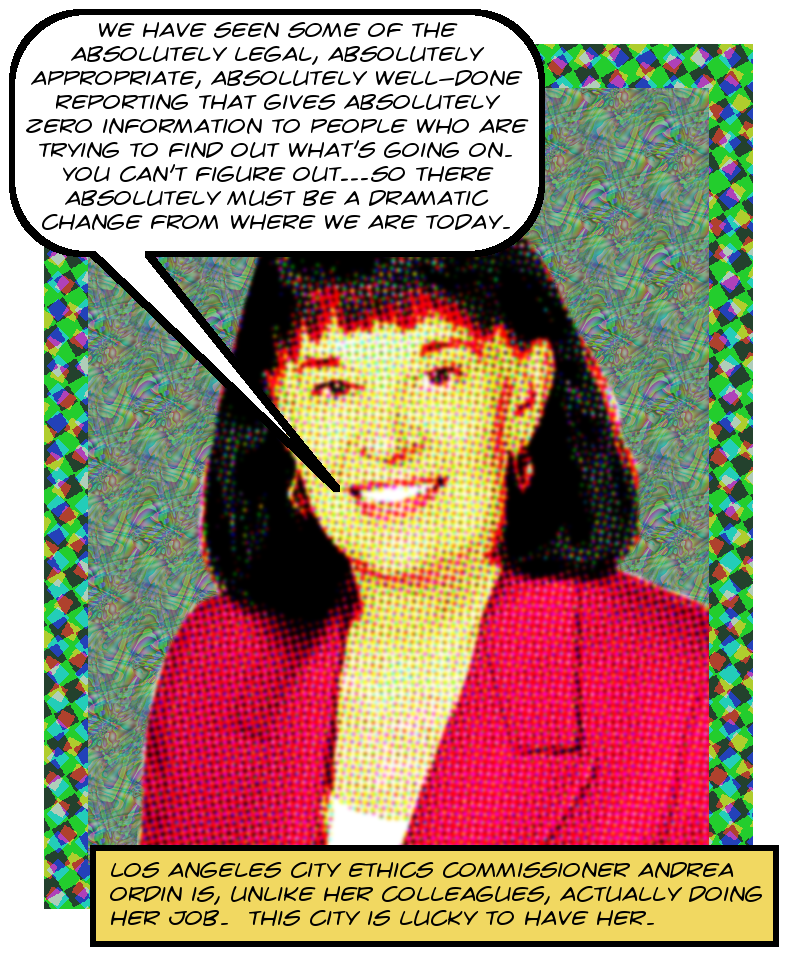 A couple weeks ago I wrote about proposed changes to the Municipal Lobbying Ordinance, which were on the agenda for Tuesday's meeting of the Ethics Commission. The proposed revisions would essentially require more detailed, much quicker disclosure of lobbyists' projects and clarify precisely who is required to register. Well, the meeting happened. First there was a ton of public comment from lobbyists, all of it the familiar bitching and moaning that the power elite of Los Angeles will typically spew forth when they feel that their power is threatened in any way.
Next there was a series of embarrassing PDAs between Commissioners and lobbyists about how wrong it is to burden the "regulated community"1 with any oversight at all and how, despite all evidence to the contrary, lobbyists actually want to follow the laws. The Commissioners, that is, apart from Andrea Ordin who, alone among her colleagues, seems to remember why we have a lobbying ordinance in this City, basically took the position that if the lobbyists in attendance were upset by the proposed revisions then there was something wrong with the proposals.
Subsequently, the Commissioners asked Director of Policy Arman Tarzi a series of questions displaying their embarrassing ignorance of how lobbying actually works in this City, and finally Commission President Jessica Levinson directed the staff to solicit even more input from lobbyists on how they want to be regulated. This despite the fact that the revision process has already been going on for a year and a freaking half already. Anyway, I taped the whole 90 minutes of discussion, and you can watch it here:
Part one — About an hour's worth of mostly mendacious public comment from lobbyists followed by the beginning of the interrogation of the long-suffering, saintly, heroic Arman Tarzi by Commissioners who, mostly, don't even seem to have read the material they're deliberating on, or not to have comprehended it if they did read it.
Part two — Ethics Commissioners falling over themselves to state how great lobbyists are and quizzing the staff about matters that, as commissioners, they ought already to understand.
If you're wondering how important this issue is, just think back to the recent episode of the Skid Row Neighborhood Council formation effort. There we saw massive illegal lobbying efforts directed at successfully employed to convince Jose Huizar to subvert the subdivision election on behalf of anonymous clients who paid more than $45,000 for this service and whose identities, despite the requirements of the MLO, are still unknown to the public. It's quite plausible that a more timely disclosure of this information would have changed the outcome of the election.
And turn the page for a detailed discussion of the some problems with the proposed revisions that the Commissioners purported to find. As you consider the Commissioners' cataclysmic failure to regulate lobbying in Los Angeles, keep in mind that it's people like the residents of Skid Row that they're failing to protect.
Continue reading In A Disgraceful Display Of Regulatory Capture, Ethics Commissioners (Except For Andrea Ordin) Drink Lobbyist Kool-Aid With Respect To Lobbying Ordinance Revision, Direct Staff To Acknowledge Even More Bullshit Pissing And Moaning From Lobbyists, And Gleefully Betray Their Duties To The People Of Los Angeles →