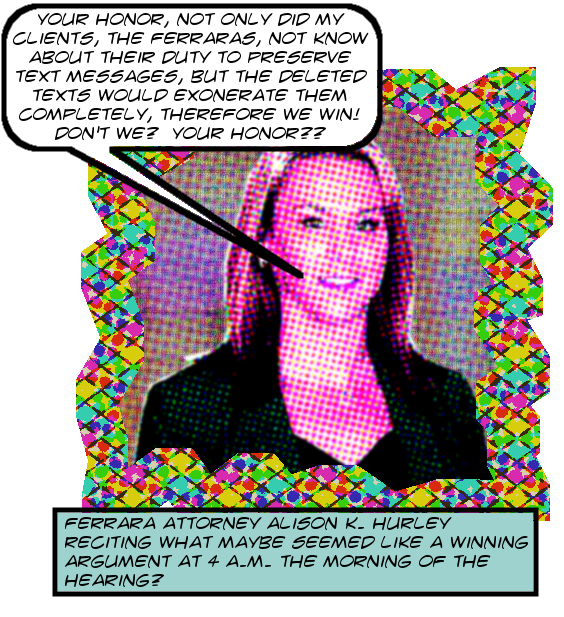 For background take a look at this excellent article from the Times on this lawsuit. Also see here to download all pleadings in this case.
I apologize for having neglected the Lunada Bay Boys case lately, but I've just been so overwhelmed with the Skid Row Neighborhood Council matter that I haven't had time for much else. There have, however, been a number of interesting developments in this matter as well.
First of all, recall that the cell phone of Bay Boys defendant Michael Papayans was in LAPD custody after his notorious arrest for beating up a man in the parking lot of Dodger Stadium. Once the LAPD gets its hands on evidence it seems that they don't give it up so very easily, and thus, in July, the Honorable Rozella Oliver, magistrate judge in the case, ordered them to hand it over for analysis. Well, they evidently did so, and, on October 9, a bunch of text messages from the phone were filed with the court. You must read these texts! It seems to me that they pretty much prove the plaintiffs' case. Here are some highlights:

Yeah get down there I'll be up as soon as I can my dad should be going out soon
Yea, only 5 guys out and he's out, I'm going
I hate this guy
Are they in the water
He's in the water. Only five guys out. Get down here boys. I'm out there
Kooks up there
Get him Charlie, just go shake his hand, tell him we missed him and can't believe he didn't make any of these latest headlines, he should be ashamed
Lol ok I'm on my way !
Michelle get to the bay and rouste [sic] those kooks
there are two kooks he's got a little baldheaded white guy with them he looks like a boogie board or to fuck what a joke!
The kook is here at the bay right now
I don't know how I get put on these threads but its hilarious :)

And the other news is that the hearing on sanctions against defendants Charlie and Frank Ferrara and Sang Lee for discovery shenanigans took place on Thursday as scheduled. What a wild ride!

First of all, the issues are well summarized in this plaintiffs' reply to opposition to motion for sanctions. There's a transcription at the end. Charlie and Frank Ferrara were represented at the hearing by Alison K. Hurley, Sang Lee by Tera Lutz, and the plaintiffs by Samantha Wolff and Kurt Franklin, although only Wolff spoke.
One main issue disputed was the question of when the duty to preserve evidence attached to the defendants. Their attorneys argued1 that it wasn't even when they were served with papers in July 2016, but not until they were represented by counsel. Otherwise, goes the argument, how would they, as laypeople, even know that they weren't allowed to e.g. dispose of their cell phones?
The counterargument here, ably made by Samantha Wolff, is that if this were indeed the rule, defendants would be able to evade the duty to preserve evidence by dodging service until the last minute. This can't possibly be right, so the duty to preserve must attach when the defendants become aware of the lawsuit, or even the possibility of a lawsuit.
Overall the Judge seemed fairly skeptical of the defendants' arguments and even, occasionally, sarcastic. E.g. when Alison Hurley asserted that Charlie Ferrara's traumatic brain injury had rendered him incapable of understanding that he wasn't allowed to just get rid of his cell phone once he was being sued, Rozella Oliver asked, completely deadpan, did he need a guardian ad litem? No, said Hurley, he's too damaged to understand his duty to preserve, but not so damaged as that. Or, given that the newly discovered text messages contradict sworn testimony from Sang Lee's deposition, Oliver kept referring to Lee's "failures of recollection."
The defense made a number of other exceedingly implausible arguments. For instance, Tera Lutz claimed that even though Sang Lee's text messages were all missing, he hadn't deleted them himself. Rather, said she, his phone deleted them without his participation, because its storage was full. She also admitted that it was an iPhone. Of course, this is completely made up. Any modern phone will notify the user when it's out of storage space and let the user decide what to delete.2
Furthermore, at one point, Alison Hurley even asserted that although it was true that a bunch of the Ferraras' text messages were missing, those text messages would actually exonerate her clients. Samantha Wolff countered with a claim that the duty to preserve can't actually depend on the content of the evidence, which seems like it must be right.
There was a lot more extremely interesting argument, that unfortunately I can't discuss, and none of it looks good for the defense. There may be an indication of an impending compromise to be found in this minute order, issued Thursday directly after the hearing, ordering Alison Hurley to meet and confer with the plaintiffs regarding withdrawal of the Ferraras' motion for summary judgment.3
Transcription of Plaintiffs' Reply to Ferraras' Opposition to Motion for Sanctions:

PLAINTIFFS' REPLY TO DEFENDANTS CHARLIE AND FRANK FERRARA'S OPPOSITION TO PLAINTIFFS' MOTION FOR SANCTIONS
I. INTRODUCTION
Defendants Charlie and Frank Ferrara attempt to distance themselves from their co-Defendants' "vulgar" text exchanges while downplaying their destruction of evidence. But they do not dispute that – after this lawsuit was filed – they deleted and destroyed their communications with co-Defendants. They also concede that these communications are no longer recoverable. This constitutes sanctionable conduct.
The Ferrara Defendants' destruction of evidence is extensive, as is their history of noncompliance. Charlie Ferrara obtained a new cell phone two weeks before his first appearance in this matter (five months after the suit was filed) and discarded all data on his old phone, despite asserting under oath at his deposition that all data (including texts) had been transferred to his new phone. The old phone contained information from the two-month period when Plaintiffs were assaulted and harassed. Conveniently, Charlie Ferrara's cell phone bills contain no information of texts sent or received during this timeframe. Frank Ferrara is also missing text messages with co-Defendants that occurred during a period when he was obligated to preserve evidence. This destruction is not coincidental.
The Ferrara Defendants' discovery abuses to date are egregious, resulting in significant prejudice to Plaintiffs. Plaintiffs request that these abuses be remedied through imposition of severe sanctions, including default judgment or, alternatively, denial of summary judgment and an adverse inference jury instruction.
II. ARGUMENT
A. The Ferraras' Preservation Obligation Arose In Early April 2016.
Although Frank and Charlie Ferrara argue that their preservation obligation did not start until the day of the Initial Scheduling Conference on August 29, 2016, noticeably absent is any declaration from either Defendant attesting to when they first became aware of this lawsuit.4 With last-minute speed, the Ferrara Defendants suggest they became aware of the lawsuit, retained counsel, and entered their first appearance in this matter – in time for the same-day 8:30 a.m. scheduling conference before Judge Otero on August 29. More importantly, these unsupported allegations contradict the actual evidence that the Ferrara Defendants were aware of this lawsuit almost immediately. Frank Ferrara admitted under oath to being interviewed by a journalist regarding the allegations of this lawsuit before April 7, 2017. (Wolff Decl., Ex. 3.) Given his frequent communications with his son, as evidenced by their extraction reports and cell phone bills, and their retention of the same firm, it is more than probable Charlie shared his father's understanding of the allegations. But if Frank Ferrara's admission under oath to discussing this lawsuit before April 7, 2016 is insufficient, certainly the scores of communications between Alan Johnston (who clearly knew about this lawsuit the day it was filed), Sang Lee, and both Ferraras should suffice. (Wolff Decl. Supp. Pltfs.' Mot. Sanctions, Dock. No. 470, ¶¶ 3-6; Wolff Decl., Ex. 8.) Thus, at the latest, Charlie and Frank Ferrara had a duty to preserve evidence by April 7, 2016.
B. The Ferrara Defendants Failed To Comply With The Federal Rules By Intentionally Destroying Relevant Evidence.
After being caught, they now admit that "[t]here is no question that [their] initial [discovery responses] and initial meet and confer efforts did not meet the Court's standards or expectations," and acknowledge certain evidence is now lost, yet the Ferrara Defendants contend the discovery issues "are essentially resolved." (Ferrara Opp'n at 2:15-18.) This is not the case. Critical relevant evidence is missing and the adequacy of recent productions remains in dispute.5 Plaintiffs have been and will continue to be prejudiced by these discovery violations and "neither this admission nor the remedial efforts have cured the deficiency." See Perez v. Shippers Transp. Express, Inc., 2014 WL 12591809, *8 (C.D. Cal. July 8, 2014).
As an initial matter, the Ferrara Defendants' belated efforts to comply with their discovery obligations does not excuse their prior misconduct, particularly where critical evidence remains missing. Perez, 2014 WL 12591809 at *8 ("the Ninth Circuit has on numerous occasions rejected the defense of 'belated compliance,'" noting "for the same reasons, [parties] cannot discharge [their] duty to preserve documents by attempting to recover destroyed documents.").
Moreover, the Ferrara Defendants' recent "diligent efforts" to comply with discovery are the result of court intervention, not voluntary compliance. Before this court's involvement in July, the Ferrara Defendants had stalled, obstructed, and otherwise thwarted discovery in this case. They failed to preserve any evidence until July 2017, despite being served approximately one year before and receiving document requests in November 2016. (See Wolff Decl. Supp. Pltfs.' Mot. for Sanctions, Dock. No. 470, ¶¶ 13-17.) The Ferrara Defendants also lied about the existence of responsive information in discovery responses, and strung Plaintiffs along for seven months, claiming they were "working" to obtain the information but making no such efforts. In the meantime, evidence was lost as their cell phone carrier retains only the most recent 18 months' worth of information. (See id.)
Although the Ferrara Defendants question the relevance of the missing evidence 3 , they do not dispute that it is unrecoverable. Charlie Ferrara cannot produce any data from his cell phone prior to mid-August 2016 (including data from the critical January and February 2016 timeframe). Nor are his cell phone bills helpful in this regard since his "[b]illing records from January 11, 2016 through February 24, 2016 have been produced, but omit a list of text messages sent or received." (Ferrara Opp'n at 9:13-15.) And although Frank Ferrara was able to belatedly produce his cell phone bills, he was unable to recover 9 text messages he exchanged with a co-Defendant after he knew about this lawsuit.
These communications are critical to the allegations in this case, where Plaintiffs have alleged the Defendants conspire to exclude outsiders through a variety of means, including communication via text. (Compl., Dock. No. 1, ¶ 47.) The limited cell phone records that have been produced by other Defendants confirm the Defendants' communication and coordination via cell phone. For instance, a recent production by co-Defendant Papayans establishes that he conspired with Sang Lee and others to attack Plaintiff Spencer on January 29, 2017. (See Wolff Decl., Ex. 2.) Certainly, the Ferrara Defendants' communications with Sang Lee are relevant to Plaintiffs' allegations. Moreover, "the 'spoliation of evidence raises a presumption that the destroyed evidence goes to the merits of the case[ ] and … that such evidence was adverse to the party that destroyed it.'" Oppenheimer v. City of La Habra, 2017 WL 187596, *13 (C.D. Cal. Feb. 17, 2017) (noting that the destruction of text messages was attributable to the defendants' "When evidence is destroyed in bad faith (i.e., intentionally or willfully), that fact alone is sufficient to demonstrate relevance." Reinsdorf v. Skechers U.S.A., Inc., F.R.D. 604, 627 (C.D. Cal. 2013) (quoting Zubulake v. UBS Warburg LLC, 220 27 F.R.D. 212, 220 (S.D.N.Y.2003)). "shared intent to keep incriminating facts out of evidence") (quoting Apple v. Samsung, 888 F. Supp. 2d 976, 993 (N.D. Cal. Aug. 21, 2012)).
C. Plaintiffs Are Prejudiced By The Ferraras' Spoliation.
By failing to produce some evidence and severely delaying the production of other evidence, the Ferrara Defendants have deprived Plaintiffs of their ability to appropriately oppose summary judgment – as to all defendants – and prepare for trial. Indeed, "the existence or nonexistence of certain facts can shape a party's entire approach to preparing for trial. It is largely a recognition of how much preparation a trial entails that leads courts to set discovery cutoff dates far in advance of trial." Perez, 2017 WL 12591809 at *7. Here, the Ferrara Defendants' document productions occurred, in large part, after filing for summary judgment and after the discovery cutoff. Their most recent production occurred on September 21, 2017, less than three months before trial, whereas the plaintiff in Perez was prejudiced by a production six months before trial. Id. Although Plaintiffs have been afforded the opportunity to supplement their oppositions to Defendants' summary judgment motions, this takes time away from necessary trial preparation. Moreover, Plaintiffs cannot use the evidence destroyed by Defendants.
III. CONCLUSION
The Ferrara Defendants' pattern of obstructive conduct, including their failure to preserve evidence, denial of the existence of responsive information, and destruction of relevant evidence, has severely prejudiced Plaintiffs. This extreme conduct warrants an extreme remedy in the form of terminating sanctions, or in the alternative, denial of summary judgment and an adverse inference jury instruction.


Image of Alison K. Hurley is ©2017 MichaelKohlhaas.Org and is a transformative reskabiblification of this item here.