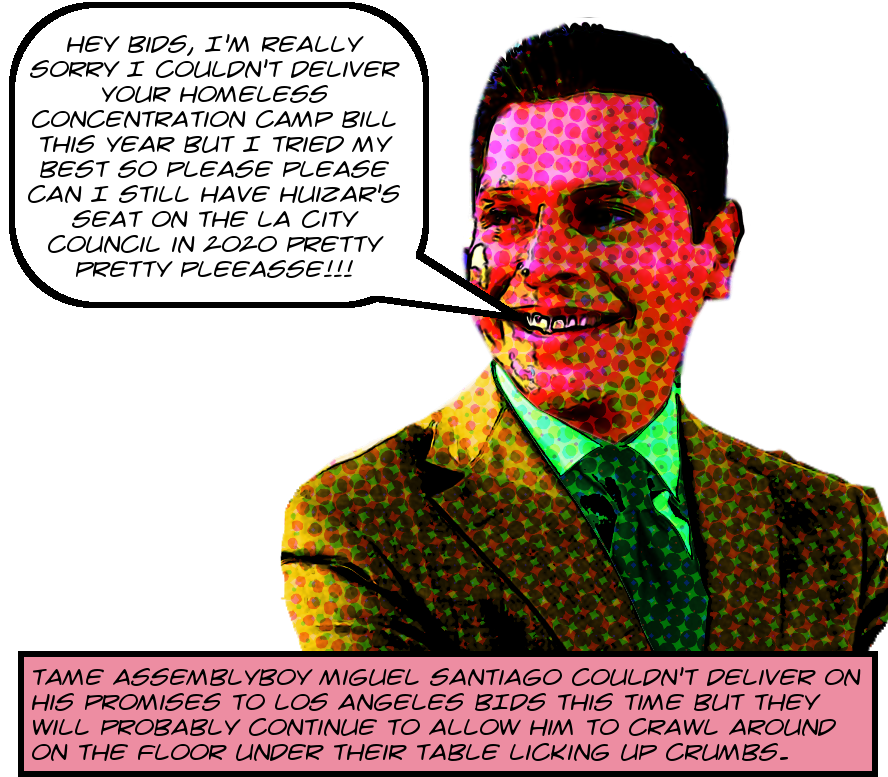 In January of this year Assemblymember Miguel Santiago introduced AB-1971, which was meant to expand the legal definition of a gravely disabled person essentially to allow at-will internment of homeless human beings. This pernicious nonsense was eagerly supported by Los Angeles City Councillors and their BIDdie co-conspirators. The bill met vigorous opposition from homeless people, their advocates, civil rights supporters, people who see how such a law could be weaponized against the elderly, and so on. A coalition of the sane, that is.
Last month, in a particularly cynical move, the bill was amended to only apply in Los Angeles County. However, even that concession to the opposition evidently wasn't enough to save it. Yesterday, on the last day of the 2018 legislative session, the bill was placed on the inactive file. I don't pretend to understand much about the arcane workings of the legislature, but it seems that this means it's not dead, it could come back for further politicking next year, but that it's not going to pass into law in 2018 and therefore will not take effect in 2019.1
Of course the bill's supporters presented it publicly as a compassionate measure to save homeless people who would otherwise die on the street. Regardless of their stated intentions, though, it's clear that, if passed, this bill would have given police and BIDs a powerful tool for clearing homeless people off the streets and into carceral institutions, the better to effectuate their goal of cleansing the streets of Los Angeles of people who they see as no better than trash.
This perspective is supported by the lists of opposers and supporters, consisting of mostly governments, police, and Kerry Morrison's wholly-controlled subsidiaries, which you will find after the break.

The following information is from the Senate Floor Analysis of the bill.
Author's statement:

According to the author, more than 800 homeless individuals died on the streets of Los Angeles County in 2017. It is inhumane to be a bystander when we have the power to do something to save lives. Many of these deaths could have been prevented with suitable medical treatment. By changing the definition of "gravely disabled" to consider urgently needed medical treatment as a basic human need when assessing an individual's need for conservatorship while maintaining all statutorily protected safeguards and civil liberties, we will be one step closer to providing proper medical treatment for homeless individuals with mental illness who are suffering on the streets with serious physical ailments.

Support:

California Psychiatric Association (co-source)
Los Angeles County Board of Supervisors (co-source)
Steinberg Institute (co-source)
African Communities Public Health Coalition
Bay Area Council
California Academy of Child and Adolescent Psychiatry
Cause Communications
Church of the Blessed Sacrament2 City of Los Angeles
City of Monrovia
City of Santa Monica
City of West Covina
Governing Board of the San Gabriel Valley Council of Governments
Los Angeles City Councilmember David E. Ryu
Los Angeles County Mental Health Commission
Los Angeles County Sheriff's Department
National Alliance on Mental Illness Los Angeles County Council
National Alliance in Mental Illness Sacramento
Orange County Board of Supervisors
Solano County Supervisor Monica Brown
Special Service for Groups, Inc.
Valley Industry and Commerce Association

Opposition:

American Civil Liberties Union
Bazelon Center for Mental Health Law
California Advocates for Nursing Home Reform
California Alliance for Retired Americans
California Association of Mental Health Patients' Rights Advocates
California Association of Mental Health Peer Run Organizations
California Association of Social Rehabilitation Agencies
California Behavioral Health Planning Council
California Hospital Association
California Pan-Ethnic Health Network
California State Association of Public Administrators, Public Guardians and Public
Conservators
Coalition on Homelessness San Francisco
Disability Community Resource Center
Disability Rights Advocates
Disability Rights California
Disability Rights Education and Defense Fund
Law Foundation of Silicon Valley
National Health Law Program
Sacramento Regional Coalition to End Homelessness
SEIU California
Western Center on Law and Poverty
Western Regional Advocacy Project


Image of Miguel Santiago is ©2018 MichaelKohlhaas.Org and is got something to do with this Miguel Santiago over here.

Unless it passes next year as an urgency measure, in which case it could take effect immediately in 2019 but would require a 2/3 majority to pass. It seems unlikely that this bill could possibly pass by that much, as it's really split the Democrats. Bills that pass with an ordinary majority take effect on January 1 of the subsequent year, so almost certainly this one's dead until January 1, 2020 at the earliest.