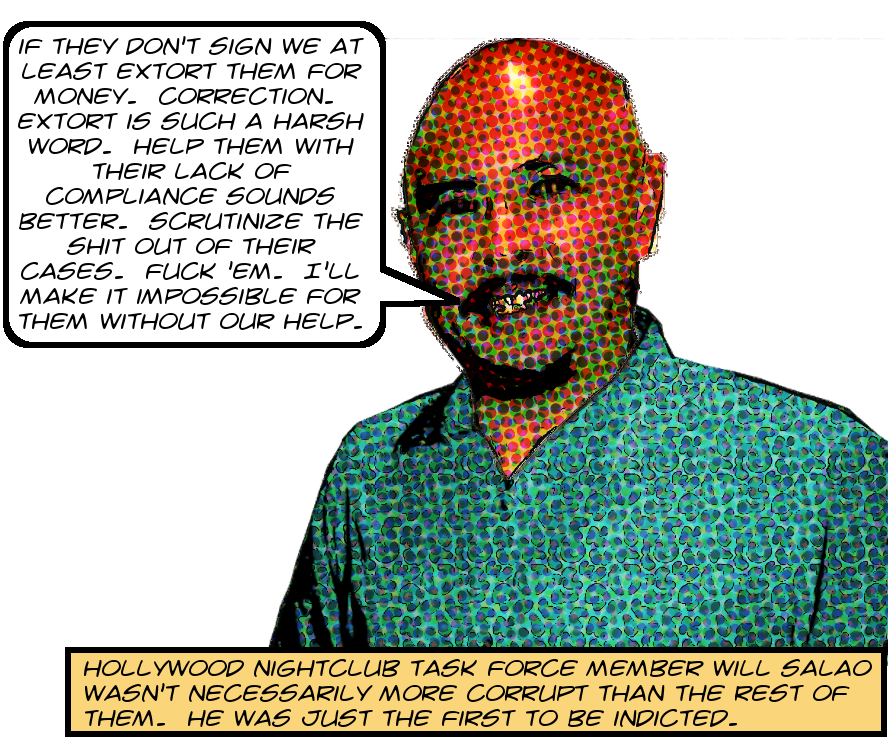 Remember the utterly and reprehensibly racist nightclub task force convened by CD13's Daniel Halden for the express purpose of shutting down minority-serving nightclubs on Hollywood Boulevard at the white supremacist whim of Ms. Kerry Morrison? Well, if not, you can read all about it over here. And it's to be expected that all of the participants in such a morally bankrupt enterprise are themselves morally bankrupt individuals. But nevertheless it's still surprising when one of them actually gets indicted by the federal government for actual criminal corruption.
And yet that's just what happened last month to Will Salao, former head of the Los Angeles office of the California Department of Alcoholic Beverage Control and former cheerfully enthusiastic member of the Hollywood Nightclub Task Force. Basically the guy teamed up with a former colleague named Scott Seo to take bribes from Koreatown bar owners to overlook violations, warn them that LAPD was going to raid their bars, send them photos of undercover vice officers, and on the other side, to pressure them to sell their bars by hitting them repeatedly with violations.
And all this at the same time, 2015 and 2016, that he was helping Kerry Morrison carry out her puritanical racial cleansing of Hollywood Boulevard. She's so freaking focused on driving out the darkies that she'll work with any kind of criminal at all. I really wonder if he was getting paid under the table for that too. After all, he drove bars out of business, and that's worth money to the competition. Why wouldn't the competition pay him for it? You can read the primary sources on this whole brouhaha here on Archive.Org.
The L.A Times published a story on Salao's indictment a couple weeks ago, and it's really informative and so on, but man, there are a lot of really lurid details that they just didn't see fit to put in there, and that's where we come in! I'm collecting all the paper here on Archive.Org. First of all, here's a copy of the actual indictment.1 And there are endless goodies in there! The words I put in Will Salao's mouth in the cartoon up top are direct quotes from his off-the-chain text messages to his co-conspirator, and there is a lot more where that came from! And you'll find transcriptions of the best of it after the break!
Anyway, he seems to be out on $20,000 bail and not allowed to leave the state and to have surrendered his passport. And according to the government in the joint discovery report there is a ton of additional evidence, including video and audio. Probably we're not going to get to see most of it, but we can always hope! The trial is presently set for December 11, 2018, but the parties have stipulated that none of them will be ready by then, so I imagine it'll be reset.
And now, what you know you've been waiting for! Turn the page for the most amazing selections from the indictment, showing just what kind of fleas Ms. Kerry Morrison has exposed herself to by lying down with dogs such as Will Salao for no better purpose than closing down hip-hop nightclubs on Hollywood Boulevard!
Continue reading Will Salao, Former ABC Honcho And Member Of The Racist BID-Inspired CD13-Managed Hollywood Nightclub Task Force, Indicted By The Feds For Shocking Corruption Including Taking Bribes In Koreatown — The L.A. Times Has The Story But We Have The Lurid Details — Not To Mention Copies Of Many Of The Pleadings →