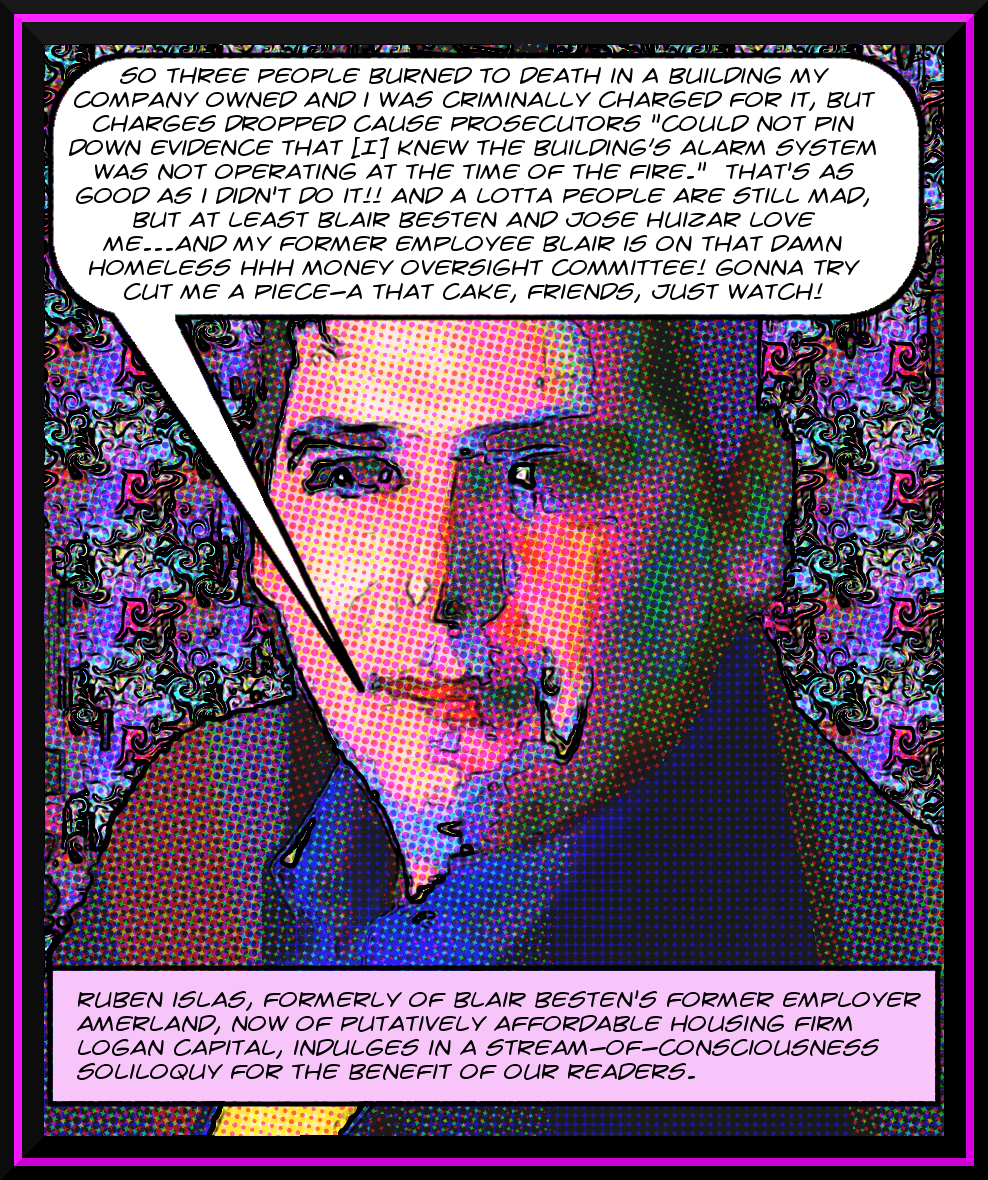 The fact that, as I reported on Friday, Blair Besten, batty little fusspot queen of the Historic Core BID, along with her ne'er-do-well companions in corruption, Estela Lopez and Michael Delijani, were meeting as early as January 2017 with CD14 Councilswordsman José Huizar to oppose the Skid Row Neighborhood Council more or less overshadowed the parallel discovery that, at roughly the same time, Ms. Blair Besten was also setting up a meeting between Mr. José and Ruben Islas, one of her bosses from the HCBID Board of Directors.1
Now, Ruben "the homicidal slumlord" Islas is famous not just for whatever it is he does to be a zillionaire, but also for the fact that he and a bunch of his co-conspirators were arrested and charged with manslaughter and a host of other crimes in 2010 related to the fact that the slums they were then lording over were in such bad shape that three people died as a result. This incident followed the now-seen-to-be-cruelly-ironic series of criminal counts filed against Islas's firm for roughly similar misconduct by then-City-Attorney Rockard Delgadillo, lately working under the table as an anti-human lobbyist for a shadowy Downtown law firm.
And similarly, the other one of Ms. Blair Besten's bosses whose name has come up a lot recently, that is to say furtive hereditary imperialist downtown zillionaire Michael Delijani, has also availed himself of Blair Besten's probably-illegally-exercised2 skills at relationship building with CD14 repster3 José Huizar. Just see here for six pages of blathering between Blair Besten and various CD14 staffers about a meeting she's trying to arrange between the CM and the Delijani.
Michael Delijani has also been involved in some exceedingly shady-if-as-yet-unindicted activities in relation to the deep corruption in the office of the LA County Assessor as personified by former assessor, now jailbird, John Noguez. The details are too involved to discuss here, but essentially Noguez reduced zillionaires' property tax bills in exchange for campaign contributions, and a bunch of the deals were made at fundraising events for Noguez at Michael Delijani's house. Delijani himself gave Noguez more than $20,000, and you can draw your own conclusions from that.
As far as I can see, Michael Delijani has never been convicted of a crime related to the bribery of Noguez. And it's true that Ruben Islas's manslaughter charges were dropped, and also, as part of a deal in which the corporation itself pleaded guilty, Delgadillo's criminal charges were also dropped against the firm's principals, including Ruben "the Alexandria Hotel assassin" Islas. So in some technical sense, these guys are not criminals. But in some strong but nontechnical sense they certainly are criminals, and Blair Besten is certainly a hypocrite when it comes to these zillionaire bad BID boys.
Continue reading Historic Core BID Executive Directrix Blair Besten Seems OK With The Crimes Of Her Employers, E.g. HCBID Board Members Ruben "The Homicidal Slumlord" Islas And Michael "Asshole Buddy With Ultra-Corrupt Tax Assessor John Noguez" Delijani, Even While Claiming That "The increase in crime lowers the morale of the neighborhood" →