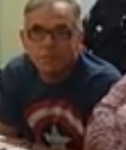 At the July 9, 2015
Joint Security Committee meeting
, BID Board member
Fabio Conti
, after
Andrews International Security
head BIDdie-boy
Steve Seyler
told a what-passes-for-heartwarming story about shipping some homeless lady out of state on a bus, flipped the fuck out about heavily armed and dangerous homeless people on the streets of Hollywood and how A/I ought to stop with the rapport-building, bus-ticket-buying, and donut/sandwich handing-out and start arresting all of them right now. Says Fabio: STOP BEING SO NICE TO THE HOMELESS!!! The "
the purple guys
" downtown
"…keep the area pretty clean…"
of homeless human garbage. The Hollywood BID Patrol must do the same!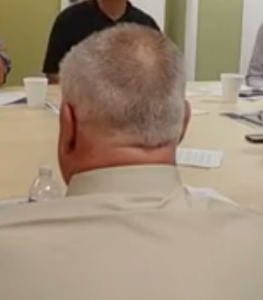 Under ordinary circumstances a
faux pas
like Fabio's would probably be politely overlooked but these are no ordinary times, it seems. Instead it triggered an avalanche of white-privilege-rage-ranting that derailed the meeting for what seemed like an eternity and was actually over 30 minutes of this approximately 70 minute long meeting. The asylum was so being-run-by-the-inmates that Hollywood Entertainment District BID Board President
Monica Yamada
, not habitually
the most aware person in the room
, had to shut it down. But not before the display of an unbearable montage/barrage of
peel-the-face-off shots
that had most of the attendees
showing their true colors
in a remarkably nauseating performative contradiction of Jesus's
usually on-target admonition about the truth
. Mostly the truth will make you free but sometimes it just makes you sick.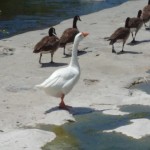 For instance, usually, of course, at these meetings and in other venues, Steve rattles on about
how cuddlesy-warmsy-fuzzly-wuzzly his officers are
but everyone there knows that that's just the velvet glove
over the iron fucking fist
and that he's just spreading the goodwill-ambassador bullshit for the delectation and over-the-eyes-wool-pulling of the public. This much is obvious to anyone with a fraction of the sense that God gave a good God-damned goose. In this instance, though, under relentless pressure from Fabio, whose position is that
"we're to a point where, you know, we cannot be kind,"
Steve was forced to admit his homeless-people-on-the-sidewalk policy out loud, in public, on camera:
"…we're gonna start out with a nice approach, hey, please, time to get up, businesses are open, you gotta get off the sidewalk, we're here to help you, you know, blah blah blah blah, please, please, pretty please, and then, you know, ultimately we're going to put the cuffs on you…"
Steve's not usually so open about the fact that all the donuts, all the sandwiches, all the heartwarming coziness, it's all just a formality. "…ultimately we're going to put the cuffs on you…"
The only people in the room who talked and didn't seem insane1 were two LAPD liaison officers (whose names, unfortunately, we didn't catch), who patiently explained to everyone that "…the sky's not falling…" However, as long-time readers of this blog are well aware, there is very little in this world that can get the attention of a white person who's hell-bent on confusing comfort with safety. The LAPD guys were completely ignored. Sanity will not prevail, not in this room at this time.
Watch the whole thing or read on for a partial transcription (so much craziness here that we can only cover this teensy fraction. We'll return to the subject soon enough, though).
Continue reading Fabio Conti: The Donut Policy is Not Working! BID Patrol, "Toughen Up," Stop Being Nice to Homeless Because they Have Knives and They Scare Me! Steve Seyler: "Ultimately We're Gonna Put the Cuffs on" →