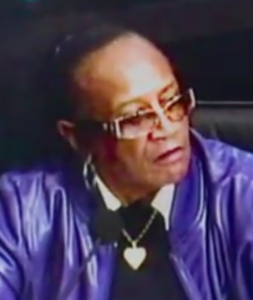 Long-time readers of this blog will recall
our revelation of the fact
that Steve Seyler, executive director of the BID Patrol, formerly a police officer with the City of Inglewood, continues to moonlight for the IPD on weekends doing whatever it is that he does over there. This, naturally, is in addition to the
more than $66,000 in retirement
he's collecting. Well today, thanks to a tip and a clip from
the incomparable Dehol Truth
, we can demonstrate that this kind of thing not only seems shady to anyone with some perspective, but that even to Wanda Brown, long-time Inglewood City Treasurer,
speaking at a Inglewood City Council meeting in 2014
:

But again, I could say, back in the nineties, I've been here twenty seven years, we've always had too many employees here. ALWAYS. And I can recall, during the times in the nineties, when certain folks were allowed to retire and come back and work part time doing nothing. Because I went by their office and saw nothing on their desk but their telephone and their feet.

Continue reading

City of Inglewood Practice of Post-Retirement Rehiring, Like Steve Seyler was Rehired, Denounced by City Treasurer Wanda Brown in 2014: "Nothing on Their Desk But Their Telephone and Their Feet."