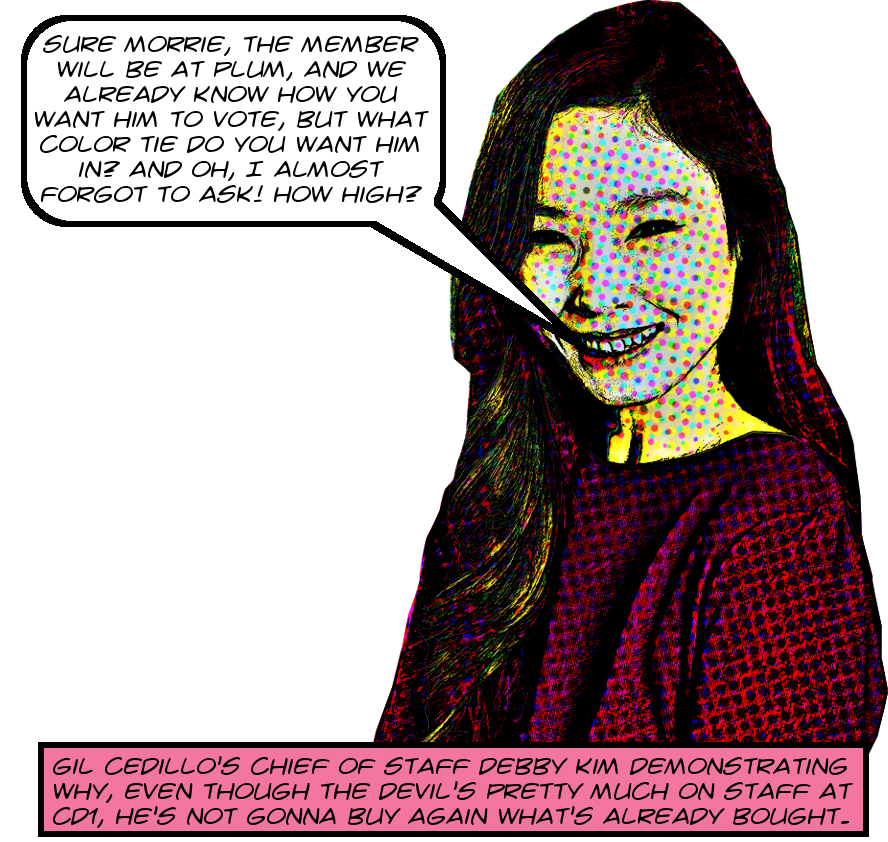 Background first. There's Morrie Goldman. Lobbyist who runs Urban Solutions LLC, a lobbying firm. Famously caught up in the slow motion putrefaction of what was, at one time, known as Jose Huizar's political career. Well-known friend of Gil Cedillo, at least as the word is understood at 200 N. Spring Street. Favor asker. Supplicant. Then there's Gil Cedillo. Career politician. Wielder of vast power. Mover. Shaker. Favor granter. Supplicatee.
Or, you know, that's how I always thought things worked in City Hall. The Councilmembers were in charge and the lobbyists asked them for goodies on behalf of clients and paid them off for their cooperation. But I recently obtained a steaming heap of emails between CD1 staffers and various lobbyists, and amongst them was this email conversation from 2015 between Morrie Goldman and Cedillo chief of staff Debby Kim1 which forces a quantum-level re-envisioning of that narrative, featuring Morrie Goldman as Keyser Soze and Cedillo with nothing more than some kind of walk-on role in his own career.
The whole exchange is just four emails long. Only the first two really matter. A week before the meeting, Goldman emails Kim to ask if Cedillo will be at PLUM on June 23, 2015. He says "We have an item coming to PLUM that day and need him for a quorum. Englander is out." Kim's reply? "He will be there :)" So yeah, in case you hadn't realized, lobbyists don't only tell Councilmembers how to vote and then deliver payola in return. They also call roll in advance and make sure the reps show up when they're needed to vote. It's unexpected and creepy at the same time.
And conceivably it's also a Brown Act violation, since at that time the entire PLUM committee consisted of Jose Huizar, Cedillo, and Englander. Communications through intermediaries between a majority of the members, which would be two of them, constitutes an illegal serial meeting.2 So Goldman insinuating to Cedillo's staff that Englander would have voted in favor is probably not OK. The statute of limitations is long gone, though.
And of course, the question of what issue Goldman needed Cedillo present to vote on is an essential one. I don't yet know for sure, but here's the PLUM agenda from June 23, 2015. The only matter on there of any consequence is CF 15-0721, which has to do with a CEQA appeal against the AMPAS project on Wilshire, which is likely to be the vote Goldman was worried about. Oh, one more thing! Notice how Goldman doesn't even have to ask how Cedillo's voting? That's all been settled already.
And that's the sordid little story of who's calling the shots in the relationships between lobbyists and their pet councilmembers. Turn the page for a transcription of the emails themselves, so ordinary and yet so shocking.
Continue reading Annals Of Utter Abject Mind-Numbing Shamelessness — Morrie Goldman Wants To Know If Gil Cedillo Will Be At PLUM Next Week — Cause He Needs Him For A Quorum — Cause Englander Is Gonna Be Out — Debby Kim Has Nothing More To Say Beyond "He Will Be There :)" — Yes, The Smiley Face Is Part Of The Quote — Even The Damn Rats Are Embarrassed At This Point →