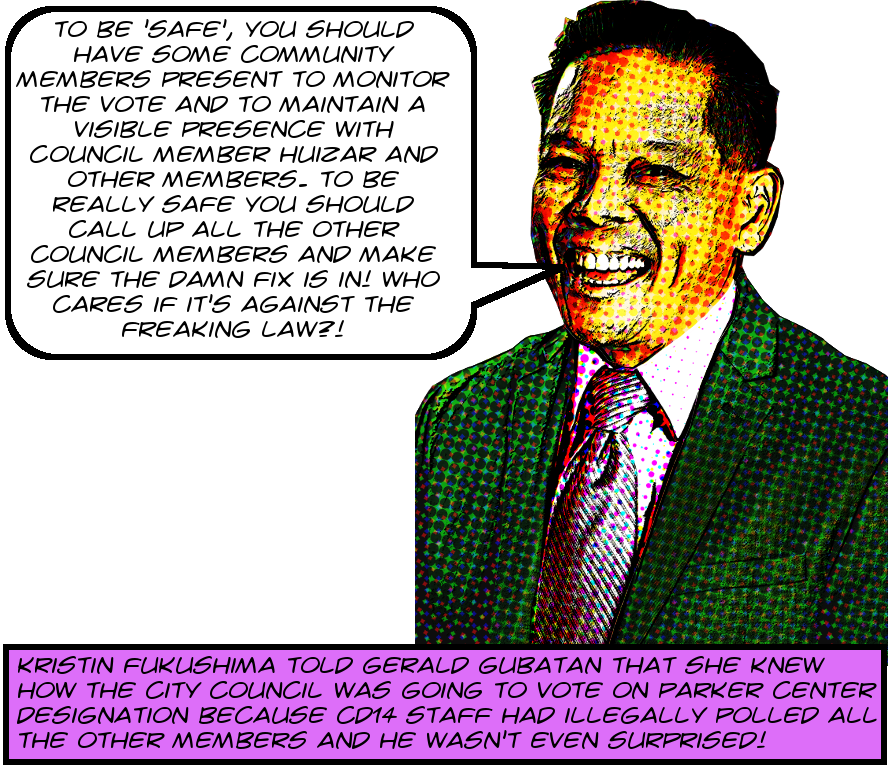 In his 2017 rush to destroy Parker Center, not only did José Huizar direct his staff to organize a series of phony performances of public support at various hearings as part of a twisted quid pro quo deal with various Little Tokyo luminaries, but on February 13, 2017 or thereabouts his office also violated California's open meeting law, the Brown Act, by polling all the other Council offices on how they intended to vote the next day on the designation of the building as a historic-cultural monument.
The evidence is right here in this email conversation between Kristin Fukushima, Little Tokyo anti-Parker-Center coconspirator, and Gerald Gubatan, who is Gil Cedillo's planning director:1
On Mon, Feb 13, 2017 at 2:03 PM, Kristin Fukushima <kristin@littletokyola.org> wrote:
Hi everyone,
Gerald, just letting you know – I spoke with CD 14 this morning, and apparently they checked in with all the offices and have confirmed that they are expecting everyone on City Council tomorrow to vote in approval of PLUM's recommendation against HCM nomination for Parker Center. To be safe, a handful of us will still be there tomorrow, but good news nonetheless!
Thanks!

If she's telling the truth about CD14 checking in with all the offices, and why would she not be, then the City Council violated the Brown Act by holding a meeting that the public had no access to. It's not surprising, of course. We've seen significant circumstantial evidence that such violations happen regularly, but man, has it been hard to claw that proof out of the City.2
This kind of lawless behavior in no way seems uncharacteristic of Huizar. It wouldn't have seemed so even before his enormous capacity for lawlessness and illicitry was made even more manifest than anyone could have expected.3 Sadly, there's nothing at all to be done about it at this point. The Brown Act has very short built-in time limitations for taking action, and this is far past all of them.
By the way, it may not seem obvious that a staff member from one Council office contacting all the other offices and asking how they're planning to vote on an agenda item constitutes a meeting, but it's clear under the law that it does. For all the wonky details, laid out in full wonky splendor, turn the page. You know you wanna!
Continue reading The Los Angeles City Council Violated The Brown Act Prior To Its Hearing On Designation Of Parker Center As A Historic-Cultural Monument — Huizar Staff Evidently Polled All Other Council Offices To Learn How They Would Vote — Which Constitutes An Illegal Serial Meeting According To The California Attorney General And The Court Of Appeals — If Little Tokyo Bigwig Kristin Fukushima Is To Be Believed, Anyway — And Why Would She Lie? →