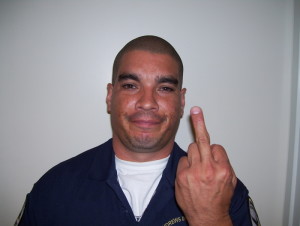 According to Andrews International
:

[B]udgetary constraints leave local police little choice but to focus primarily on reactive enforcement, [but] CAPS officers have the resources and support to actually serve as agents of change in the community. In partnership with law enforcement and assisted by community interest groups, social services agencies, and local businesses, CAPS officers focus on bridge building and problem solving.

Note that "CAPS officers" are how Andrews International refers to BID Patrollies when they're
trying to bullshit their way into more work
like they do for the HPOA. And just look at the BID Patrol guy to your right, serving as an agent of change in the community, building bridges, solving problems!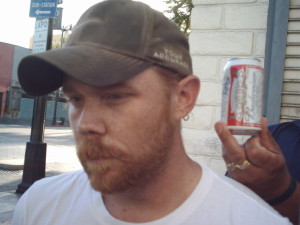 And they're not just flipping off one another back in BID Patrol secret headquarters during their weirdo macho team-building rituals, they're out on the street, arresting people for things that aren't crimes in sane places, like drinking beer on the street, and flipping off their victims, too.
Continue reading

Andrews International BID Patrol: Welcome to Hollywood, Now Fuck You!