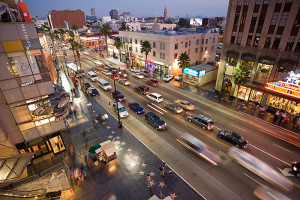 Did you even know that "Since 2007, as part of a public-private partnership focused on community safety and quality of life solutions," the super-powered security wallahs at
Andrews International
have operated something called "a Community Assisted Problem Solving (CAPS) program in some of L.A.'s most disadvantaged neighborhoods"?
1
Did you even know that?? Well, it's evidently true, because on December 23, 2014, their PR flacks spewed forth
a press release
announcing it to the world.
This momentous announcement was accompanied by a subpage with the same title, which comes with a heavily illustrated PDF with the same text. It's not at all clear just what the heck they're blathering on about, which is why we're going to explain it all to you after the break!


First, let's determine exactly which "most disadvantaged neighborhoods" these so-called "CAPS officers" have been operating in. Note that every picture in the above montage except the leftmost is either recognizably in Hollywood or else recognizably depicts BID patrol officers, who operate solely in the two BIDs overseen by the HPOA. We begin to suspect that this CAPS thing actually operates only in Hollywood and that it's nothing but a rebranding of the BID patrol in hopes of getting more such contracts. Let us look more deeply.
Consider the examples in the press release about the kind, loving CAPS officers out on the streets doing what they do best (Steve Seyler obsessively calls it "building rapport"):
On Thanksgiving Day, CAPS bicycle officers purchased meals to distribute to homeless people who were spending the holiday on the streets of Los Angeles. The officers delivered meals to 14 people, including a homeless man and his daughter, and a homeless mother and son. The same week, a homeless man with a history of volatility and violence toward authorities mentioned to a CAPS officer that he was saving money to buy a bicycle. The officer brought the man an extra bicycle he had at home and offered to help with parts and repairs to make the bike as good as new. A few days earlier, CAPS officers spoke with a young homeless man who was shivering in the cold on a street corner. One of the officers went into a nearby store and bought a jacket for the man with his own money.1
Ordinarily it would be impossible to identify the locations of these incidents but for our tireless correspondent, who has diligently obtained and published Steve Seyler's December 11, 2014 report to the Joint Security Committee of the two BIDs. In this recent slab of Orwellian blather, we find the following items:
Add up the meals. There are 14 of them accounted for in this little vignette, all distributed on either Hollywood Blvd. or Vine Street within a few blocks of their intersection.2 Check.
Bike given to homeless man.2 Location not given in report, but must have taken place in Hollywood or it wouldn't be in the report to the BIDs. Check.
Coat bought for cold young homeless man at the corner of Hollywood and Vine.3 Check.
Conclusion? When the press release says "CAPS bicycle officers," it really means "Hollywood BID patrol bicycle officers." Finally, consider the putative debut of this CAPS thing. According to the press release A/I has operated it "since 2007." As it happens, that's precisely when they first began running the BID patrol for the HPOA.
So we can be very sure that when A/I is talking about "CAPS" it really means nothing more than the BID patrol, given a generic name and rebranded so that it looks like an area of expertise rather than what it is, a program that they've been running, and not running well, under contract to HPOA. In other words, they claim that they've been running this CAPS crap "in some of L.A.'s most disadvantaged neighborhoods" and they mean Hollywood!
And what do they say they've been up to?
While budgetary constraints leave local police little choice but to focus primarily on reactive enforcement, CAPS officers have the resources and support to actually serve as agents of change in the community. In partnership with law enforcement and assisted by community interest groups, social services agencies, and local businesses, CAPS officers focus on bridge building and problem solving. In practice, this can take many different forms.1
Actually, read all of Steve Seyler's reports to the JSC which, as we've established, are almost certainly the sole source for the exploits of these putative "CAPS officers." The main form their agentry of change seems to take is arresting homeless people, close to 1000 per year, most of them not white, on that most chickenshit of all chickenshit pretext charges, drinking in public. Not only that, but look how A/I is spinning this:
The White House recently announced a plan to strengthen relationships between law enforcement agencies and the communities they protect, in the face of ongoing protests, controversy, and destruction stemming from events in Ferguson, Missouri and the death of Eric Garner.4
You did read that right, friend. They're proposing that by arresting over 1000 people in 2014 for chickenshit offenses like the one for which Eric Garner was summarily executed by the NYPD, they're going to solve the problem of people hating killer cops. Interestingly, as part of a misguided protest against public anger over Eric Garner's murder, the NYPD has stopped enforcing chickenshit laws (Also known as "quality of life offences" (QOL); see A/I's statement on this). And it has been an improvement for NYC as well as for the people they don't arrest, who not only don't get murdered on the street, but get to keep their day's wage. As Matt Taibbi explains:
Your average summons for a QOL offense costs more than an ordinary working person makes in a day driving a bus, waiting tables, or sweeping floors. So every time you nail somebody, you're literally ruining their whole day.5
At the very moment when the birthplace of the delusional abortion that is the broken windows theory has demonstrated conclusively that it's a delusional abortion, A/I proposes to calm everyone in Los Angeles by stepping up its broken-windowsing. That's delusional as well, but that's marketing, eh? And now they're looking to spread their good cheer and life-destroying collateral consequences for the homeless beyond Hollywood to other of "L.A.'s most disadvantaged neighborhoods." As Albert Einstein said, things never get better—at the very best they just get different.6
Socially Responsible Policing Through Public-Private Partnership, Andrews International press release, December 23, 2014.
Report to the Joint Security Committee, Steve Seyler, December 11, 2014, page 5.
Ibid. page 4.
Community Assisted Problem Solving (CAPS), Andrews International, accessed January 12, 2015.
The NYPD's 'Work Stoppage' Is Surreal, Matt Taibbi, Rolling Stone, December 31, 2014.
OK, it wasn't really Albert Einstein. We're not exactly sure who it was but it might have been James Lee Burke. Someone like that, anyways. It's a very New Orleansian sentiment.
Image of Hollywood and Highland by David Iliff. License: CC-BY-SA 3.0 and available via Wikimedia. Image montage from A/I document is probably ©Andrews International Security and we've got it as fair use.