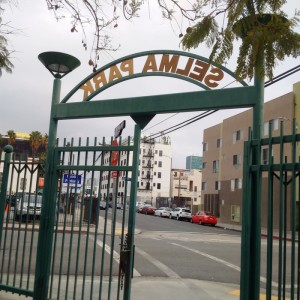 Late last week I obtained copies of
the BID Patrol's 2007 arrest reports and daily logs
, and they shed some interesting light on the early days of
the whole Selma Park fiasco
. First of all,
Footbeat 2's log for December 19, 2007
reveals that the BID's fake signs went up on or before that day:
1345/1355
EXTRA PATROL: 6765 SELMA AVE; SELMA PARK. CHECKED LOCATION FOR VIOLATORS OF NEW SIGNS POSTED PROHIBITING ADULTS WITHOUT CHILDREN AT PARK. NOTE 3 (H) MALES IN PARK IN VIOLATION AND ADVISED RE: NEW POSTED SIGNS. SUSPECTS DEPARTED WITHOUT INCIDENT.
Interestingly, this was foreshadowed as early as September, 2007. For instance, we find in the Footbeat 4 log for September 27, 2007 that OFFICERS CONTACTED SEVERAL HOMELESS RE: ISSUES IN THE PARK AND SURROUNDING AREA. WE ADVISED THE SUBJECTS RE: THE POSSIBILITY OF THE PARK BEING FOR CHILDREN ONLY. (END 1830 HOURS).
But the really unexpected fact I found in this material is that before the signs went up the BID Patrol actually encouraged homeless people to sleep in the park rather than on the sidewalk, where they were subject to arrest for violating LAMC 41.18(d). Now, this would certainly make sense in a sane world, since it was (and is) legal to sleep in the park, but not on the sidewalk. However, given the bitching and moaning that the BID put up about park-sleeping and the illegal lengths they went to to get the park declared off-limits to humans, I can't help but suspect some kind of narrative-creating subterfuge here. It seems quite shady to intentionally fill the park up with homeless sleepers and then use the large numbers of homeless sleepers as a reason to get the park closed against them. It's just another example of zillionaire ethics, I guess. See after the break for the evidence.
Continue reading In 2007 the BID Patrol Steered Homeless Sidewalk Sleepers to Selma Park to Avoid Arrest Until December 19 When the Signs Were Up →