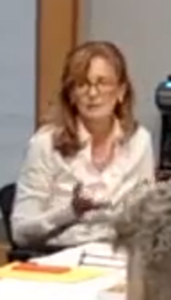 At the HPOA Board Meeting on Thursday, May 18, 2016,
Kerry Morrison had a lot to say
about the
Greater West Hollywood Food Coalition
. In particular, the Food Coalition, which
reportedly had been considering a move
from its long-time feeding site at the corner of Sycamore and Romaine in Southwest Hollywood, has been, according to Kerry, trying out feeding people at the Salvation Army facility at Hollywood and Bronson. If you've been keeping up with
the ongoing efforts by the zillionaire elite of Los Angeles
to torpedo the GWHFC
by any means necessary
it will come as no surprise to you that Kerry's little speech about this was filled with misrepresentations and promises to stop this development if it's at all possible to do so. We will run through her account one piece at a time, and you can
watch and listen along here
. As always, a complete transcription of Kerry's remarks may be found at the end of the post.
Continue reading

Greater West Hollywood Food Coalition Trials Relocation to Hollywood and Bronson, Kerry Morrison Initiates Covert Back-Channel Campaign to Subvert, Undermine, and Thwart Efforts