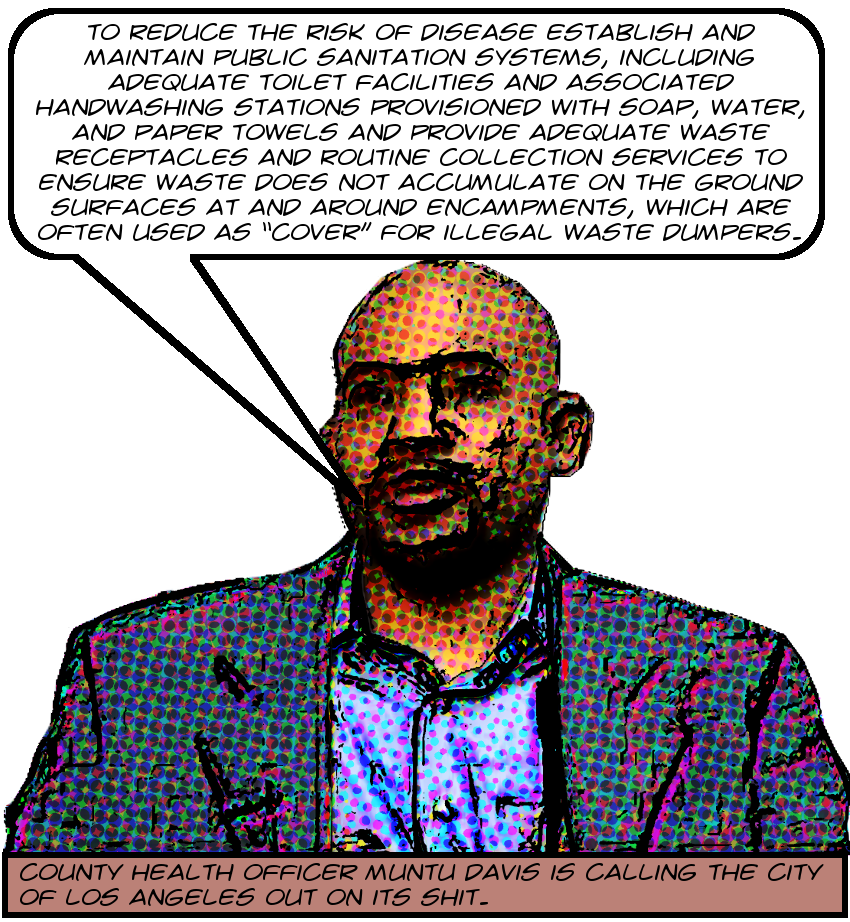 No one reading this blog needs a recap of the City's persistent homelessness crisis or the pain, suffering, torment, and disease caused by the City government's inaction and worse, although this LA Times editorial lays out the basic facts well. And on June 7, 2019, as reported by the Times on June 8, the County of Los Angeles public health officer Muntu Davis wrote a scathing letter to the City memorializing a June 5 meeting about illegal trash dumping in Skid Row, homelessness, associated health dangers, and the City's utter failure in dealing with these matters.
For as-yet-unknown reasons, the Times did not obtain a copy of the letter itself, offering nothing more by way of explanation than the laconic statement that "[t]he county's Department of Public Health declined to release the letter". Well, this aggression will not stand, man, so I asked the County to cough up this essential piece of our City's history and, yesterday, surprisingly quickly, they actually did! You can get your own copy of the letter here, and there's a transcription below. They also sent an unasked-for but nevertheless welcome letter from Davis to the City about typhus outbreaks, sent in March 2019, and you can get a copy of that one here.
The June 7 letter is an essential document. Davis essentially lambastes the City for their failure to provide basic tools of sanitation — toilets, sinks, showers, trash receptacles — to people living on the street. He also notes the City's failure to deal with illegal trash dumping and also notes that encampments are often very wrongly blamed for this severe problem, a fact that I have never seen any evidence that anyone from the City understands.
I don't know what if any role this letter played in the City's very recent conversion to many of the essential principles espoused by the heroic Services Not Sweeps Coalition. I suspect that that's been longer in coming and that relentless and unanswerable pressure from activists is more responsible, although I don't know. The letter, anyway, certainly didn't hurt. It's well worth the time it will take you to read it.
Continue reading MK.Org Exclusive! — On June 7, 2019 Los Angeles County Health Officer Muntu Davis Wrote To The City Of Los Angeles Telling Them To Clean Up Their Damn Act With Respect To Illegal Dumping Of Trash And Sanitation Around Homeless Encampments — This Was Duly Reported In The Los Angeles Times On June 8 — But They Did Not Publish The Letter Itself — Because "The County Declined To Release" It — We, However, Have Obtained A Copy! — And It Is Available To You Right Here! — Dear Readers! — For Download! →