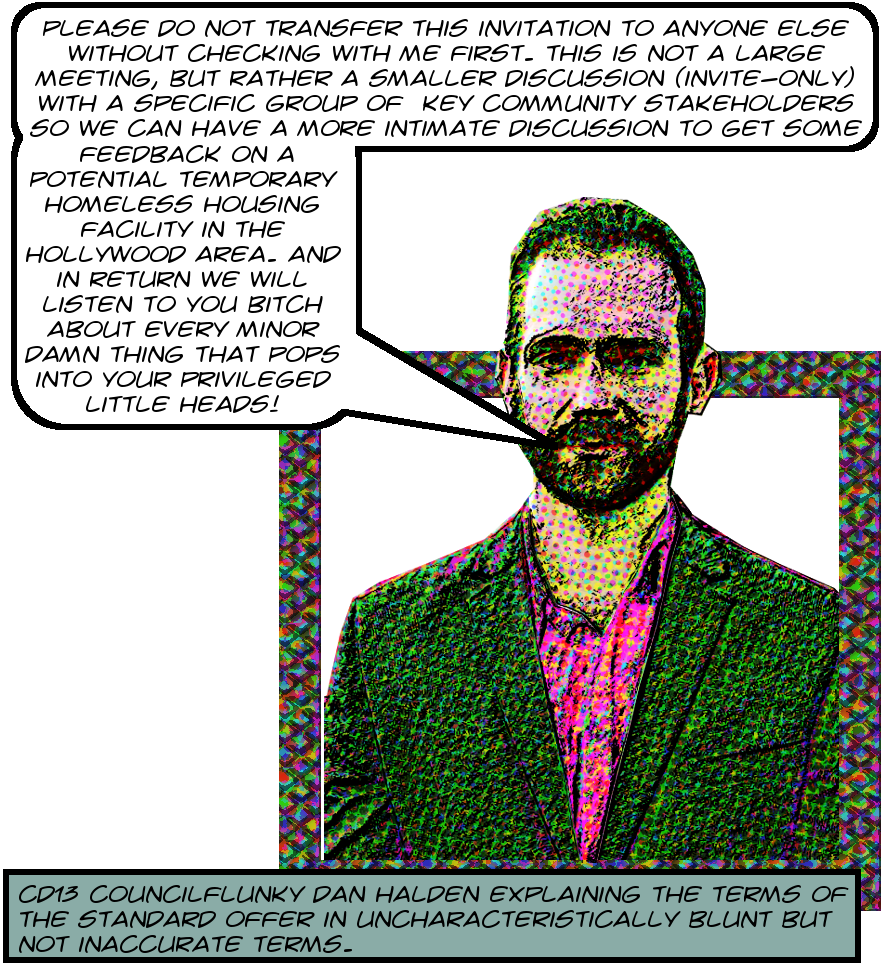 Readers of this blog surely don't need me to explain how Prop HHH money, meant to establish so-called bridge housing to help alleviate our crisis of homelessness, has at best been spent far too slowly and too ineffectively and at the worst corruptly and in secret. But despite all that, creepy little CD13 repster Mitch O'Farrell did manage to organize one of these projects in Hollywood.
And his flack Tony Arranaga's inordinately superficial press release on the subject, touting the only-from-an-inordinately-superficial-perspective success of this project is well worth reading.1 And of particular interest in that slew/slough of whah-whah-whahwawawa, there is this little number right here:

The office of Councilmember Mitch O'Farrell has championed this project from the start: Councilmember O'Farrell originally introduced the motion which paved the way to build the project on the City-owned parking lot; his office led the community outreach before and during construction; and the office served as the liaison between City departments, partnering agencies, and local stakeholders.

This business about the community outreach and the liaison between City departments, partnering agencies, and local stakeholders is of the utmost interest. I've spent a little time looking into the processes by which Los Quince Jefes construct the appearance of community buy-in for their pet projects, most notably as orchestrated by Jose Huizar and by Gil Cedillo in the notorious case of the demolition of Parker Center.
And of course another interesting line of inquiry I'm presently working on is charter schools. I don't know enough about them yet to narrow2 my inquiries, but I'm learning, mostly via my usual technique of reading3 their damn emails. I recently got gigantic set of goodies from Larchmont Charter School, in particular from their supreme commander Amy Dresser Held. These have so far yielded up a couple of really interesting stories.4
Like for instance the one about how Amy Dresser Held used her personal connections with high-powered senior staffies of LAUSD school boardie Icky Sticky Nicky Melvoin to get a luxe internship for a family friend or the one about how Amy Dresser Held and the Icky Sticky one had a mutually satisfying comfort sesh about how mean and crazy the charter-haters were being. And today, before your very eye, friends, these different lines of inquiry have merged into one!
You see, among all those emails sent to me by LCS were well over a hundred between Most High Brigadier-in-charge Amy Dresser Held and Mitch O'Farrell's chameleonic Hollywood button man, Dan X. Halden.5 You can browse through the whole subset here on Archive.Org, and turn the page for transcriptions and discussion, the better to relate the tale so adroitly summarized for you in the headline above!
Continue reading In May 2018 Mitch O'Farrell Held Secret Invite-Only Meetings With So-Called "Key Community Stakeholders" To Build Buy-In For Hollywood Bridge Housing — Larchmont Charter School Supreme Commander-For-Life Amy Dresser Held Was Among Those Invited — She Then Helped Orchestrate Community Meetings With Dan Halden To "Clear Up Any Misconceptions" — And Listen To More Made-Up Anti-Homeless Housedweller Grievances — And Hear His Promises Of "Additional Enforcement Tools" Against Homeless Human Beings — In Exchange He Proceeded To Spend Months Doing Special Little Favors For These Whiny And Entitled LCS Privatizers →