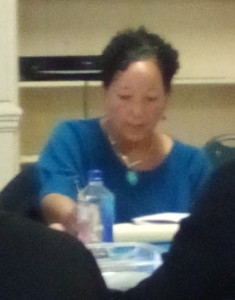 Well,
our faithful correspondent
hasn't had time to attend a BID meeting in a while, but he made it to the SVBID Board Meeting on Tuesday, November 10, over at the Hollywood YMCA (right across the street from
the famed Selma Park
). And what a witches brew of craziness he witnessed over there! They had brand-new Eric Garcetti aide Alisa Orduna there to talk to them about the mayor's declaration of a state of emergency about homelessness. And can she ever talk. Does she make sense? Some of the time.
1
But, as
Sigmund Freud
taught the world, even in incomprehensible free-associationalism, truth can be found by those who take the time to look. And it does take time. We were planning to cover Alisa's entire 40-ish minute thing in one post, but after spending two days transcribing just the first 12 minutes, we found that our sanity requires us to lay it on you in increments. You can
watch here
and, as always, there's a transcription of the whole thing after the break for context (for some reason these links to YouTube into the middle of videos don't seem to work well in Firefox. If you get an error, try Chrome).
Thus spake Alisa Orduna: So with all of that said, on September 22nd, Mayor Garcetti along with City Council made an announcement declaring an emergency. And there was a commitment of a hundred million dollars in resources to finally address homelessness. And, looking at it since that time, what does that really mean?
And later she said: So the hundred million was an announcement, and that was just a commitment, so that was just kinda throwing a benchmark out there and saying how are we gonna rise to the occasion?
And then Fabio Conti proclaimed: Did anybody think, oh a hundred million! That's [unintelligible]. There's no hundred million.
And she replied: It's kind of [unintelligible] is standing by that commitment, so everyone is looking for it.
No one had the hundred million, but don't worry, it shows we take it seriously and also don't worry, we're all out looking for the money! So we guess this was known, kind of. We guess there's not really a revelation here. The New York Times quoted Herb Wesson at the time of the declaration as saying "The $100 million figure was chosen in part for its symbolism, said Herb J. Wesson Jr., the City Council president, to show county, state and federal officials that the city was willing to make a significant contribution to an urgent problem." Now we find out from Alisa that actually it was chosen not just in part for its symbolism, but it was entirely symbolic. We wondering if she's talking out of school, being new and maybe not entirely broken to the plow. Time will tell, we suppose. Read on for the rest of the news. And iPads! When will the city learn that iPads are not only going to solve problems, they're likely to lead to FBI raids on public buildings and speculation about indictments?
Continue reading Garcetti Aide Alisa Orduna at the SVBID Part 1, in which she Admits that Announced $100,000,000 for Homelessness Isn't Real Money, State of Emergency Declaration will Ease Real-Estate Development for Zillionaires, Fund iPads for the BID Patrol →