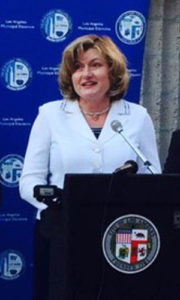 The
list itself is here
. The story of the list follows.
Edited to add: The list that Miranda Paster sent me isn't even the list I asked for, as discussed in the story below. It's an edited version of the publicly available ballot tabulation sheet. It is unbelievable that these people are so unwilling to release what are obviously public records and that their unwillingness is so clearly in the service of their political agenda. On the other hand, the fact that they so vigorously defend their secrecy makes it seem even more likely that they're concealing serious and exploitable weaknesses.
Three weeks ago I wrote about how neither the City Clerk nor CD11 was willing to hand over a list of the property owners in the proposed Venice Beach BID with contract information. CD11 told me to ask the Clerk and the Clerk told me to ask Tara Devine and Tara Devine ignored me (and continues to ignore me). The Clerk's rationale was that they didn't have anything to do with mailing out the petitions, so that the Public Records Act didn't apply to the mailing list.
Now, if you're not familiar with the act, you may not be aware that (at section 6252(e)) public records are defined fairly expansively to be any "writing containing information relating to the conduct of the public's business prepared, owned, used, or retained by any state or local agency." So I made the argument to the Clerk's office that since they were orchestrating the process, the mailing list was being used by them even if they didn't own it or retain it themselves. No dice on that, though.
So imagine my pleasure and surprise to discover on August 14 that, upon perusing Government Code section 53753 for the zillionth time (this is the same law used to such marvelous effect ten days later by the incomparable Shayla Myers of LAFLA to derail the whole BID process) that the freaking City Clerk's office is required to notice the property owners by mail:
Continue reading Why Is Getting A Mailing List For The Property Owners In The Venice Beach BID Out Of The City So Absolutely Maddeningly Impossible? We Do, However, Now Have A List Of Property Owners Without Contact Information A Fraud Perpetrated On The Public By The City Clerk →