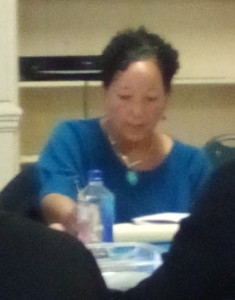 Yesterday we obtained
some emails
exchanged between Garcetti homelessness czarina
Alisa Orduna
and
Central City Association
flacks and
criminals, Marie Rumsey
and her boss, Carol Schatz,
the zillion dollar woman
, whose
creepazoid views on homelessness already have a disproportionate influence
on city policy. The main thing is an invite from Alisa Orduna to Carol Schatz to attend

…an Intimate Round Table [sic] discussion… This meeting is invite-only and intentionally small to learn and discuss strategies for BIDS [sic] that are addressing homelessness in way one [sic] or another so that we can include the City's plan is [sic] inclusive of this perspective.

This is bad enough, that Garcetti solicits the intimate opinions of these delusional BIDdies, who not only
just make stuff up about the homeless
but whose
ultimate homeless policy is terrorism
. It's bad enough, as we said, but the reasons are even worse:

Mayor Garcetti is very committed to working with CCA and the other BIDS to develop homelessness policies and practices that address homelessness without unintentional harm to our business community. In the long run, we need businesses to provide pathways out of poverty through self-sustaining wages and pride in individual ability and skills.

Continue reading

In December 2015 Garcetti Held Invite-Only Meeting to be Sure Homelessness Policies were Acceptable to Business Leaders, Including Carol Schatz, Central Hollywood Coalition, Central City Association, Others