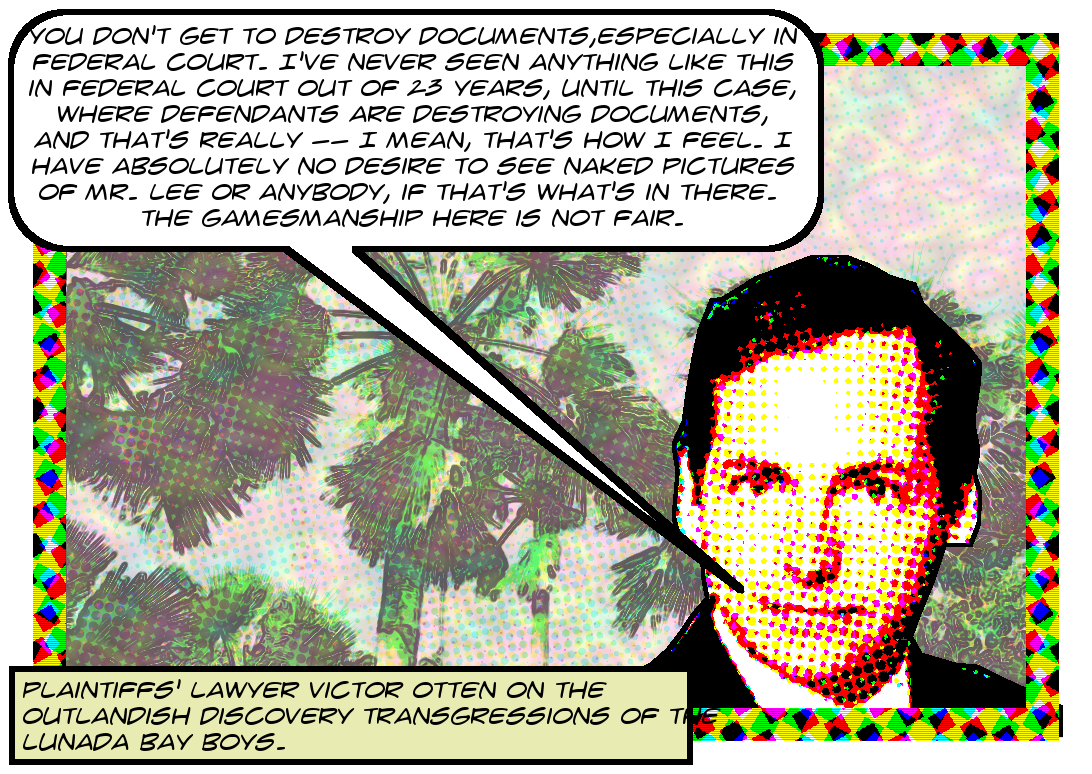 For background take a look at this excellent article from the Times on this lawsuit. Also see here to download all pleadings in this case.
A couple weeks ago the plaintiffs asked Judge Otero to deny all the various and sundry motions for summary judgment filed by all the various and sundry defendants in this tangled web of a lawsuit. The basis of this plaintiffs' motion is their pretty darn plausible assertion that approximately none of the defendants are cooperating with their discovery obligations, making it impossible for the plaintiffs to reply effectively to the defense motions.
Of course, both the City defendants and the individual defendants filed the usual eleventy-jillion briefs in opposition. And yesterday the plaintiffs filed their reply to the opposition. This was written by Kurt Franklin, and is very much worth reading.1 There is a transcription after the break. The hearing on this motion is scheduled for September 5, 2017 in James Otero's courtroom 10C in the First Street Federal Courthouse.
The reply came with the usual batch of exhibits, among which is this gem of a transcript of the July 25 hearing before the Magistrate Judge Rozella Oliver about Sang Lee's discovery failures. If you've been following along, this was the hearing after which Oliver issued an order requiring Lee to hand everything over that very day. Another good read is this excerpt from the Steve Barber deposition in which he admits to being a Bay Boy buddy and also discusses at length the phone-carrying habits of the PVEPD.
Continue reading Lunada Bay Boys Plaintiffs Reply To Opposition To Their Motion For Administrative Relief, Include Fascinating Transcript Of Yet Another Telephonic Hearing About Discovery Transgressions By Defendants →