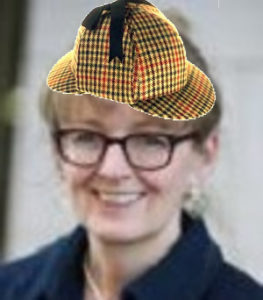 There is all kinds of interesting stuff in the
BID Patrol daily log files
, and some of it is too weird to even describe. This little story is from
April 24, 2015
, written by BID Patrol officers
Mike Coogle
and his frequent partner
Mike Ayala
:

OUTREACH- 1500 BLOCK OF GORDON AVENUE- E/ SIDE OF STREET
YESTERDAY WE RECEIVED A CALL FROM KERRY'S OFFICE REGARDING A VEHICLE SHE OBSERVED. THE VEHICLE, A GREY BUICK LIC#XXXXXXX, WAS UNOCCUPIED BUT CONTAINED A CHILD SEAT, FORMULA AND OTHER ITEMS POSSIBLY INDICATING THE OWNER OF THE VEHICLE IS HOMELESS WITH A CHILD. YESTERDAY WE LEFT A PATH CARD AND FLIER WITH LOCAL, FAMILY FRIENDLY HOMELESS SERVICES ON THE WINDSHIELD. THIS MORNING, THE CARD AND PAPER WERE GONE. THE VEHICLE WAS UNOCCUPIED AND SOME ITEMS APPEARED TO BE IN DIFFERENT SPOTS.

So yeah, people of Hollywood. Don't you feel safer knowing that Ms. Kerry Morrison is peering in your car to see if you look homeless and then sending her armed minions the BID Patrol to follow your car around to see if you're parked in the same place and if you moved stuff in your car around? And for such a vocal advocate of law and civic order as is our Ms. Morrison, this kind of thing is surprisingly illegal. Read on for the details!
Continue reading

Kerry Morrison Goes Around Hollywood Peering into Cars to see if Homeless People are Living in them and then Sends the BID Patrol to Investigate