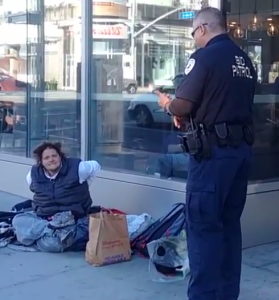 This morning at about 8:00 a.m. BID Patrol officer Mike Ayala (badge #107) and his partner, whose name we don't yet know, told a woman camped out at the Southeast corner of Sunset and Vine that she'd have to move on because the management of the Starbucks there had complained. Our correspondent happened to be walking by and caught
the last nine minutes of the incident on video
. Naturally, not much happened. Even the BID Patrol is going to think twice about arresting someone on a nonsense
LAMC 41.18(d)
charge while on camera. There were two interesting things about the episode, though.
First, Officer Ayala recommended that the woman go to the Greater West Hollywood Food Coalition food line at Sycamore and Romaine. He did this not once, not twice, but three whole times! This is noteworthy because the BIDs absolutely hate the Food Coalition. They and their buddies have sued the GWHFC, they have (unsuccessfully) conspired with CD13 Councilman Mitch O'Farrell to pass a bill of attainder against the GWHFC, they have enlisted LAPD bigwig Bea Girmala against the food line, and they have monitored the plans of the Food Coalition. We don't know if Kerry Morrison knows that her Patrollies are recommending the place; maybe she does and she thinks it's fine cause it gets the wrong element out of her BID anyway. BID solidarity, after all, can only go so far.
Second, it's notable because the boys got another call and rolled out without arresting the lady. As we have seen, BID Kahuna Steve Seyler famously said last summer:

"…we're gonna start out with a nice approach, hey, please, time to get up, businesses are open, you gotta get off the sidewalk, we're here to help you, you know, blah blah blah blah, please, please, pretty please, and then, you know, ultimately we're going to put the cuffs on you…"

Well, they didn't put the cuffs on this time, and the lady was showing no signs of leaving, even though Ayala and friend went all the way through the …"we're here to help you, you know, blah blah blah blah, please, please, pretty please…" and then they just left without putting the cuffs on. We'd like to think it was because they were being watched. After all, we saw last year how our scrutiny cut BID Patrol arrests by almost 40%. Perhaps this woman also was spared some trouble for that reason.